How to Go About Planning a Wedding Reception Program for your Wedding day
Each wedding and couple is unique and when it comes to planning a wedding reception it's good to have a program to follow that can be adjusted to the couple's liking. In this article, we cover the steps to planning and executing the wedding reception order of events you'll love!
Here's a short and sweet rundown of what you can expect while planning a typical wedding reception order of events.
P.S. Want to know when our next post lands and get our free ebook on how to live frugally? Then click the link below.
Sign up here to claim your free ebook!
The main steps involved in planning a wedding reception order of events are:
Identifying what events are important to the bride and groom
Evaluating the time available with the venue
Planning for 4-7 hours
Follow the traditional order of events format or customize it to fit your personal style. The traditional format includes Cocktail hour, Seating of guests, Entrances, Announcements and the start of dinner, Dinner, Speeches, Cake cutting and dessert, First dances, and more. We also mention tips on announcing and serving dinner, the order of speeches, the timing of dessert and dances, and any extras like the bouquet or garter toss.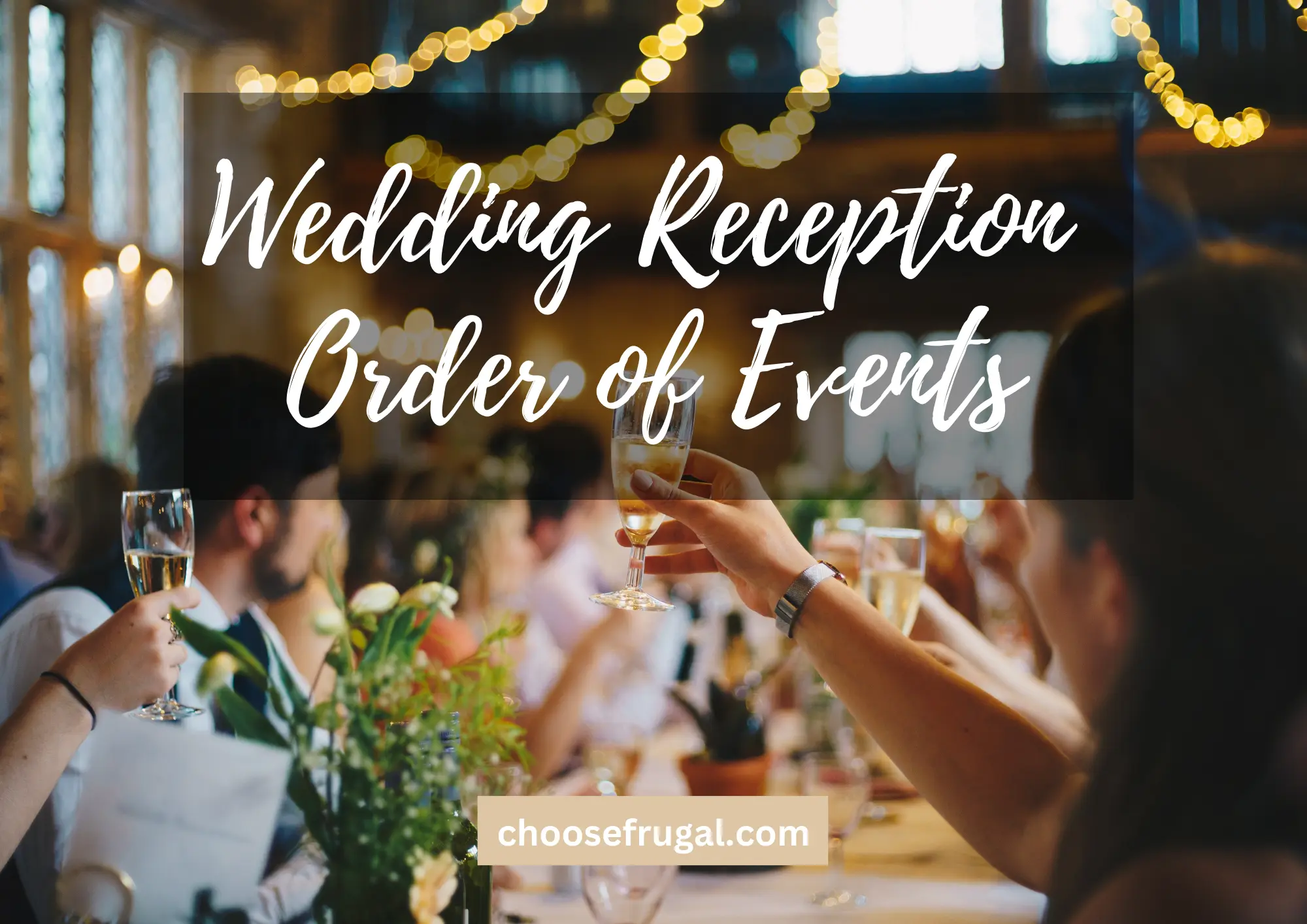 The wedding reception is an occasion to celebrate and have fun with your loved ones. While it is important to relax and enjoy the moment, it is equally crucial to abide by a well-planned wedding reception order of events. This ensures that your guests have ample time to indulge in food, drinks, music, and socializing, as well as to participate in special dances, games, and rituals that are a hallmark of weddings.
If you are making use of a wedding planner or venue coordinator they can assist you in drafting a comprehensive reception timeline. Ensure that the timeline is shared with all your vendors, particularly the caterer and DJ, and key individuals such as your wedding party and close family members.
First Things First Though, What Do You Want From Your Wedding Reception?
While it's good to have a plan, timeline (which we have a great article with some useful tips on), and set order of events and all of that… you still need to enjoy the day and make it your own. It's your big day, isn't it?
Since there are so many things you can do on your wedding day, like games, bouquet toss, dancing, and many more it's important to keep the limited time you have in mind. Only do the things that you really want on your big day!
How Long is a Typical Wedding Reception, and How Long Would You Like Yours to Be?
Ah, let's not jump into the timeline just yet! A question that often arises is, how long should one plan for the celebration at the reception? Well, to paint a picture, a typical wedding reception that includes a cocktail hour, can last anywhere between a breezy 4 and a serious 7 hours.
But, hold on! The duration may vary based on your venue agreement, as each venue offers its unique packages with a specific number of hours. Noise regulations may also apply at your selected location. Hence, it's crucial to have a chat with your venue regarding the timing of your reception before finalizing the plan for your wedding's order of events.
When planning the best wedding reception order of events for your big day, it's essential to have a logical sequence in mind. This not only ensures a smooth event flow but also keeps your guests engaged and entertained throughout the celebration. In this post, we'll dive deeper into the four steps of planning the perfect wedding reception order of events while optimizing for search engines and providing an informative, friendly, and professional experience for our readers.
Step 1: Research and Understand Your Wedding Reception Elements
Begin your planning process by conducting thorough research on the various elements involved in a wedding reception. This may include reading books, exploring online resources, or speaking with professionals in the field. Gaining a solid understanding of each event, its meaning, and its place within the overall timeline will help you create a more coherent and enjoyable reception. Additionally, consulting a thesaurus or wedding websites for synonyms and similar words related to your general vocabulary can help broaden your understanding of the subject matter and it can provide alternative ways to describe each event.
Step 2: Determine the Chronological Order of Events
Once you've gained a deep understanding of the different elements of a wedding reception, it's time to arrange them in chronological order. This arrangement is crucial to ensuring a seamless flow of events and is the backbone of your reception timeline. Begin with the first event and proceed in a logical sequence, taking into account the significance and meaning of each event. You may need to experiment with different arrangements before you find the perfect order, but with ample research and a clear vision of your desired outcome, you'll be well on your way to crafting a successful wedding reception timeline.
Step 3: Create a Detailed Timeline and Presentation
With your chronological order of events established, it's time to create a detailed timeline and presentation. This is an opportunity to showcase your knowledge and understanding of the subject, and a well-organized presentation will help your guests follow along with ease.
Step 4: Review, Revise, and Get Feedback
The final step in planning your wedding reception order of events is to review and revise your work. Take the time to carefully assess your timeline, ensuring that it makes sense, flows smoothly, and accurately reflects your vision for the big day. Seek feedback from others, such as friends, family, or even professional wedding planners. Their input can help you fine-tune your timeline and ensure that every detail is in place.
Wedding Reception Order of Events
So you had your ceremony, and you're officially married! Congratulations! Where do we go from here? After the ceremony takes place this is generally the wedding reception order of events most people follow:
1. Guests form a Receiving Line for the Newly Weds (5 – 10 min)
This either takes place at the ceremony after the couple exits the chapel/ceremony area, or it takes place at the reception when the couple enters the reception venue.
2. Cocktail hour starts (1 hour – 1 hour 30 min)
The cocktail hour is a delightful intermission during a wedding, where guests can sip on their favorite drinks, snack on hors d'oeuvres, and exchange pleasantries. However, it also serves as a handy pause that bridges the gap between the wedding ceremony and reception, especially if the two events are in different locations.
If your wedding venues aren't within short walking or driving distance, it's advisable to extend the cocktail hour to about 1 hour and 30 minutes to allow guests to arrive in time. Moreover, if the ceremony and reception are in the same area, the cocktail hour provides venue staff the opportunity to reset the space. While many couples use this time to take their portraits, some may prefer to have a "first look" before the ceremony, giving them ample time to snap photos without sacrificing quality time with their guests.
3. The Guests make their Entrance (10 min)
The guests can now enter the venue and take their assigned seats. Be sure to hand them the seating chart or put it out where it's visible to everyone.
4. The Wedding Party and the Couple make their Entrance (10 min)
The DJ will often play some music and allow the wedding party to enter the reception venue first and then the couple. This is often referred to as the grand entrance. The guests will usually cheer and stand while the couple enters.
4. The couple's first dance (15 – 30 min)
The couple has their first dance, which is a very special part of the reception.
5. Speeches, announcements, toasts, and prayers (15 – 45 min)
The couple, their parents, the preacher, and other VIPs give their speeches, make toasts and pray. The couple usually shows their gratitude to the guests for being there. The parents and other VIPs also make speeches or toasts and the preacher prays before dinner. The MC also makes announcements during this time and tells guests how the day will proceed.
Some of the speeches and toasts are also made during mealtime.
6. The reception dinner (1 hour – 1 hour 30 min)
Dinner is served or the guests are allowed to dish up in a specific order, usually by table.
For some tips on catering your wedding in an affordable way have a look at our article on catering your wedding on a budget.
7. The big dances of the reception (30 min – 2 hours)
During this time the father-daughter dance and the mother-son dance take place. The DJ will play special songs selected by the couple and their parents.
After the big dances, the guests usually join the couple on the dance floor and party like there's no tomorrow. The DJ plays from a selection of songs the couple and guests provided and a few other wedding hits.
8. Cake cutting, cake, and dessert are served (20 min)
The cake is brought out and the couple cut the first slice, they often also feed each other some of the cake. At some weddings, the cake is served along with extra desserts.
9. Wedding games, bouquet, garter toss, and other activities (15 min)
Many couples enjoy games such as the shoe game at their weddings. The bouquet and garter toss are also part of many weddings.
Feel free to add whatever else you'd like!
10. Dancing, the Last Dance, and the Grand Exit (15 min – 1 hour)
If the guests would like to dance some more make some time for them to enjoy themselves. After that, the couple can have their last dance of the day and make their grand exit.
 11. The end?
Is this the end of your wedding? It could be, but some people also enjoy an after-party at another venue where they aren't restricted by the wedding venue's noise policies and time limit. Either provide some transport or let guests get there themselves (just remember they might have had a lot to drink by now).
12. A great video guide with some useful information about planning your wedding reception order of events
Conclusion
Feel free to skip or switch any of these steps at your wedding reception, it's not carved in stone! Change up the wedding reception order of events so that you have the day you want! Now that you know what to include in your wedding reception order of events you can get to planning your big day. Just remember that while you can switch these steps up however you choose, it's still good to stick to a set order of events so that you can be sure that your wedding will go smoothly.
Planning the best wedding reception order of events for your big day requires research, understanding, and careful consideration of each element. By following a logical sequence and crafting a well-organized timeline, you'll be well-prepared to celebrate the start of your new life together with a memorable and enjoyable event
There are many helpful tools you can use to plan your wedding, some of them are project management tools (Aasana or Wrike) and a digital calendar such as Google Calendar. Wedding wire also offers great planning tools, so have a look at them here.
If you are on a tight budget, remember that one of the easiest ways to reduce the cost of your wedding day is to invite fewer people. If you are unsure whether that is a good idea, read our article on how many people you should invite to your wedding on a budget.
We hope you found our article on the Wedding Reception Order of Events helpful! Enjoy planning the day you want and the big day itself!
Also read:
How to Determine Your Wedding Guest List Size on a Budget
How Many People Should I Invite to My Wedding on a Budget?
Ideas for an Intimate Backyard Wedding (On a Budget)
How to Determine Your Wedding Guest List Size on a Budget
15 Affordable Wedding Ceremony Ideas You'll Love
Best Wedding Reception Order of Events for Your Big Day (4 Steps to Planning)
15 Best Places to Buy Wedding Rings: Online and In-Person
P.S. Want to know when our next post lands and get our free ebook on how to live frugally? Then click the link below.