How to Determine Your Wedding Guest List Size on a Budget (How Many People Should I Invite to My Wedding? Part 2)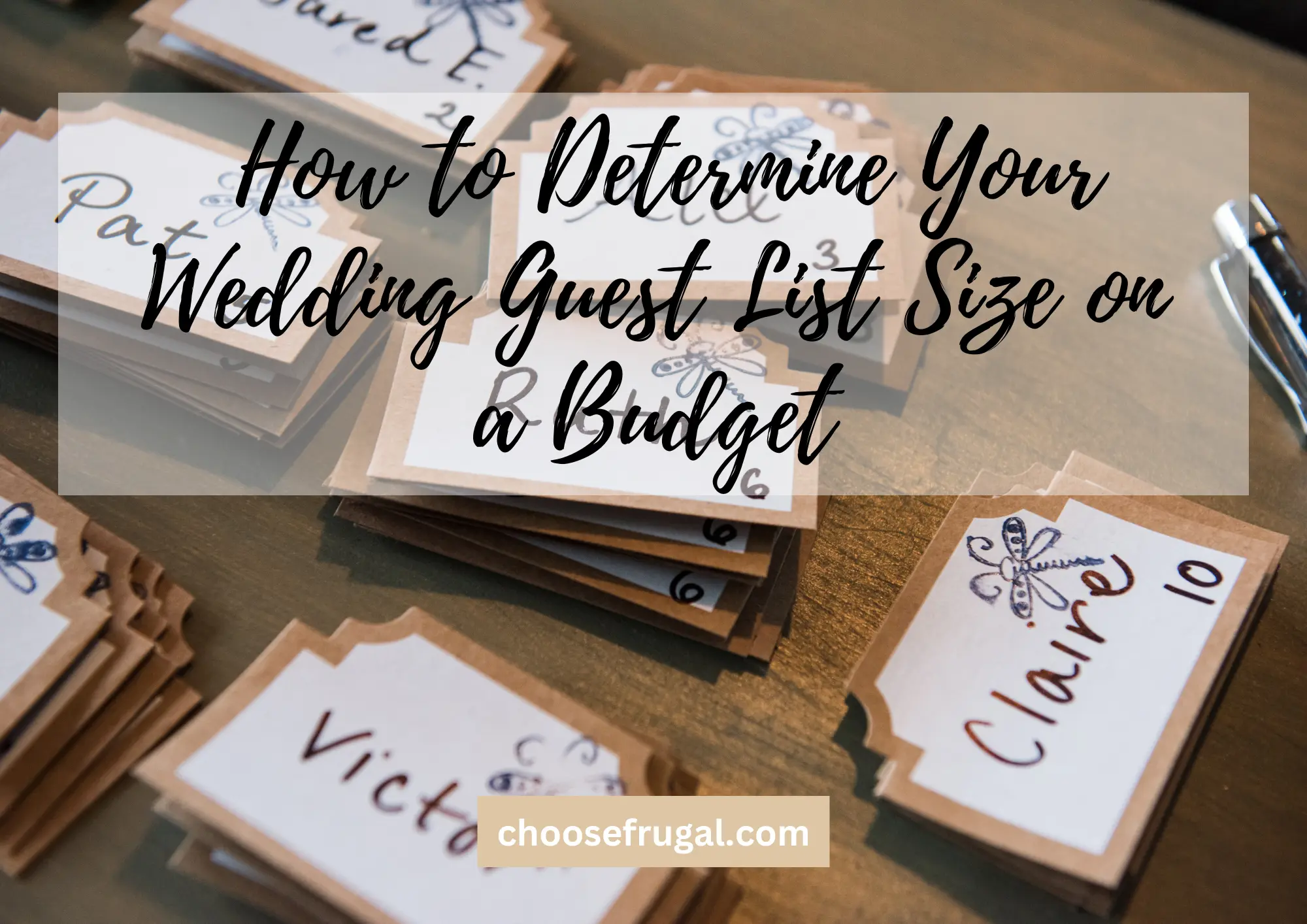 Planning a wedding can be both exciting and overwhelming, especially when it comes to deciding on the size of your wedding guest list. If you're working with a limited budget, the whole wedding guest list etiquette becomes even more critical to ensuring you have a beautiful and memorable event without breaking the bank. In this post, we'll explore some factors to consider when deciding on your wedding guest list size and offer some tips on how to let people know they won't be attending your special day.
So to help you plan and answer the age-old question, "How many guests should I invite to my wedding? Read this article to answer your burning questions.
Here is a free downloadable Google sheets Wedding Guest list, from us to you.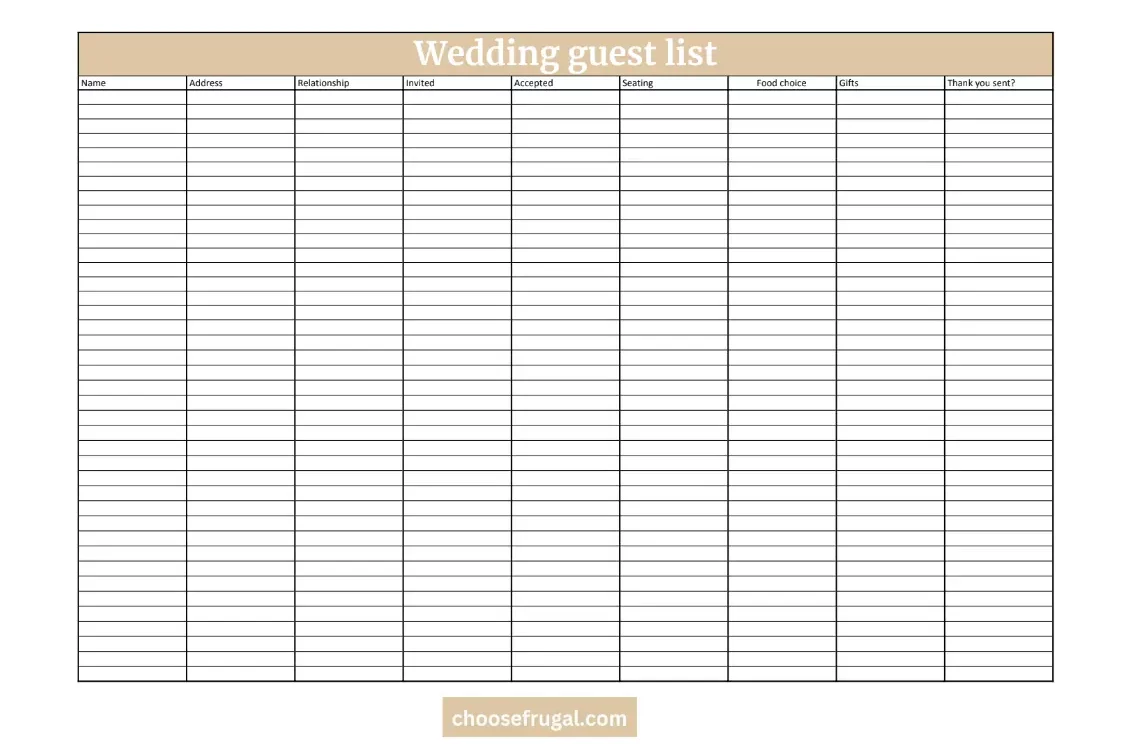 And a Free Downloadable printable PDF Wedding guest list, from us to you.
P.S. Want to know when our next post lands and get our free ebook on how to live frugally? Then click the link below.
Sign up here to claim your free ebook!
How to Create a Wedding Guest List: A Step-by-Step Guide
It's impossible – but guest lists are one of the hardest parts of wedding planning. Let's think about ways of making things easier. How do I create and manage wedding guestlists? It can be an overwhelming task and one of the most stressful. The conversation includes conversations with each party – your parents or future spouse — about how many guests to bring. Although wedding guest lists can be created by following a couple of simple guidelines, the main thing to remember is to keep them organized.
Keep reading to learn how to create a wedding guest list.
Determine your budget
Your wedding budget also will play a significant role in determining the number of guests you can invite. Sit down with your partner and create a detailed budget that outlines all the expected costs for your wedding, including the venue, catering, attire, flowers, and other essentials. Once you have a clear idea of your budget, you'll be able to make more informed decisions about your guest list size.
Choose your venue
The size and capacity of your chosen venue will directly impact the number of guests you can comfortably accommodate. Be sure to choose a venue that fits within your budget and can comfortably hold your desired guest count. Keep in mind that some venues offer discounted rates for smaller weddings or off-peak dates, which could help you save money and potentially invite more guests.
Prioritize your relationships
When creating your guest list, it's essential to prioritize the people who matter most to you and your partner. Focus on inviting close family members and friends who have played an essential role in your lives. You may also want to consider inviting a few coworkers, distant relatives, or extended family members, but be sure to maintain a balance that keeps your guest list manageable and within your budget.
Create an A and B wedding guest list
One strategy to manage your guest list is to create an A list and a B list. Your A list should include your must-have guests, while your B list can consist of additional guests you would like to invite if space and budget allow. As you receive RSVPs and have a clearer idea of your guest count, you can begin inviting people from your B list.
Handling non-invites with grace
It's never easy to tell someone they aren't invited to your wedding, but being honest and kind can help soften the blow. When discussing the situation with someone who isn't invited, be clear that the decision was based on budget and space constraints and not personal feelings. You might also consider offering alternatives for them to be involved, such as attending a pre-wedding event or joining you for a post-wedding celebration.
5 Counterintuitive Tips for Deciding Your Wedding Guest List Size
When it comes to planning your wedding, traditional advice often suggests keeping the guest list small and intimate, particularly if you're on a budget. However, sometimes thinking outside the box can lead to unexpected benefits. Here are five counterintuitive tips to help you decide how many people to invite to your wedding day:
Invite more guests than you expect to attend
While it might seem counterproductive to invite more people than you can accommodate, it's a well-known fact that not everyone will be able to attend your wedding. By inviting a few extra guests, you can account for inevitable declines and ensure you end up with the desired number of attendees. Just be careful not to overdo it, as you don't want to risk overcrowding your venue.
Consider a destination wedding
While destination weddings are often thought of as more expensive, they can actually help you keep your guest list size manageable. A destination wedding may deter some guests from attending due to the travel and accommodation costs, allowing you to invite more people without exceeding your venue's capacity. Plus, you'll likely end up with a more intimate and memorable celebration surrounded by your closest friends and immediate family and members.
Opt for a larger, less expensive venue
Sometimes, a larger venue can be more affordable than a smaller, more upscale one. By choosing a more spacious yet budget-friendly location, you may be able to accommodate a larger guest list without significantly increasing your overall wedding costs. This could be particularly beneficial if you have a large extended family or a wide social circle that you want to include in your special day.
Use a tiered reception strategy when planning your wedding guest list
A tiered reception strategy involves hosting different portions of the wedding celebration for various groups of guests. For example, you might invite your closest, immediate family members and friends to the ceremony and a sit-down dinner, while a larger group of acquaintances and coworkers are invited to join you for the later part of the evening, such as dancing and dessert. This approach allows you to include more people in your wedding festivities without the expense of a full meal for every guest.
Make it a potluck or bring-your-own-beverage affair
While unconventional, a potluck-style reception or a bring-your-own-beverage event can be an affordable and fun way to include more guests in your wedding. By asking guests to contribute a dish or their favorite drink, you can significantly cut down on catering costs and allocate more of your budget to other aspects of your wedding, such as the guest list. This option works best for more casual weddings and couples with a laid-back, community-oriented approach to their big day.
In summary, when deciding on your wedding guest list size, it's essential to think creatively and consider unconventional solutions that may suit your unique needs and preferences. By exploring these counterintuitive tips, you can potentially invite more guests to your wedding without sacrificing your budget or the quality of your celebration. Happy wedding planning everyone!
Here are some tips on managing your guest list by liveaboutdotcom.
What percentage of wedding guests actually attend?
According to The Knot between 70% and 85% of invited guests will actually attend a wedding. So if you invite 100 people around 70 to 85 people will actually show up.
How to Distribute Invitations for a 100-Person Wedding
When planning a wedding for 100 guests, it's important to consider how to divide the invitations among wedding party members, the couple and their parents. Typically, the guest list is split evenly between the couple and both sets of parents. In this case, the couple would extend invitations to 50 individuals, while each set of parents would be responsible for inviting 25 guests.
If you are a wedding guest here are some great tips and answers to FAQ's about wedding guest etiquette.
What is Wedding Guest Etiquette?
As a wedding guest, you play a crucial role in the couple's special day, and observing proper etiquette can contribute to a memorable and enjoyable experience for everyone. But what exactly does wedding guest etiquette entail? Here are some key points to keep in mind:
How should you respond to a wedding invitation?
It's essential to RSVP promptly, as this helps the couple plan for seating, catering, and other arrangements. Make sure to read the invitation thoroughly and adhere to the RSVP deadline.
Can you bring extra guests or children to the wedding?
Only bring additional guests or children if explicitly indicated on the invitation. If the couple wanted to include mutual friends or more people, they would have specified this in their invitation.
How important is the dress code for the wedding?
Dressing appropriately for the wedding venue, and following the couple's instructions for attire is crucial. Avoid wearing white, ivory, or any shade that may resemble the bride's chosen color.
What is the expected arrival time for guests?
Plan to arrive at the ceremony at least 20 minutes before the scheduled start time to avoid any disruptions.
Is it necessary to give a gift?
Gifts are a thoughtful gesture, even if you can't attend the wedding. Couples often have a registry for gift-giving, but cash or gift cards are also acceptable options.
Should you use your phone during the ceremony?
Taking photos is generally acceptable, but ensure your phone's sound notifications are turned off to prevent any disruptions during the ceremony.
Is it appropriate to talk during the ceremony?
Avoid engaging in conversations during the ceremony, as it can be distracting for others around you.
Should you sign the guestbook?
Signing the guestbook is a lovely way for the couple to remember everyone who attended their wedding.
Respect the couple's wishes regarding social media posts, whether they request a blackout or encourage sharing using specific hashtags.
What is the appropriate level of alcohol consumption?
While enjoying the open bar is part of the celebration, it's essential to pace yourself and avoid overindulging.
Refrain from sharing negative opinions or critiques about the event. Focus on positivity and celebrating the newlyweds.
By following these etiquette tips, you can contribute to a wonderful and unforgettable wedding experience for your future spouse, both the couple and the other guests.
In conclusion
Determining your wedding guest list size on a budget involves careful consideration of your financial constraints, venue capacity, and prioritizing the relationships most important to you and your partner. By keeping these factors in mind and approaching the wedding planning process yourself with empathy and understanding, you'll create a memorable and enjoyable event for all who attend. Happy planning!
P.S. Want to know when our next post lands and get our free ebook on how to live frugally? Then click the link below.
Sign up here to claim your free ebook!
Also read:
15 Affordable Wedding Ceremony Ideas You'll Love
How Many People Should I Invite to My Wedding on a Budget?
Everything To Know About An Amazon Wedding Registry And 7 Tips
Best Wedding Reception Order of Events for Your Big Day (4 steps to planning)
Ideas for Disney Wedding Centerpieces
10 Top Tips for Planning a Wedding on a Budget You'll Love
15 Affordable Wedding Ceremony Ideas You'll Love
10 Bible Verses for Weddings Couples Will Love