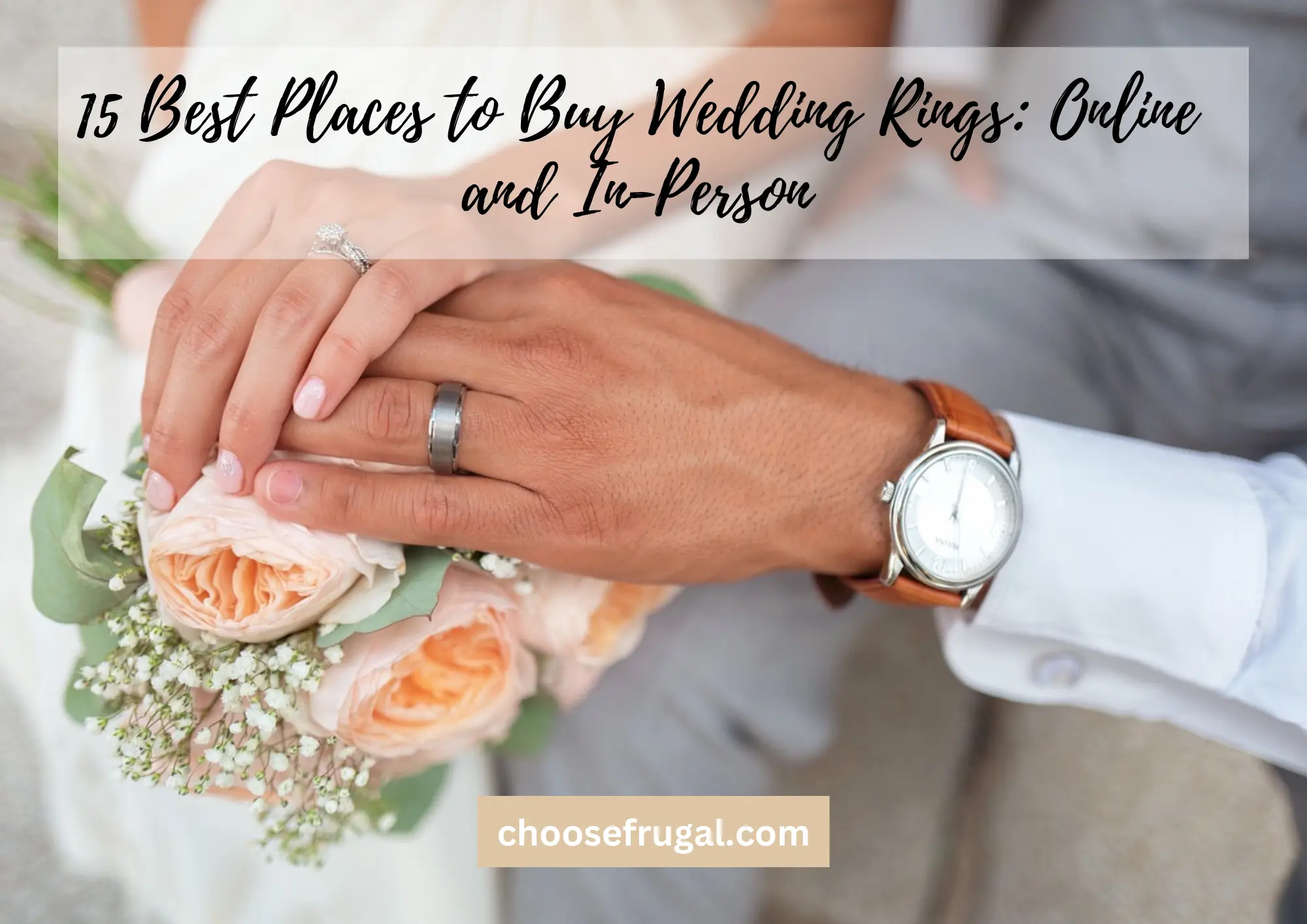 Choosing the perfect wedding ring is a significant part of wedding planning. Whether you prefer the convenience of online shopping or the personalized experience of an in-person visit, finding the right place to buy your wedding rings is crucial.
What you will discover in this article
hide
In this article, I present a carefully curated list of 15 online and in-person places where you can purchase stunning wedding rings that symbolize your love and commitment.
Best Places to Buy Wedding Rings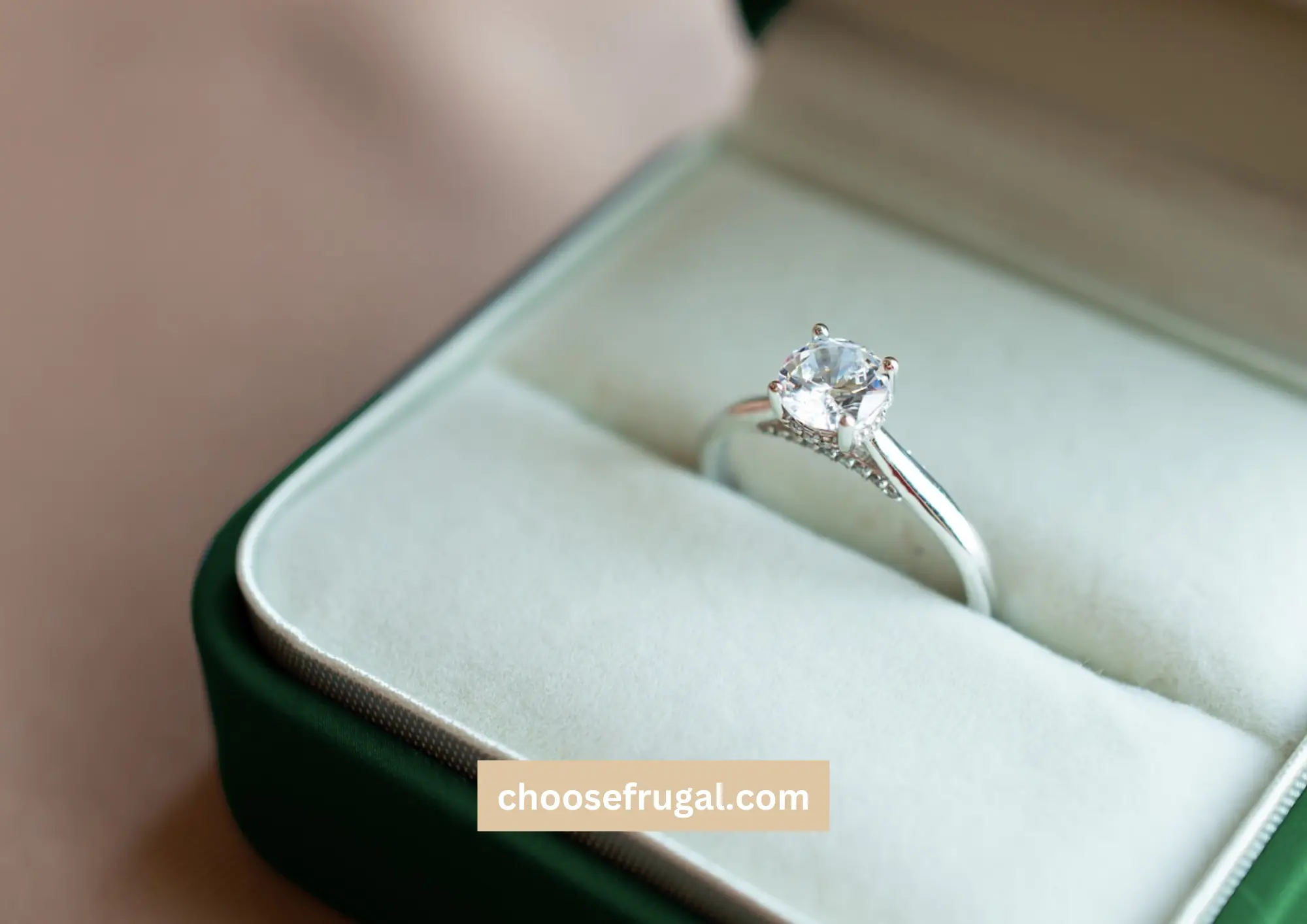 Buying a wedding ring is a stressful experience for anyone. You have many questions. Will they like it? Will it fit? Do I have enough money? Where should I buy the ring? The last question might not be one of your biggest considerations, but it should be. Choosing where you buy the perfect wedding ring will give you peace of mind that you are buying a high-quality piece that will last for years.
So, here are 15 reputable places to search for the perfect wedding ring to symbolize your love for your spouse.
To know more about choosing the perfect wedding ring, watch this video by The Modest Man: How to Choose a Wedding Ring (Type, Size, Fit, Shape).

1. Blue Nile (Online)
Blue Nile is renowned for its extensive selection of high-quality diamonds and wedding bands. Offering a user-friendly website and exceptional customer service, Blue Nile provides a convenient online shopping experience. With a vast range of customizable options and competitive prices, Blue Nile is a go-to destination for those seeking elegant and timeless wedding rings, making it one of the best places to buy wedding rings online.
2. Tiffany & Co. (In-Person and Online)
Tiffany & Co. is synonymous with luxury and style. Known for their iconic engagement rings, Tiffany & Co. also offers a stunning collection of wedding bands. With their exquisite craftsmanship and exceptional service, Tiffany & Co. creates pieces that will impress. Whether you visit their flagship stores or explore their online platform, you can expect timeless elegance and unparalleled quality.
3. James Allen (Online)
James Allen is a leading online retailer of wedding rings, renowned for its extensive inventory and innovative 360° Diamond Display Technology. Their virtual try-on feature lets you view rings in high resolution, helping you make an informed decision. With competitive pricing and a wide variety of styles, James Allen is a popular choice for those seeking high-quality rings without compromising on affordability.
4. Kay Jewelers (In-Person and Online)
Kay Jewelers has been a trusted name in the jewelry industry for decades. With numerous retail locations across the United States and a user-friendly online store, Kay Jewelers offers a wide range of wedding rings to suit various budgets and preferences. In addition, their knowledgeable staff and lifetime diamond guarantee make the shopping experience even more appealing.
5. Brilliant Earth (Online)
If ethical sourcing is a priority for you, Brilliant Earth is an excellent option. They specialize in conflict-free diamonds and use eco-friendly materials in their jewelry. With a focus on sustainability and transparency, Brilliant Earth offers a unique selection of wedding rings that combine beauty with responsible practices.
6. Jared (In-Person and Online)
Jared is another reputable destination for wedding ring shopping, known for its extensive collection and exceptional customer service. Whether you prefer classic designs or contemporary styles, Jared has something for everyone. They provide various customization options, ensuring your wedding rings are as unique as your love story.
7. BlueStone (Online)
BlueStone is a popular online retailer that offers an array of wedding rings to suit different tastes and budgets. With their "Try, Buy, and Return" policy, you can order multiple rings and return the ones that don't meet your expectations. BlueStone's commitment to quality and affordable pricing makes it a compelling online ring-shopping choice.
8. Harry Winston (In-Person)
For those seeking ultimate luxury and unparalleled craftsmanship, Harry Winston is a name that stands above the rest. Harry Winston offers an exclusive and personalized experience with their flagship stores in major cities worldwide. Their attention to detail and use of the finest materials create wedding rings that exude sophistication and opulence.
9. Etsy (Online)
Etsy is a treasure trove of handmade and vintage wedding rings created by independent jewelers and artisans. This online marketplace offers diverse designs, allowing you to find a ring that truly reflects your style. With the option to customize and support small businesses, Etsy provides a distinct shopping experience for those seeking one-of-a-kind wedding rings.
10. Zales (In-Person and Online)
With its long-standing reputation, Zales offers a wide selection of wedding rings suitable for various budgets. Whether you prefer traditional designs or contemporary styles, Zales has options to cater to your preferences. In addition, their knowledgeable staff and flexible financing options make Zales a go-to destination for many couples.
11. Shane Co. (In-Person and Online)
Shane Co. is a family-owned jeweler in business for over 50 years. Shane Co. is committed to excellent customer service and offers a wide range of wedding ring styles and options. Their knowledgeable staff guides you through selection, ensuring you find the perfect ring to celebrate your love and commitment.
12. Brilliant Earth (In-Person)
Brilliant Earth not only has an online presence but also has showrooms in major cities. Their brick-and-mortar locations allow viewing and trying on their ethically sourced and environmentally friendly wedding rings. With a focus on sustainability and social responsibility, Brilliant Earth's in-person experience adds an extra layer of trust and assurance.
13. Amazon (Online)
Amazon, the world's largest online marketplace, offers various wedding rings from various sellers. With a range of styles, metals, and gemstones to choose from, Amazon provides options for every taste and budget. Ensure you read customer reviews and verify the seller's reputation to make an informed purchase.
14. Cartier (In-Person and Online)
Cartier is synonymous with luxury and timeless elegance. Cartier offers an unforgettable in-person shopping experience with flagship stores in major cities worldwide. Their expert artisans create exquisite wedding rings using the finest materials, making them a symbol of enduring love and refinement.
15. James Avery (In-Person and Online)
James Avery is a renowned American jewelry brand known for its handcrafted designs and attention to detail. Their wedding ring collection features intricate and meaningful designs celebrating love and commitment. With both in-person stores and an online platform, James Avery offers convenience and quality craftsmanship for those seeking unique and sentimental wedding rings.
Remember, when making any purchase, whether in-person or online, it's essential to do thorough research, read reviews, and ensure the seller or retailer has a good reputation. This will help you make an informed decision and find the perfect wedding rings that embody your love and commitment.
Determining the Legitimacy of an Online Wedding Ring Store: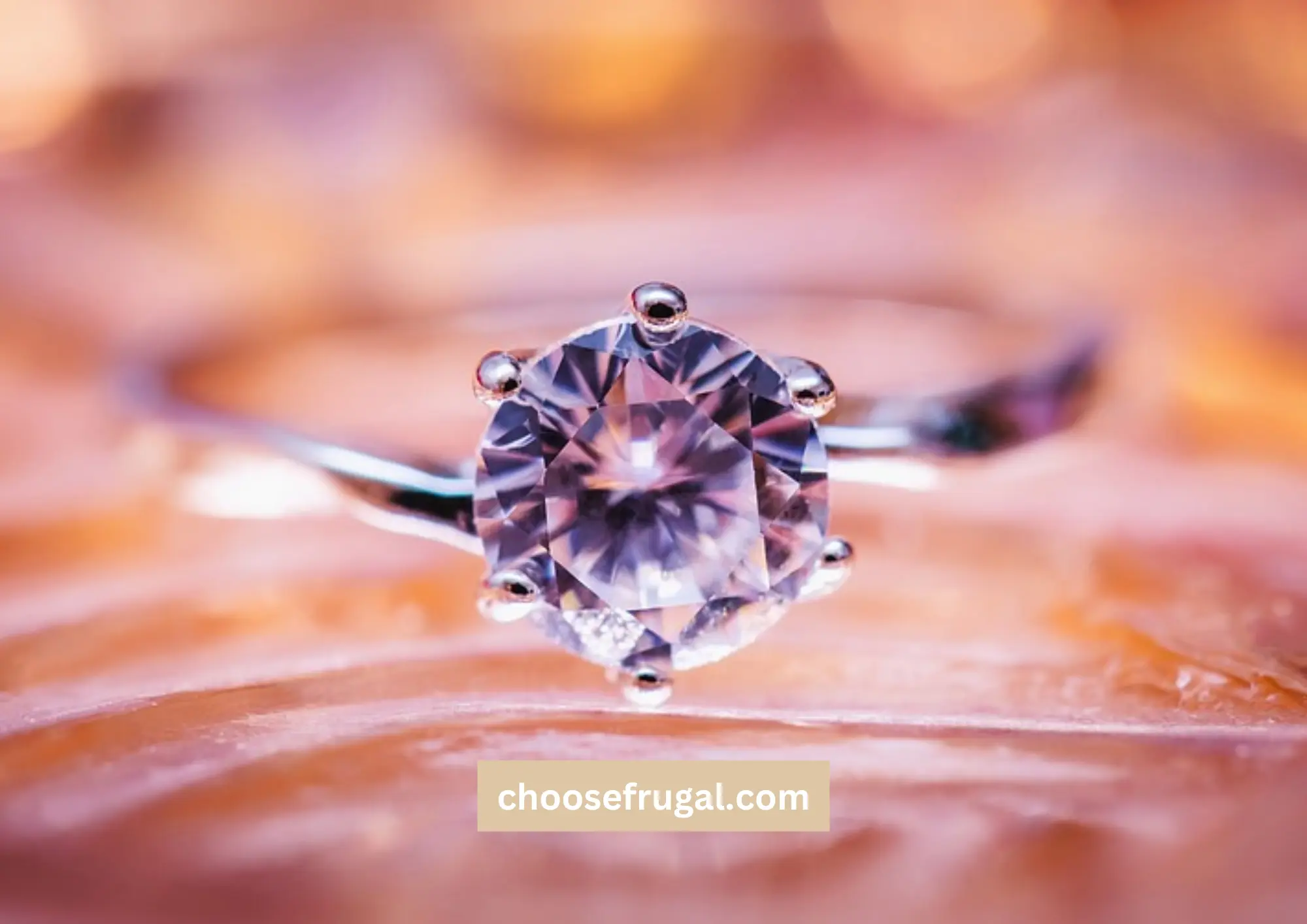 Shopping for wedding rings online offers convenience and a vast selection, but it's important to ensure that the online store you choose is legitimate and trustworthy. Since a wedding ring is an expensive investment, the idea of buying a wedding ring online might scare you.
However, many online wedding ring stores have a more extensive selection of rings, and they offer high-quality products with many other advantages (think exclusivity, customizability, etc.).
So, knowing what to look out for when wedding ring shopping online will give you peace of mind and help ensure you are buying the best ring for your spouse. Here are some key factors to consider when evaluating the legitimacy of an online wedding store:
Research the Store
Start by conducting thorough research on the online wedding store you're considering. Look for customer reviews and ratings on trusted review websites and forums. Positive feedback and satisfied customers are indications of a reliable and reputable store. Be cautious if you encounter numerous negative reviews or complaints about the store's products or customer service.
Check the Store's Website
Visit the store's official website and examine its design and functionality. Legitimate online wedding stores often invest in professional website development to provide a seamless user experience. Look for clear product descriptions, high-quality product images, and detailed information about shipping, return policies, and customer support.
A well-designed and informative website is a positive sign of a legitimate store.
Verify Contact Information
Legitimate online stores provide multiple ways to contact them. First, look for a physical address, phone number, and email address on the website. Take an extra step to verify the provided contact information, such as calling the phone number or using mapping services to confirm the existence of the listed address. A reputable store will have transparent and easily accessible contact details.
Secure Payment Options
Prioritize online wedding stores that offer secure payment options. Look for well-known and trusted payment gateways like PayPal, Stripe, or major credit card processors. Secure payment gateways encrypt your payment information, ensuring that your personal data remains protected. Avoid websites that only accept less secure payment methods or ask for payment via wire transfer or money orders.
Look for Trust Marks and Certifications
Trust marks and certifications from recognized third-party organizations provide an additional layer of assurance. Look for symbols like SSL (Secure Sockets Layer) certificates, which indicate that the website has implemented security measures to protect customer data during transactions. Other trust marks, such as the Better Business Bureau (BBB) accreditation or industry-specific certifications, can also signify a reputable online store.
Read the Return and Refund Policy
Legitimate online stores have clear and reasonable return and refund policies. Carefully review these policies to ensure that you have options in case the wedding ring doesn't meet your expectations. Check for information on return periods, conditions, and any associated fees. Be cautious if the store has vague or overly restrictive return policies, which may indicate potential product or customer service issues.
Seek Recommendations and Referrals
Ask for recommendations from friends, family, or online communities who have had positive experiences with online wedding stores. Personal referrals can provide valuable insights and help you make an informed decision. Social media platforms and wedding forums are great places to seek advice and recommendations from fellow brides and grooms.
By considering these factors and conducting thorough research, you can increase your chances of finding a legitimate online wedding store that offers high-quality products and a reliable shopping experience. Trust your instincts and be cautious if something feels off or too good to be true. Your wedding rings symbolize your love and commitment, so choosing a reputable store you can trust is important.
If you want more information on shopping for wedding rings online vs. in person, watch this video by the Gentleman's Gazette: How To Buy An Engagement Ring Online, Offline & Custom + DO's & DON'Ts + Diamond Shopping Mistakes.

Conclusion
Choosing the perfect wedding ring is a deeply personal and meaningful decision. Whether you explore the world of online shopping or prefer the personalized experience of an in-person visit, the 15 places mentioned above offer exceptional options to find the ideal wedding rings that symbolize your love and commitment.
From renowned luxury brands to online marketplaces supporting independent artisans, these destinations cater to different styles, preferences, and budgets, ensuring you find the perfect symbol of your everlasting bond.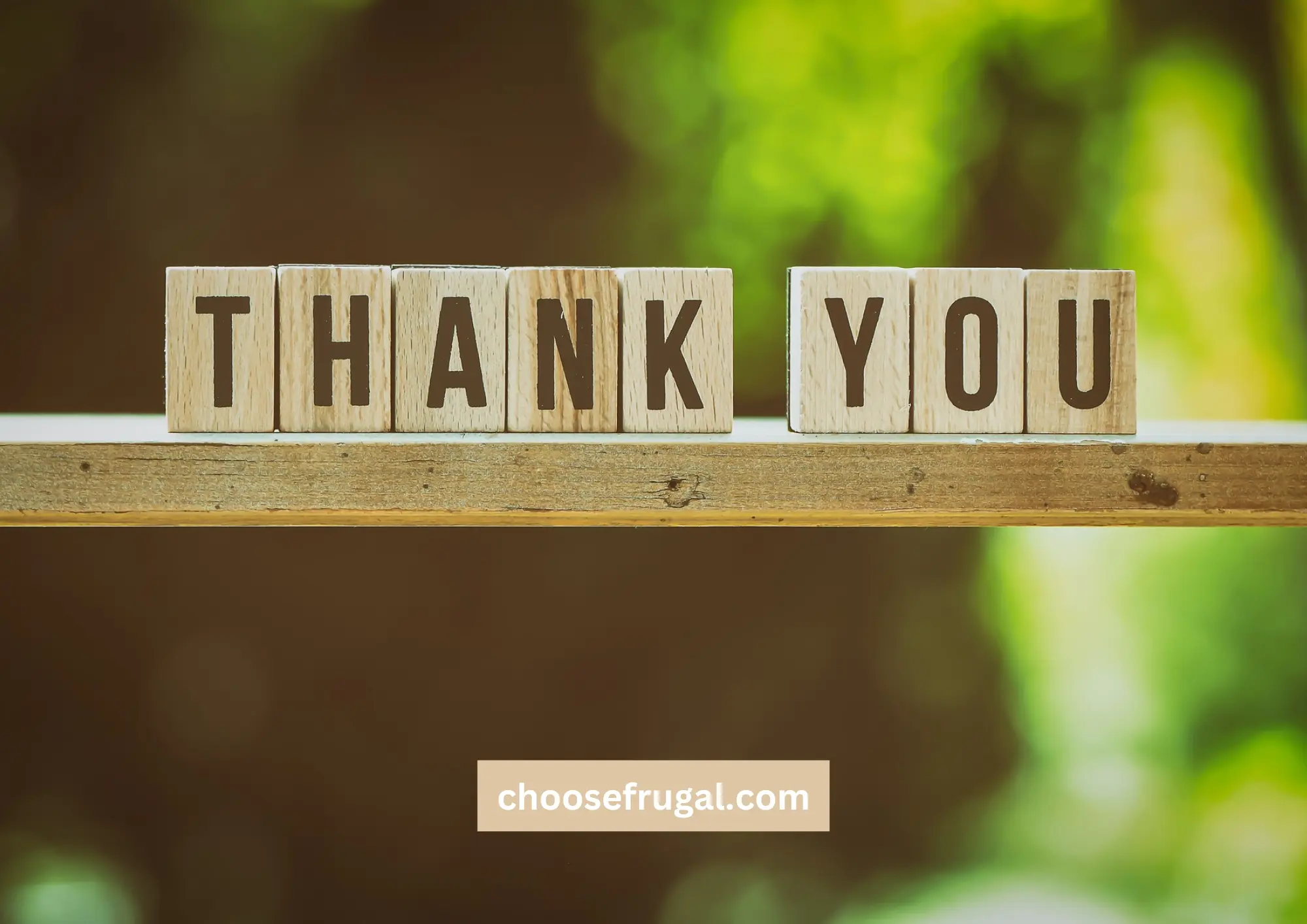 Thank you for reading this article! If you want more information about wedding-related topics, such as planning a wedding on a budget, determining your wedding guest list, and inspirational proposal ideas, read our other blogs!
15 Affordable Wedding Ceremony Ideas You'll Love
How Many People Should I Invite to My Wedding on a Budget?
Best Wedding Reception Order of Events for Your Big Day (4 steps to planning)
10 Top Tips for Planning a Wedding on a Budget You'll Love
15 Affordable Wedding Ceremony Ideas You'll Love
10 Bible Verses for Weddings Couples Will Love
6 Bible Readings for Weddings You'll Love
P.S. Want to know when our next post lands and get our free ebook on how to live frugally? Then click the link below.