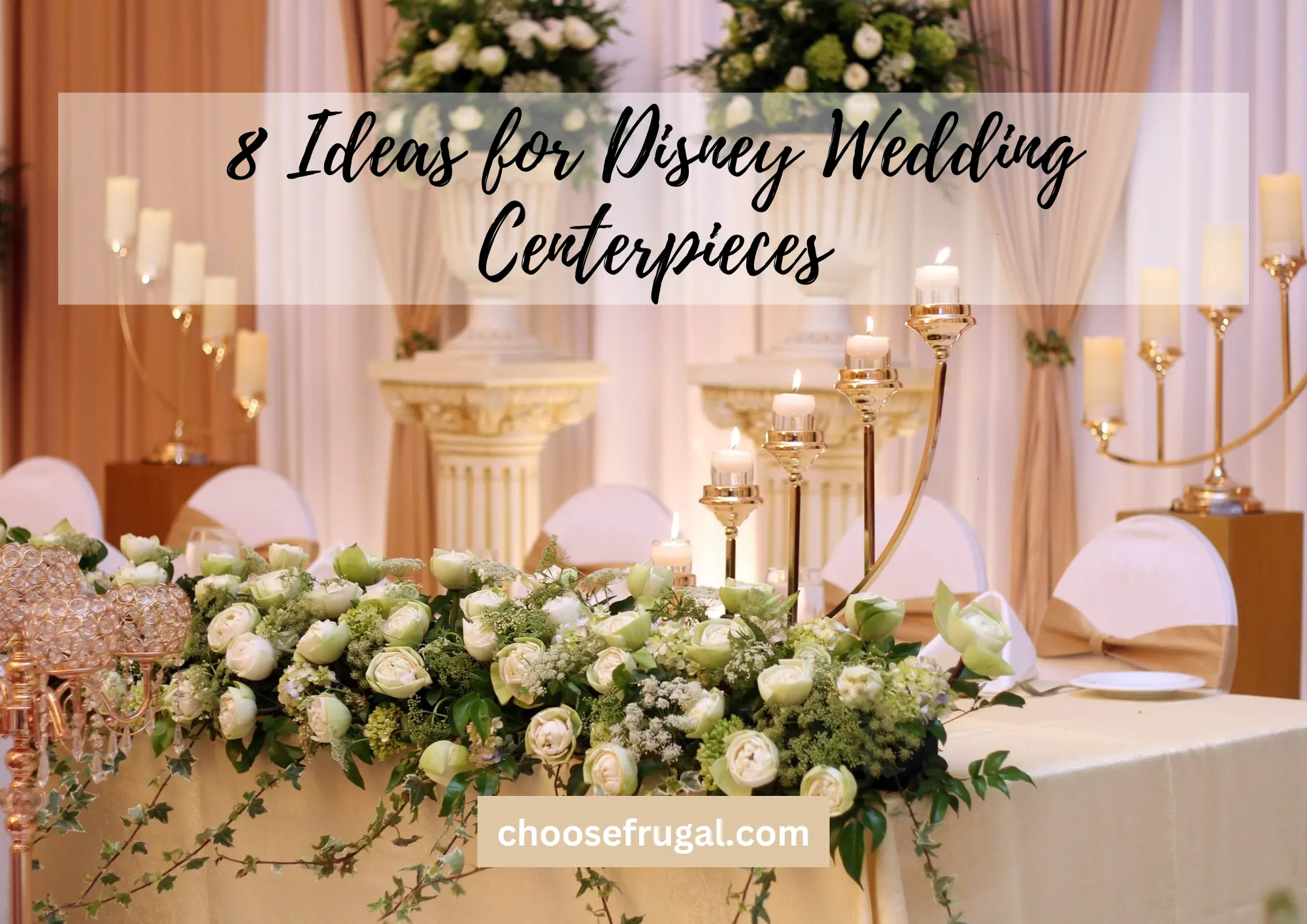 Would you like to have Disney wedding centerpieces at your wedding to include the Disney characters that inspired you on this special day? Whether it was Beauty and the Beast, Sleeping Beauty, or Frozen, Disney princesses have made little girls excited about their wedding day for decades. And now that the big day is finally here, you might want to add some Disney magic to your fairy tale wedding by having a Disney-themed wedding.
There are plenty of fun and interesting ways to include Disney trinkets into your wedding theme. But people often fear going overboard and turning the wedding into a tacky and laughable affair. So, how can you include details of your favorite Disney movie in your wedding? How about adding details from your favorite movie to your wedding table centerpieces? Here are a few ideas for Disney wedding centerpieces for you to consider.
Ideas For Elegant Disney-Themed Wedding Centerpieces
Themed weddings are an excellent idea to add a fun and memorable twist to an otherwise fairly serious occasion. But if you aren't careful with approaching a themed wedding, the result may be more of a kid's party than the elegant affair you have always dreamed of.
So, when choosing a Disney-themed wedding, the key is "less is more." One special way to pay homage to your favorite Disney movie is by adding trinkets from their story to your wedding table centerpiece.
Watch this video by DramaticParrot on I made all of my Disney Wedding Decorations – My Wedding was themed Disney.
You don't have to go overboard; an apple here and a candlestick there add the perfect amount of Disney-inspired wedding theme to elevate the centerpiece without making it feel tasteless. If you decide on a general Disney wedding theme, the sky is the limit. You can add notes from various Disney movies to create spectacular, unique centerpieces that all your guests will remember and appreciate.
Disney Princess Wedding Centerpiece Ideas
Of course, you can also settle on a specific princess. Perhaps one who inspired you to wait for your Prince Charming or whose bravery and courage have been with you your entire life. Let's consider how you can create an elegant Disney wedding table centerpiece without taking the focus off your and your husband on this special day.
There are so many incredible Disney princesses that choosing only one to include in your wedding centerpiece may seem impossible. However, every woman usually has one princess who resonates with her most. You've seen this movie countless times – so many times, in fact, that you know the songs by heart.
You've dreamt of being like her for years. Of fighting dragons or going on adventures, or having an entire library stacked with thousands of books, that envisioning your wedding day without thinking of this princess and her story is nearly impossible.
If that's the case, you may now wonder how to add magic to your Disney-themed wedding centerpieces. Of course, you don't want your decorations to look like a kid's party, but you also want to ensure that everyone can tell where you got your inspiration from. Well, today, you are in luck!
Below, you will find some inspiration for using Disney movies as a theme to choose for your centerpiece without going overboard. Here are five ideas for Disney-themed centerpieces if you have a specific Disney princess in mind.
Tangled Themed Wedding Centerpieces
 If you're marrying the local bad boy, chances are you loved Eugene from Tangled; who doesn't? Suppose Tangled happens to be your favorite movie. In that case, plenty of unique ways exist to create an elegant Tangled Disney wedding centerpiece. For example, you can add paper lanterns with the sun symbol on the table to commemorate Rapunzel's birthday.
You can also place floating candles around the table to replicate the lantern scene. Or you can ensure that plenty of colorful floral arrangements on the table resemble those used to adorn Rapunzel's hair. Since pink, purple, and yellow were the primary colors of the movie, you can get creative with those colors for the centerpiece.
Another fun and easy way to include details from Tangled is to make wanted posters for the guest seating chart. This can be a great way to incorporate the Disney theme functionally and give your guests something to laugh about while serving as a cute keepsake.
Beauty and the Beast Themed Wedding Centerpieces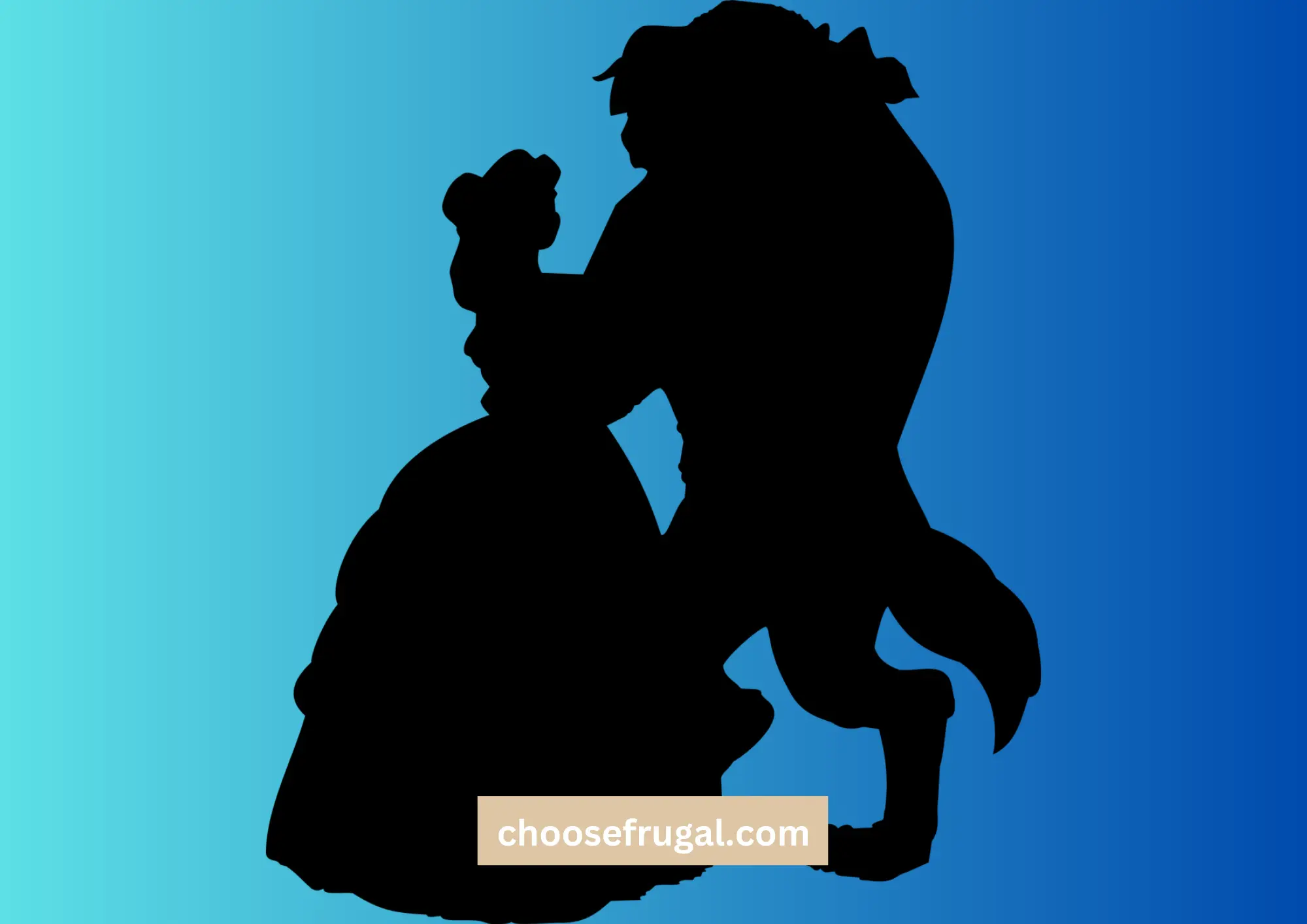 As a Disney fanatic, Beauty and the Beast is certainly my favorite Disney story. If not for all the brilliant supporting characters, then for the courage of a young girl who softens the beast's heart. Being one of the most romantic Disney movies, it's clear to see why you would want to incorporate details of Beauty and the Beast in your fairy tale wedding. And what better way than to add elements of Beauty and the Beast to your centerpiece?
The centerpiece options for a Beauty and the Beast-themed Disney wedding table are endless. Royal blue, gold, silver, and red are the primary colors associated with Beauty and the Beast, so including these colors in your table decorations is a great idea. Of course, you cannot forget about the red rose placed in a glass case. You can add one on each table or find smaller red roses yourself and use them for the keepsakes or table settings. Alternatively, include them in the floral arrangements on the tables. Old books can be an excellent way to include a nod to Beauty and the Beast and can serve as place settings or numbers, too.
Of course, for a Beauty and the Beast centerpiece, note that you will need either clocks or candlesticks or the table won't be complete. Finally, placing elegantly decorated teacups and saucers on the table (perhaps as keepsakes or with candles) can strengthen the theme without making the tables look too crowded.
The Little Mermaid Themed Wedding Centerpieces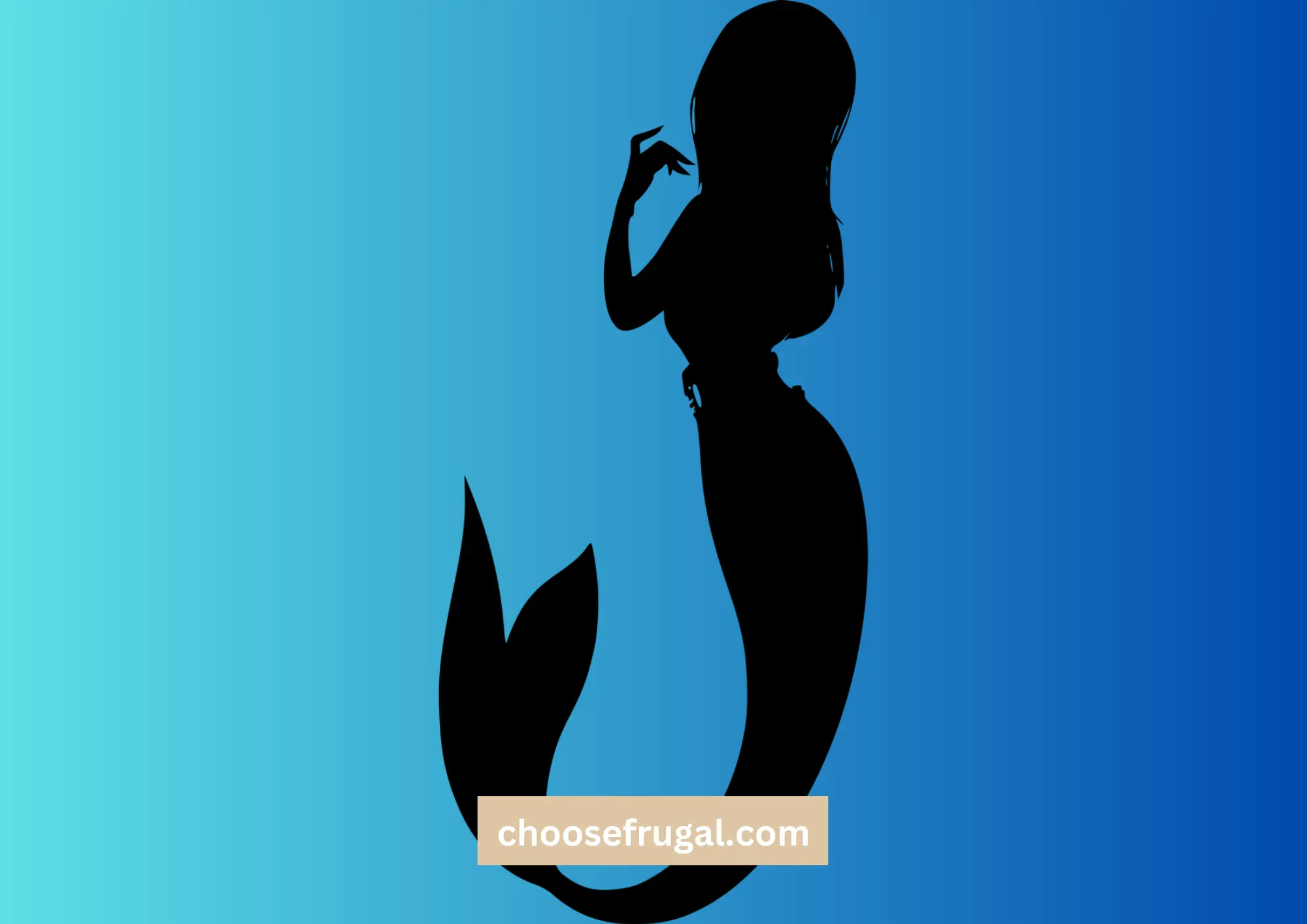 If you love the sea, then The Little Mermaid was likely one of your favorite movies growing up. And this movie provides excellent inspiration for unique centerpieces, as you can include so many elements. Green, red, and light purple are the primary colors used in the movie, so try to include them in your centerpiece.
Adding starfish and shells, pearls, and treasure chests to the table decorations is an easy and excellent way to include The Little Mermaid in your Disney wedding centerpiece. Floating candles also work well, and you can add some white flowers to match the floating candles and willow leaves to remind the guests of Ariel in the famous Kiss the Girl scene.
Of course, you can also take inspiration from Ariel's treasure room and add funny nick-knacks, such things as decorative forks, snow globes, and miniature statues. Finally, green reflective confetti will remind guests of Ariel's tail and is a unique way to draw attention to the table's centerpiece.
The Princess and The Frog Themed Wedding Centerpieces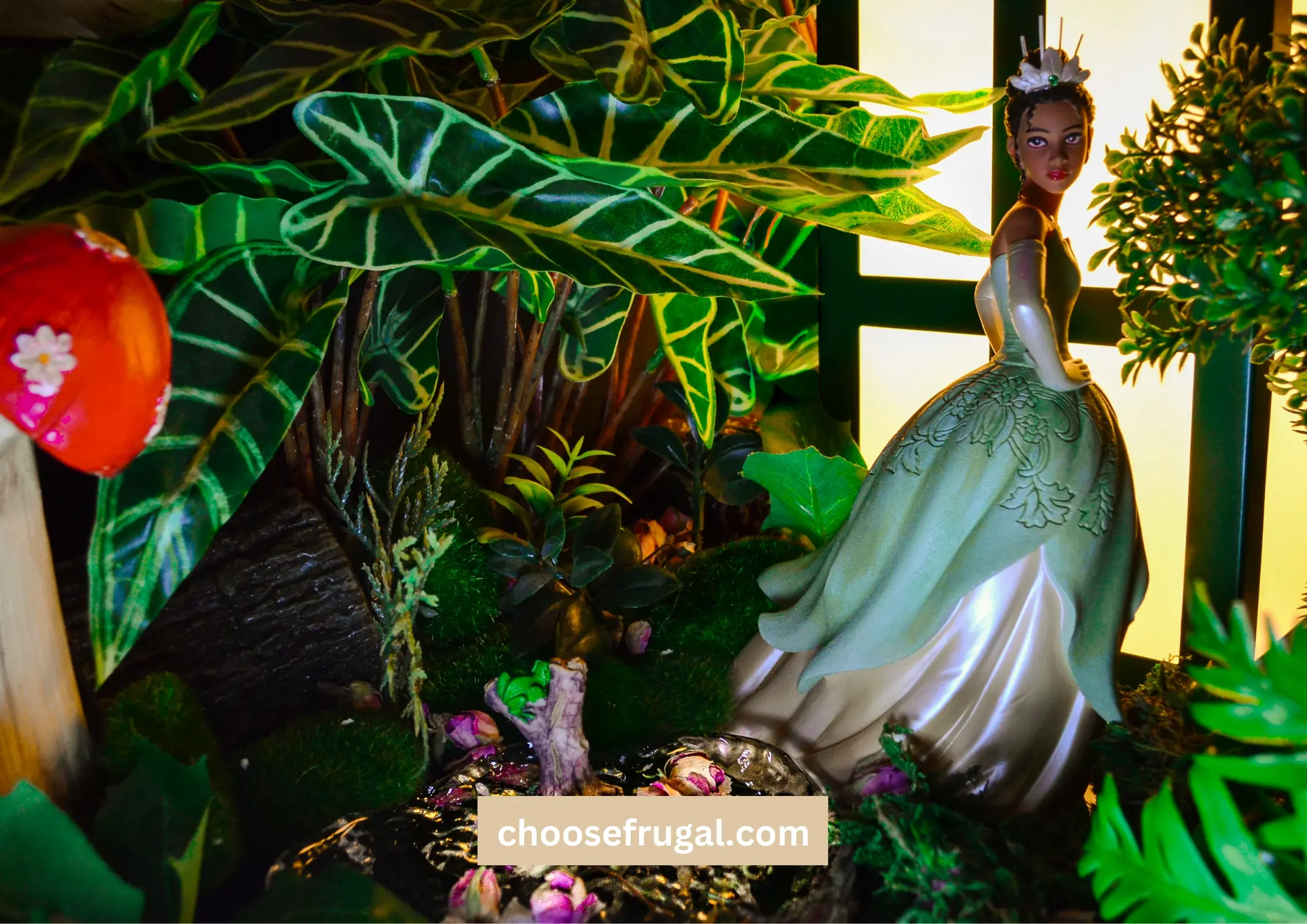 The Princess And The Frog is a unique Disney movie since it is set in a more modern location and time than many other Disney movies. Nevertheless, this is one movie that can inspire a magical wedding theme as the couple goes on a strenuous adventure to eventually find love. They are perhaps one of the most relatable Disney couples. Perhaps your love story required the same effort as this fairy tale? The Princess and the Frog offer some inspiring ideas for wedding centerpiece, especially if you love the color palette.
Green and yellow are the primary colors used in The Princess and the Frog. Of course, you can include lily pads, fairy lights, and white flowers in the table's centerpiece. A tiara or frog-shaped table numbers are another great way to include the theme in your dream wedding. Don't forget to include purple touches in the centerpiece. This was the color of the flower the Prince gave Princess Tiana when he declared his love for her.
Cinderella Themed Wedding Centerpieces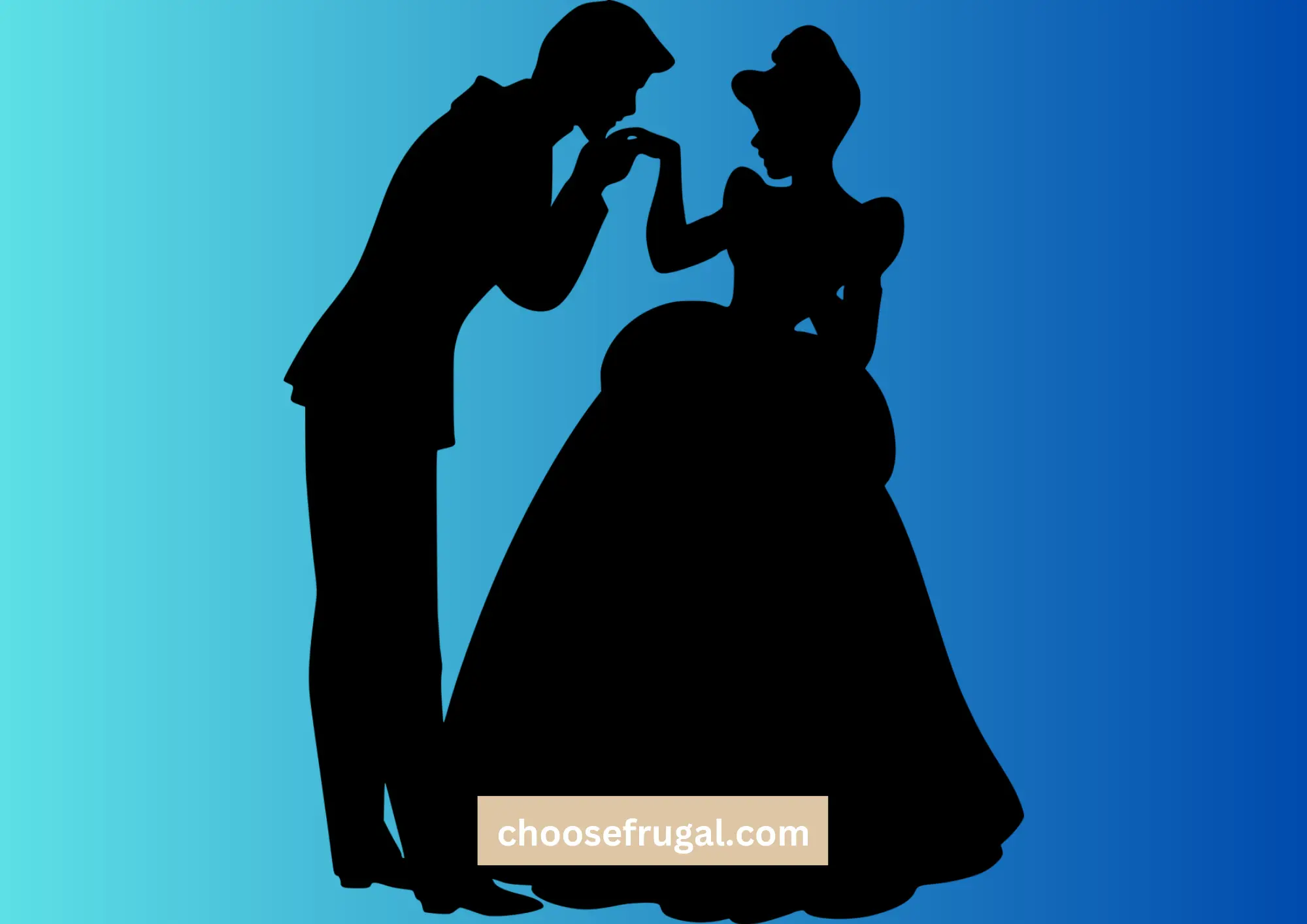 Cinderella is another classic Disney movie about hard work, love, and sacrifice. And, since we've all dreamed about a prince who would search the entire kingdom for us, this might be the Disney movie you want to include in your wedding theme. In addition, Cinderella has a few cute and interesting trinkets you can include in your wedding theme.
For example, a tiny pumpkin or glass slipper can perfectly include this movie in your Disney wedding centerpiece decorations. The name cards can be placed on a small pumpkin at the head of each table, while the guests' names are printed on scrolls or placed in a glass slipper. Sparkly blue is the color of the day with a Cinderella-themed wedding table. You can also add tiny clocks to the table that are all set to midnight to remember this essential element in the movie.
While many of these movies would inspire an excellent wedding theme and make beautiful decorations for a wedding, it's important to remember that less is more in this case. Subtle hints will go a long way to ensuring your guests are aware of the theme without the theme stealing away from the elegance and focus of the day – you!
Ideas for Disney Wedding Centerpieces and Decorations
While you may now have plenty of inspiration for which Disney-themed wedding decorations you can add to your table decor, that still leaves the question of how to do so without going overboard. You also may have a restricted wedding budget which doesn't allow for the most extravagant centerpiece props. Fortunately, having wedding decorations based on a Disney movie doesn't have to cost you an arm and a leg.
Here are some excellent ideas for making your own Disney wedding centerpiece props by The Sorry Girls: DIYing wedding decor (on a budget).
If you want to include elements of your favorite Disney movie without adding going overboard, here are three classy ways to pay homage to your favorite Disney character at your wedding without spending too much. You can use these ideas for your wedding decorations or include some elements of your favorite Disney movie throughout the wedding ceremony and decorations.
1. Color-Palette
If you don't necessarily want to pick wedding decorations that focus entirely on the characters and movie elements, but you still want to hint at the character who inspired you most growing up, why not consider the color palette of that princess? For example, blue, gold, and red balloons are the perfect choice for a Beauty and the Beast-themed wedding, while red, green, and purple are perfect for The Little Mermaid.
Including objects in these colors, like serviettes, table runners, and flowers, is a great way to commemorate your favorite Disney movie without blowing your budget. Since you would have included these objects in any case, it is easy to change the colors to pay tribute to your fairy tale wedding.
2. Table Numbers and Place Settings
For a low-key nod to your favorite Disney movie character, why not include something from their movie in the place settings and table numbers of your wedding centerpiece? For example, wanted posters for Tangled, lily pads for Princess and the Frog, or silver or gold pumpkins for Cinderella are excellent ways to include your Disney princesses on your tables without spending more money or going overboard.
3. Keepsakes
Finally, selecting a couple of keepsakes that remind guests of your Disney-themed wedding is an excellent way to combine your theme with something functional. Think of keychains in the shape of apples, slippers, or roses, Disney-themed cupcakes, cookies or macarons, or a snow globe with an object from your favorite movie.
Conclusion
Most girls dream of growing up and marrying their Prince Charming, just like their favorite Disney princesses. And if you have found your prince, what better way to commemorate the princess who inspired you than with Disney-themed wedding decorations? There are many cute and creative ways to produce Disney-themed decor without going overboard. Bear in mind that less is more when commemorating your favorite Disney princes on your wedding day.
P.S. Want to know when our next post lands and get our free ebook on how to live frugally? Then click the link below.
Sign up here to claim your free ebook!
Also read:
15 Affordable Wedding Ceremony Ideas You'll Love
Everything To Know About An Amazon Wedding Registry And 7 Tips
How Many People Should I Invite to My Wedding on a Budget?
15 Best Places to Buy Wedding Rings: Online and In-Person
Best Wedding Reception Order of Events for Your Big Day (4 steps to planning)
10 Top Tips for Planning a Wedding on a Budget You'll Love
15 Affordable Wedding Ceremony Ideas You'll Love
10 Bible Verses for Weddings Couples Will Love