Bible readings for weddings are still very popular! The Bible is a popular source of inspiration for weddings. It is filled with verses that celebrate love, commitment, and the beauty of marriage. The wedding ceremony is a momentous occasion that marks the beginning of a new chapter in a couple's life. Many couples choose to incorporate Bible readings in their wedding ceremony to add a spiritual element and to express their faith.
Bible readings for weddings can provide a source of inspiration, wisdom, and guidance for the couple as they embark on their journey together. In this article, we will explore the significance of Bible readings in a wedding ceremony, different types of Bible readings, tips on choosing the right Bible reading, and ideas for personalizing and incorporating them.
When choosing Bible readings for weddings, one of the best resources is a Bible app like the YouVersionBible App since it has many versions of the Bible and can be installed on multiple different devices for free! There are different versions for iPhone and iPad, Android, Kindle, and computer so no matter what device you use you can access the bible wherever you are! The app also has plans, images, and videos!
I've been using the app on my Android device for years and I enjoy getting the daily verses that I often share with friends and loved ones.
P.S. Want to know when our next post lands and get our free ebook on how to live frugally? Then click the link below.
Sign up here to claim your free ebook!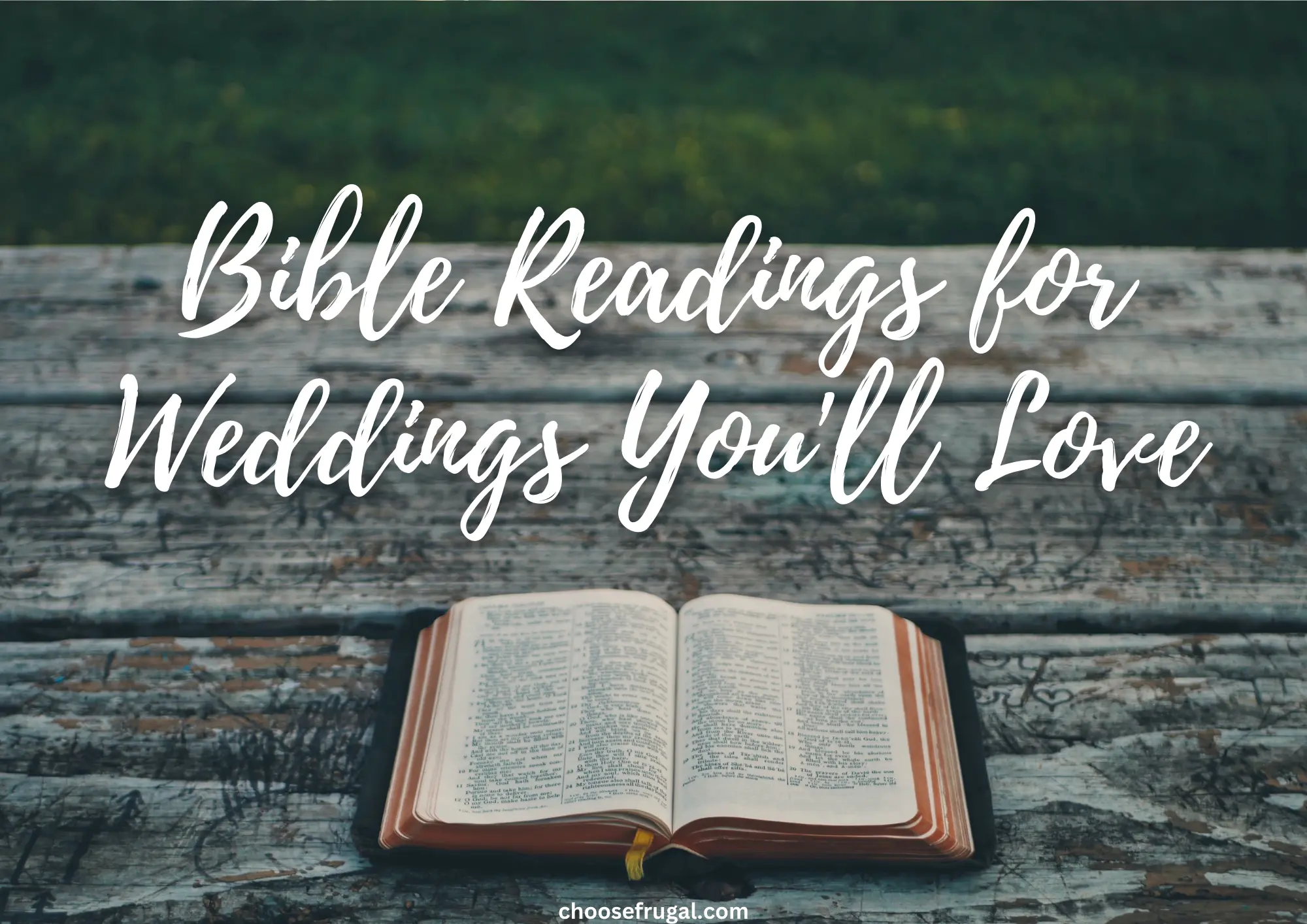 Choosing the Right Bible Reading for Your Ceremony
Choosing the right Bible reading for your wedding ceremony can be a daunting task, as there are so many options available. Some factors to consider when choosing a Bible reading include the overall theme of the ceremony, the tone and style of the reading, and the couple's personal preferences and beliefs. It can also be helpful to consult with a religious leader or wedding officiant for guidance and suggestions. Some popular Bible readings for weddings include the following.
Here's our list of 6 Bible readings for weddings:
1. Genesis 2:24
Genesis 2:24 – "Therefore a man shall leave his father and his mother and hold fast to his wife, and they shall become one flesh."
This verse is often used to emphasize the importance of the commitment that a man and woman make to each other in marriage. By leaving behind their families and creating a new family unit, they become one flesh, united in their love and devotion to one another.
2. Ecclesiastes 4:9-12
Ecclesiastes 4:9-12 – "Two are better than one, because they have a good reward for their toil. For if they fall, one will lift up his fellow. But woe to him who is alone when he falls and has not another to lift him up! Again, if two lie together, they keep warm, but how can one keep warm alone? And though a man might prevail against one who is alone, two will withstand him—a threefold cord is not quickly broken."
This passage highlights the importance of having a partner in life. The bond between two people is stronger than the sum of its parts. When we have someone to share our joys and sorrows with, we are better equipped to face the challenges of life.
3. 1 Corinthians 13:4-8
1 Corinthians 13:4-8 – "Love is patient, love is kind. It does not envy, it does not boast, it is not proud. It does not dishonor others, it is not self-seeking, it is not easily angered, it keeps no record of wrongs. Love does not delight in evil but rejoices with the truth. It always protects, always trusts, always hopes, always perseveres. Love never fails."
This famous passage is often referred to as the "Love Chapter." It speaks to the enduring nature of true love, which is characterized by patience, kindness, humility, and forgiveness. This passage is often read at weddings to remind couples of the selfless love that they should strive to emulate in their marriage.
4. Colossians 3:14
Colossians 3:14 – "And over all these virtues put on love, which binds them all together in perfect unity."
This verse emphasizes the centrality of love in a marriage. Love is the foundation upon which all other virtues are built. When a couple puts love at the center of their relationship, they are more likely to enjoy a harmonious and fulfilling marriage.
5. Song of Solomon 8:6-7
Song of Solomon 8:6-7 – "Place me like a seal over your heart, like a seal on your arm; for love is as strong as death, its jealousy unyielding as the grave. It burns like blazing fire, like a mighty flame. Many waters cannot quench love; rivers cannot sweep it away. If one were to give all the wealth of one's house for love, it would be utterly scorned."
This passionate passage from the Song of Solomon celebrates the intensity and power of love. The imagery of a seal over the heart and arm represents the unbreakable bond that exists between two people who are deeply in love. This verse is often read at weddings to celebrate the strength and beauty of the love that the couple shares.
6. Ephesians 5:25-33
Ephesians 5:25-33 – "Husbands, love your wives, just as Christ loved the church and gave himself up for her to make her holy, cleansing her by the washing with water through the word, and to present her to himself as a radiant church, without stain or wrinkle or any other blemish, but holy and blameless. In this same way, husbands ought to love their wives as their own bodies.
He who loves his wife loves himself. After all, no one ever hated their own body, but they feed and care for their body, just as Christ does the church—for we are members of his body. 'For this reason a man will leave his father and mother and be united to his wife, and the two will become one flesh.' This is a profound mystery—but I am talking about Christ and the church. However, each one of you also must love his wife as he loves himself, and the wife must respect her husband."
The verse reminds husbands of their responsibility to love their wives sacrificially, just as Christ loved the church and gave himself up for it. The verse also emphasizes the unity and oneness of marriage, with the two becoming "one flesh." The passage serves as a reminder to both husbands and wives of the importance of mutual respect, care, and love in a healthy and loving marriage. Overall, the verse highlights the biblical standard for marriage and the importance of a strong and loving relationship between husband and wife.
Looking for some more Bible scriptures for your wedding?
Here are some more scriptures about weddings by Daily Bible Audio

Understanding the Significance of Bible Readings in a Wedding Ceremony
The Bible is a source of spiritual and moral guidance for many people, and including Bible readings in a wedding ceremony is a way to acknowledge the importance of faith in a couple's life. Bible readings can help to set the tone for the ceremony and to create a sense of reverence and solemnity. They can also provide a sense of unity and community as the guests join in listening to the readings and reflecting on their meaning. This is another reason why bible readings for weddings are helpful, they bring about a sense of community and feelings of unity.
Different Types of Bible Readings for Weddings
There are various types of Bible readings that can be used in a wedding ceremony, including Old Testament readings, New Testament readings, Gospel readings, and popular verses. Old Testament readings often focus on the importance of love, faithfulness, and commitment, while New Testament readings emphasize the significance of love and sacrifice. Gospel readings often recount the teachings of Jesus on love and marriage, while popular verses are often chosen for their poetic and meaningful expressions of love.
Bible readings can add a spiritual and meaningful dimension to a wedding ceremony, allowing couples to express their faith and receive guidance for their new life together. Whether it's an Old Testament reading emphasizing the importance of commitment, a New Testament reading reminding couples of the significance of love and sacrifice, or a popular verse expressing the depth of one's love, Bible readings offer a diverse range of options to suit different preferences and beliefs.
By choosing the right Bible reading, personalizing it, and incorporating it into the ceremony in a meaningful way, couples can create a wedding that reflects their values and beliefs and provides a memorable and inspiring experience for themselves and their guests.
Planning a wedding can be a daunting task so having helpful tools is a lifesaver! There are project management tools (Aasana or Wrike) and digital calendars such as Google Calendar. Wedding wire also offers great planning tools, so have a look at them here.
Tight budget? No Worries… one of the easiest ways to reduce the cost of your wedding day is to invite fewer people. If you are unsure whether that is a good idea, read our article on how many people you should invite to your wedding on a budget. So if you ever wondered, "How Many People Should I Invite to My Wedding?", here's the answer.
If you are looking for some more tips on how to save some money on catering your wedding feel free to read Top 5 Cheap Catering For Wedding on a Budget Tips.
If you are looking for some more ways to save money on your wedding, please feel free to read 10 Top Tips to Planning a Wedding on a Budget You'll Love.
All the best with planning your wedding! Blessings and best wishes from us at Choose Frugal!
P.S. Want to know when our next post lands and get our free ebook on how to live frugally? Then click the link below.