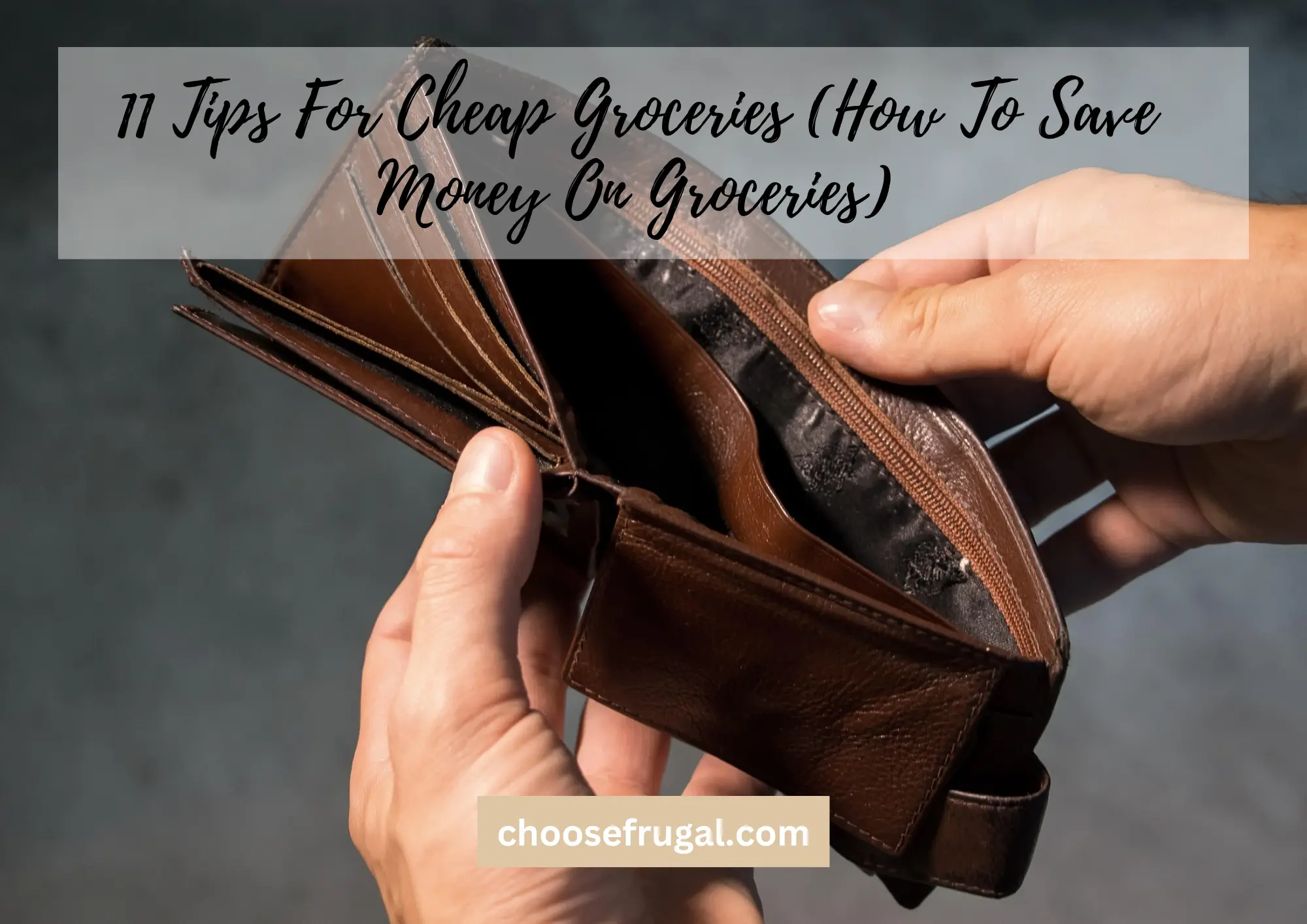 Inflation is at an all-time high, severely affecting your daily grocery bill. As such, it has become crucial to search for ways to save money on groceries, from cutting your monthly usage of certain items to buying bulk. But you may need a little assistance if you aren't used to being frugal when grocery shopping. So today, I will help you discover how to buy cheap groceries and save money on your grocery bill.
How Can You Buy Cheaper Grocery Items (11 Tips)?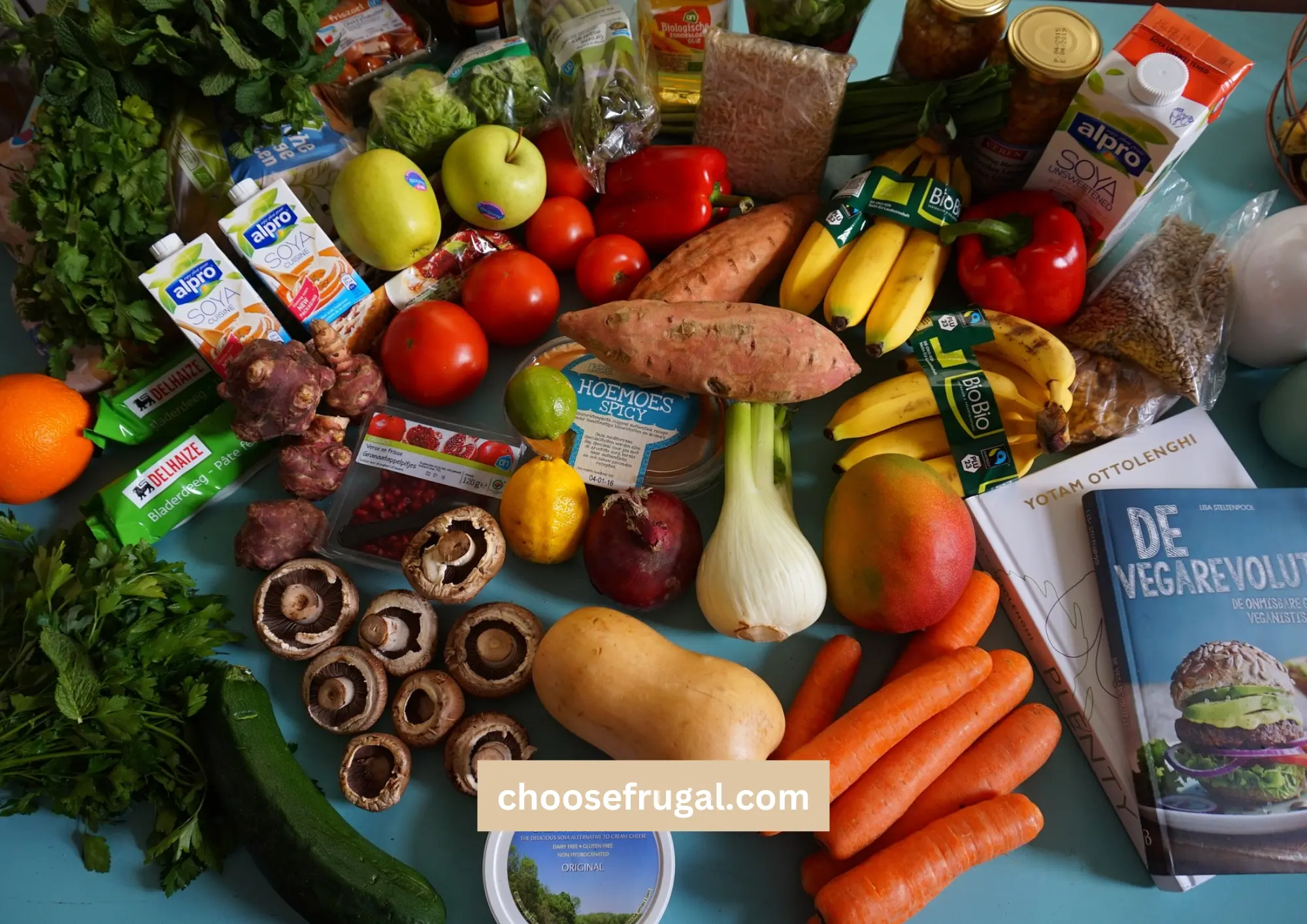 Many assume you cannot cut grocery costs because items cost the same wherever you shop. That, however, is not true. By researching ahead of time and carefully selecting when you buy certain items, you can save a lot of money when grocery shopping. Here are some tips for buying cheaper grocery items, from where to shop to which items you can substitute.
1. Plan Ahead
"Never go shopping on an empty stomach." I'm sure you've heard this phrase. When you go shopping while hungry, you are more likely to buy snacks and convenience meals, which can really push up your grocery bill.
Therefore, plan ahead before heading to the store to avoid having an expensive, hunger-driven grocery cart. Eat before you leave and avoid the baked goods and convenience foods isles if they are problematic.
2. Make A List And Stick To It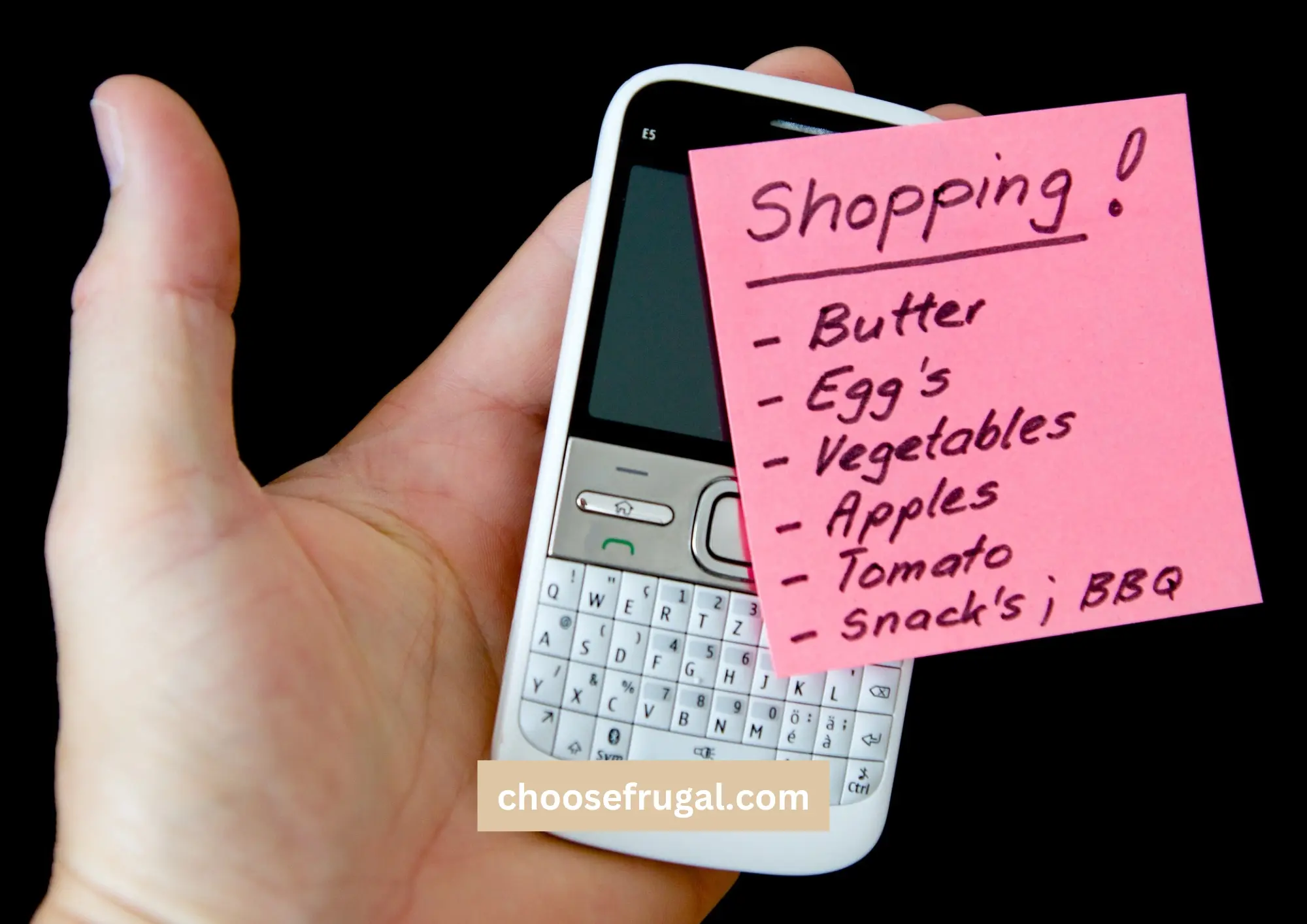 Another way to avoid overspending on your grocery items is to have a list of what you need. You can write down all the items you need before going to the store or use one of many useful list-making Apps for your grocery list. I recommend grouping certain items together, like fresh produce, dairy, and hygiene products, as they are more likely to be in the same place at the store.
Of course, what's more important than making a list is sticking to it. This is why it is crucial to plan your grocery list carefully and ensure everything you need is on it. It will prevent you from wandering other isles and buying things you don't need.
3. Use Coupons Or Money-Saving Apps
Couponing is a brilliant invention, as it saves you money on multiple items in a single shop, whether they are on promotion or not. And you no longer have to read through shopping magazines to find them. Instead, there are many money-saving Apps with coupons loaded onto them to help you save money when grocery shopping.
You can use the App to see exactly what's on sale in-store and online, and you can get the rewards instantly, helping you save money with every trip.
4. Use A Rewards Card At The Grocery Store
Another tip for grocery shopping is becoming a member at the grocery store by signing up for a rewards card. I know many people have dozens of rewards cards they never use because they are worthless. But I would challenge those people to consistently use their rewards cards for one month and see how much money they saved.
You can save a few cents to a dollar or more on certain items. And when you are trying to save money by buying cheaper groceries, every cent counts. You may also qualify for additional savings with a rewards card, making the deal even sweeter.
5. Look Out For Promotions In Store
While some promotions will show on your money-saving App, your grocery store may also have additional promotions on certain items. Keep a lookout for these items and buy them if you use them often. Sometimes, these items may not be on your grocery list. In that case, you have to make a choice.
Either stray from your list because you know you use these items often enough that you will benefit from the promotion, or stick to your grocery list since you don't currently need these products. I leave this decision up to you.
6. Buy bulk
While you cannot always buy bulk items, especially not when buying fresh produce, there are many items you can purchase in bulk. Toothpaste, personal hygiene products, and cleaning supplies are some of these items.
When your grocery store has promotions on some of these items, and you know you use them often, you can consider buying some in bulk. But don't go overboard. For example, if you don't use 10 tubes of toothpaste before the next promotion, don't buy 10 tubes, especially if you don't have space to store it.
7. Substitute For Cheaper Brands When You Can
You cannot always substitute some products, like your dish soap, toothpaste, or deodorant. But there are also many items that you can substitute. Looking for a cheaper brand where possible can help you save hundreds of dollars annually.
In some cases, a generic brand, such as the grocery store's house brand, is equal to the more expensive brands. In this case, consider substituting your regular brand for a cheaper brand, especially if it isn't a product you need in a specific brand.
8. Don't Buy Items For One Dish Only
If you enjoy cooking, you have crossed a few dishes requiring such odd ingredients that you likely won't use them for any other dish. I would avoid such dishes, as you often waste those ingredients. If you cannot use the ingredient in multiple dishes and dishes you cook often, buying it will likely be a waste of money.
9. Plan Your Meals Ahead
Another way to prevent buying ingredients you don't really use is to plan your recipes ahead of time. You don't need a detailed meal plan (though many people find they help you save money), but having an idea of what you plan to cook with the ingredients you already have at home can help guide you in the grocery store.
10. Is The Drive Worth It?
When my grandmother took me shopping as a child, she would drive to five different stores to get all the groceries she needed, depending on where they were the cheapest. I assume that's something many people did. But that was when car fuel was so cheap you didn't have to account for it when shopping.
And that's no longer the case. So before you spend dollars on fuel driving from one store to another to buy the cheapest groceries, consider whether the fuel you use traveling makes the price difference in the groceries worth it. Most of the time, it does not, and you will save more money by buying the more expensive products at one store.
11. Bring Your Own Bag
Grocery stores charge you for the bags they put your items in. And while it may only be a few cents at a time, you will be surprised to learn how many dollars those bags amount to each year. So by bringing your own grocery bags, you not only save money but also help save the planet by reducing your plastic usage.
If you want more tips on saving money at the grocery store, see this video by But First, Coffee: WAYS TO SAVE ON GROCERIES THAT NO ONE TALKS ABOUT.

What Are The Cheapest Groceries?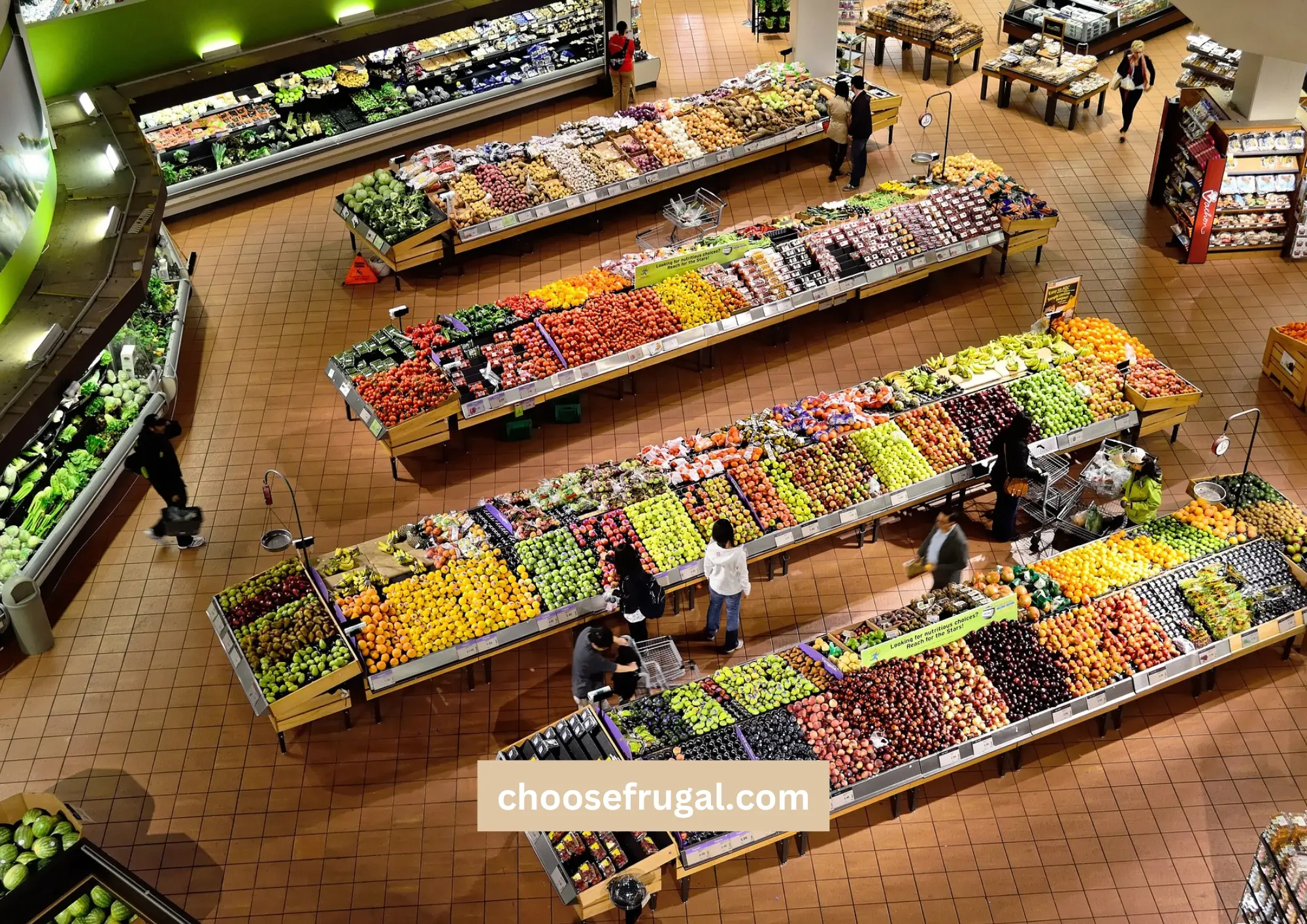 If you are trying to save money on groceries, you may have to rethink how you live and what you eat. Meat, fresh produce, and dairy are often the most expensive groceries, as are alcohol, sweets, and snacks. And while you may need some of these items to survive, you may have to cut down on others to save money. So, what are the best cheap groceries to buy when you want to save money?
The Best Cheap Carbs
Carbs make up a significant portion of the average person's diet. They are filling, nutritious, and cheap. So, adding carbs to your grocery cart will help you save money while still feeling satisfied after a meal. Of course, if you purchase shelf-stable carbs, you can save even more money when buying bulk. Here are some of the cheapest carbs you can buy:
Oats
Cereal
Pasta
Flour
Rice
Potatoes
These carbs give you endless options when making dishes, as you can use them in various ways. Be mindful when shopping for these items, so you only buy a few and have to throw some away if they spoil.
The Best Cheap Fresh Produce
Fresh produce is tricky as fresh fruit and vegetables are often expensive. Items like bananas, apples, and beans are often some of your most affordable fresh produce options. But many people misunderstand the nutritional value of preserved produce.
For example, frozen fruit and vegetables are just as nutritious as their fresh counterparts. How you cook them determines how many nutrients are lost. However, suppose you steam your frozen vegetables and use frozen fruit in smoothies. In that case, you can retain all the nutrients and save money. In addition, frozen produce is usually cheaper than fresh produce and has a longer shelf-life.
Furthermore, canned beans and corn are also great to have on hand, as they are cheap, convenient, and delicious.
The Best Cheap Meat
Meat products are often the most expensive, and you can't stretch out meat too much. However, when shopping for meat, I recommend buying it in bulk. Opt for cheaper cuts of meat and buy meat that you can use in various ways, such as ground beef, chicken breasts, and sausage.
Processed meat is often expensive, so avoid chicken nuggets and cured meats. Instead, you can buy the raw products and make chicken nuggets and pops much cheaper.
The Best Cheap Dairy Products
Dairy products also tend to be more expensive, especially when looking at items like cheese, yogurt, and flavored milk. But you can often find these items on sale at certain grocery stores. Again, I recommend using your coupon App and the store rewards card to help you save money on dairy products. Fortunately, regular milk isn't too expensive, and you can buy milk to freeze when it is on sale.
The Best Cheap Snacks
Snacks and sweets are often the most expensive items in your grocery cart. And because they aren't necessities, it's easy to omit them entirely. However, we all like to snack from time to time. So, how can you save money on snacks?
Well, there aren't cheaper snacks on the market. Some chip brands are more expensive, so I recommend choosing cheaper ones. Use your coupon App to see in-store promotions on sweets and other snacks.
The Best Cheap Alcohol
Alcohol is also expensive, especially considering the additional taxes you pay on alcohol. However, you may find wine and other alcoholic drinks on sale sometimes, which would be the perfect time to buy them. Fortunately, most alcohol is shelf-stable, so you can buy in bulk when these items are on promotion.
If you are interested in learning how to cook with cheap groceries, watch this video by Delish: I Made 13 Meals In Under 30 Minutes For 2 People On A $30 Budget | Delish

Can You Buy Cheap Groceries Online?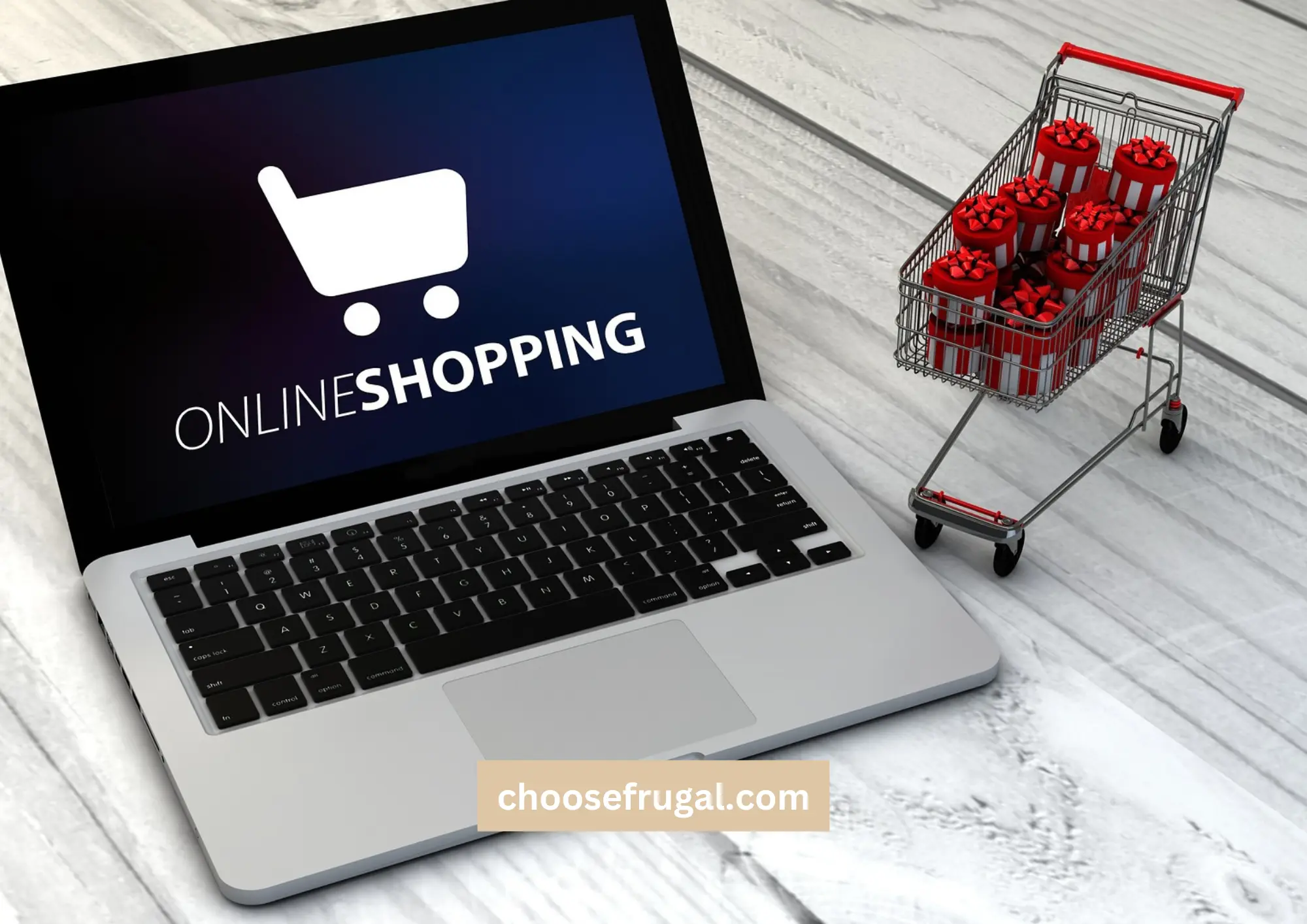 In addition to buying cheaper groceries in-store, you can also buy them online. Many grocery stores have an online platform where you can purchase items online and select to pick them up at the store. Some grocery stores even have a delivery service.
Buying cheap groceries online has several additional benefits, as you can use money-saving Apps to help you save money directly on the platforms. For example, apps like Honey can help you save money by finding the cheapest website to buy your current product. Many of these Applications are free to use and can save you thousands of dollars annually.
So, you can buy cheap groceries online, saving you not only time in the store but also money on fuel, and you resist the temptation to buy things you don't need.
Conclusion
Groceries are more expensive than ever. As such, seeing where you can buy cheaper groceries has become critical. Fortunately, there are many ways to save money on groceries. For example, buying bulk items, planning your grocery trip, and using coupons and money-saving Apps can help you buy your groceries cheaper.
Did you like this blog? Then, don't forget to read our other money-saving blogs to help you live a frugal life.
Crafting a Practical Budget: A Comprehensive Guide to Financial Planning
15 Ways To Make Money Writing Online
18 Actionable Steps for Millennials to Build a Strong Financial Future
Best Wedding Reception Order of Events for Your Big Day (4 Steps to Planning)
9 Frugal living tips for 2022 (and Beyond)
15 Ideas For Minimalist Christmas Decorations
Budgets for beginners: A guide to creating and sticking to one
10 Top Tips for Planning a Wedding on a Budget You'll Love
15 Essential Tips for a Minimalist Kitchen (Even in Compact Spaces)
The 10 Benefits of Living in a Small Minimalist Apartment on a Budget
11 Tips For Cheap Groceries (How To Save Money On Groceries)
P.S. Want to know when our next post lands and get our free ebook on how to live frugally? Then click the link below.