Scouring the internet for minimalist kitchen inspiration can be both exciting and frustrating when you come across stunning images of spacious, perfectly organized kitchens. The problem? These kitchens are often larger than your entire apartment!
Small kitchens can feel cramped and cluttered, with Tupperware threatening to bury you each time you open a cabinet and a lack of counter space for even the simplest tasks. These minimalist kitchen ideas are perfect for those who crave an organized, clutter-free space. Discover how to create a functional minimalist kitchen, no matter how limited your space is.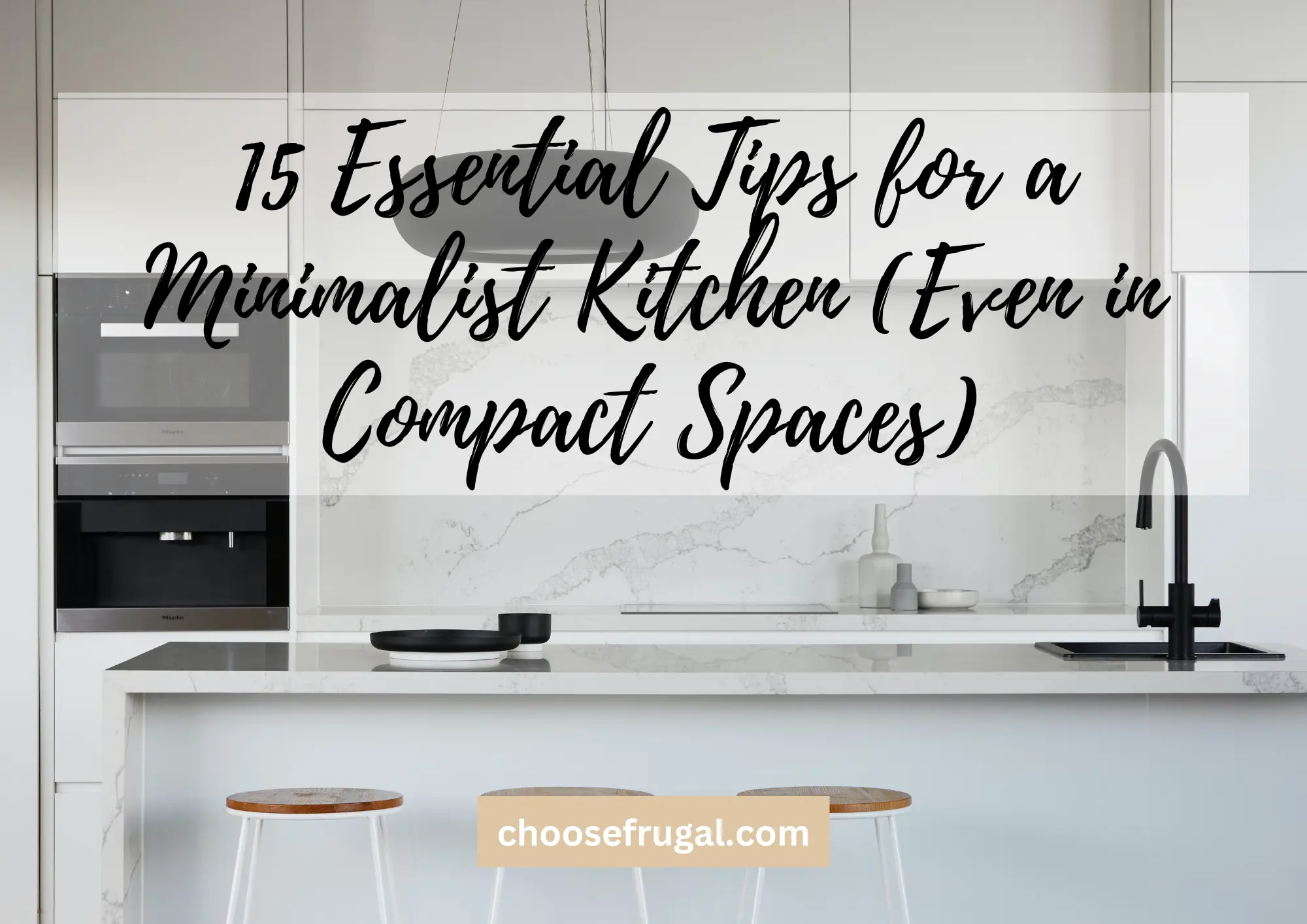 P.S. Want to know when our next post lands and get our free ebook on how to live frugally? Then click the link below.
Sign up here to claim your free ebook!
The Most Crucial Minimalist Kitchen Advice
What do you require for a minimalist kitchen? The answer is quite simple. Remember this one key tip: A cluttered kitchen is a result of not having designated spaces for your belongings. Limited storage space in a small kitchen means you should only keep the items you actually use.
There's no room for "just-in-case" appliances (which you likely won't miss once they're gone). A clutter-free kitchen allows for clear countertops, as everything you own has a designated space.
If you have a small apartment read out article, The 10 Benefits of Living in a Small Minimalist Apartment on a Budget. Also, have a look at Ultimate cheap grocery list: How to Save Money on your bill
How Can I Transform My Kitchen into a Minimalist Space?
To create a minimalist kitchen, you need to declutter. This is particularly important for smaller kitchens, which cannot accommodate excess items. You must pare down your kitchen inventory to the essentials. Here are some tips for creating a minimalist kitchen, starting with the decluttering process:
You Don't Need All That Tupperware in Your Minimalist Kitchen
How often do you find a container but can't locate the lid? Or perhaps your Tupperware avalanche each time you open a cupboard? That's a sign you have too much. Time to let it go. Begin by discarding containers without matching lids or those with food stains and discoloration around the edges.
Next, determine how much space you have for Tupperware storage. Ideally, dedicate a drawer or specific area just for containers. Keep a variety of containers in different sizes: Adjust this according to your cooking habits. If you need more, add 1-2 containers at a time instead of buying a bulk package of 20.
No More "Special Occasion" Dishes for Guests Only in Your Minimalist Kitchen
Do you use a regular, mediocre set of dishes daily, reserving a beautiful set exclusively for important guests? Stop that. Why not make every day a special occasion? Minimalism isn't about getting rid of everything; it's about keeping items you love and enjoy.
You use your dishes more often than occasional guests, so why not use those special dishes you adore all the time? You deserve to feel special, too.
Organize Your Mugs and Cups
Minimalist kitchen cupboard displaying plates, bowls, mugs. When my spouse and I first married, we had about 15 cups and countless mugs between the two of us. You might also have too many – sentimental mugs from loved ones, or a once-favorite mug that's now chipped and coffee-stained.
Keep the ones you love and let go of the rest. The same applies to travel tumblers. If you have leaky or promotional ones that you never use, discard them and invest in one that you'll actually enjoy – either for its functionality or design. There's no "correct" number of mugs and cups for a minimalist kitchen. Keep what brings you joy, even if it's more than necessary.
Assess Your Cooking Habits
Do you primarily cook on the stovetop or rely on the microwave? Do you have a muffin tray but can't recall the last time you baked muffins? You might own extra pots, pans, or baking sheets that you don't use due to your cooking preferences. Personally, I often use my slow cooker and rarely bake.
As a result, I don't need a muffin tray or a bundt cake pan. Evaluate your cooking habits to determine what you truly need. You may require more or less, depending on your preferences. Note: At the end of this article, you'll find a list of minimalist kitchen appliances I own.
For beautiful minimalist kitchen designs please read this article,  29 Minimalist Kitchen Ideas That Are Packed With Style by Elle Decor
Don't Forget About Food Storage
Remember the Importance of Food Storage. The primary purpose of a kitchen is to prepare and store delicious FOOD! Ensure that you have adequate space for it. You don't necessarily need a separate rack for food, even if you don't have a pantry. You can create sufficient storage space in a small kitchen by decluttering and organizing other items, making room for food storage.
Moreover, it's generally not appealing to have pantry items displayed in plain sight. While it's challenging to be a minimalist when it comes to food storage, there are ways to minimize food clutter and create space for your minimalist kitchen pantry.
Examine the food in your kitchen: Discard anything expired and cook with what you already have before shopping for groceries. Place forgotten items on the counter for easy access and usage.
Eliminate Single-Use Appliances
Appliances without a designated storage space can clutter your countertops. Having too many appliances can lead to insufficient storage space. Many appliances are not essential, even though they may be convenient for specific tasks.
They can be bulky and not frequently used to justify their presence. While decluttering, you might discover redundant items, such as a cheese slicer and a cheese grater, even though you buy pre-sliced and shredded cheese.
Evaluate the necessity of your appliances. If you have a bread maker but only buy pre-sliced bread, let it go. However, if you frequently bake and adore your KitchenAid mixer, keep it! Regardless of your decisions, ensure that your appliances have designated storage space. Avoid leaving them on the kitchen counter.
Minimalist Kitchen Organization Tips
After decluttering, you'll notice more available space in your small kitchen. Now it's time to organize what remains. Otherwise, everything may end up cluttering the countertop again.
Keep these minimalist kitchen tips in mind to help you organize your space. This is how I maintain my minimalist kitchen even years after the initial decluttering!
Assign a Place for Everything
This is crucial for a minimalist kitchen. Ensure every item has permanent storage space for when it's not in use.
With the additional space from decluttering, reorganize your kitchen to maximize every nook and cranny. Remember, EVERYTHING must have a designated storage area! Countertops don't count as storage (with a couple of exceptions, discussed below).
Store Food Out of Sight
In many kitchens, pantries store non-perishable items. In my small apartment without a pantry, we've designated a cupboard for non-perishables such as canned goods, sauces, oatmeal, and snacks. It's common to see spices on the stovetop, which can make the kitchen appear cluttered.
We store our spices in a drawer to keep them out of sight. If drawer space is limited, use a spice rack instead of leaving them on the stovetop.
Put Items Away Immediately
If every item has its designated space, you'll know precisely where to put them back. After using an item, store it right away! It takes only a few seconds, but items like scissors or can openers can clutter countertops for days. With limited counter space, it's essential to store items promptly.
Since everything has a designated place, you won't have any excuse to leave items on the counter indefinitely.
Designate a Cupboard for Cookware
Store all your cookware and appliances in one place and your dishes in another. This includes pots, pans, slow cookers, toasters, and other cooking appliances.
If you run out of storage in these areas, consider it a sign that you may have accumulated too much and need to reassess what you own and whether you truly need it.
Avoid Stacking Tupperware Containers
Before decluttering my Tupperware, I had to stack containers and lids separately to fit them in the cupboard, which often led to lost lids and disorganization when searching for matching sets. By owning fewer Tupperware pieces, you'll have more space to store them as complete sets!
Ensure that containers and lids are stored together, making it much easier to see what you have, find a container quickly, and avoid searching for matching lids.
Utilize All Storage Spaces
Some storage areas can be hard to reach, such as above the fridge or stove. Make use of these spaces! Store items that you don't frequently use and don't need constant access to. Short individuals, keep a folding step stool nearby for easy access to these storage areas, rather than climbing on countertops.
Exceptions to Counter Space
Previously, I mentioned there are two exceptions for items on the counter: An example of a necessary counter item is a microwave, as it's unrealistic to store it away after each use. In our case, the microwave and Keurig machine are on the counter.
The Keurig is used multiple times a day, so it occupies a corner of the counter. The second exception includes items that are visually appealing on the counter.
For example, we have a large serving bowl on the counter. Although it's visible, it doesn't consume much space and looks nice. It also doubles as a salad bowl when hosting guests!
Digitize Cookbooks
If you have numerous cookbooks, scan your favorites for online access. Alternatively, you could try the $5 Meal Plan to receive weekly recipes and meal plans via email for $5/month!
Store Bulk Items Out of Sight
Those hard-to-reach cupboard spaces are perfect for storing bulk items, as they don't require frequent access. This could include items like pet food, napkins, or dish soap.
Create Small Decorative Spaces
Minimalism doesn't mean your kitchen has to be dull! Hang something on the wall or place a candle on the dining table. It doesn't need to be excessive. We keep candles on the dining table. Dim lights and candles create an easy ambiance.
Essential Minimalist Kitchen Items for Every Kitchen
This list covers all the minimalist kitchen appliances (excluding food) I own for two adults. Keep in mind that it's not about reducing the number of items to the bare minimum.
As we entertain more often, I've had to acquire additional items to accommodate this. Your needs may differ from mine, and that's perfectly fine. Choose what works best for you.
Slow Cooker or Multi-Functional Cooker
A slow cooker is a great time-saver for busy people or those working full-time. Just add the ingredients and let it cook. Alternatively, consider a multi-functional cooker like an Instant Pot, which also serves as a slow cooker, rice cooker, steamer, and yogurt maker.
Compact Spiralizer
A compact spiralizer is perfect for creating zucchini noodles as a pasta alternative. While a larger spiralizer with a handle may be more convenient, it consumes more space and may need to be stored on your counter.
Manual Food Chopper
A manual food chopper is small, easy to clean, and a space-saving alternative to larger appliances.
Mini Blender
A mini blender can serve as a non-manual food processor and is also great for making smoothies.
In Conclusion
Embracing a minimalist kitchen mindset allows you to optimize space, irrespective of your kitchen's dimensions. Take a look at your existing kitchen belongings and think about parting ways with untouched appliances or those that remain in their original packaging.
Remember, decluttering is not merely about discarding items, but rather making room for the things you truly appreciate and utilize. Your neat and well-organized kitchen counters will serve as a rewarding reminder of your dedication to maintaining a minimalist space.
We'll write a follow-up article with some more tips soon, so, please keep a lookout for when the next one drops.
Also read:
15 Cheap Wedding Ideas to save thousands
How To Declutter Sentimental Items Without Fear Of Regret (5 steps)
15 Ideas For Minimalist Christmas Decorations
Budgets for beginners: A guide to creating and sticking to one
18 Actionable Steps for Millennials to Build a Strong Financial Future
Why Is It Hard To Save Money? (2 reasons)
Best Wedding Reception Order of Events for Your Big Day (4 steps to planning)
9 Frugal living tips for 2022 (and beyond)
10 Top Tips for Planning a Wedding on a Budget You'll Love
P.S. Want to know when our next post lands and get our free ebook on how to live frugally? Then click the link below.