Wedding Day Timeline: Tips for a Mistake-Free Day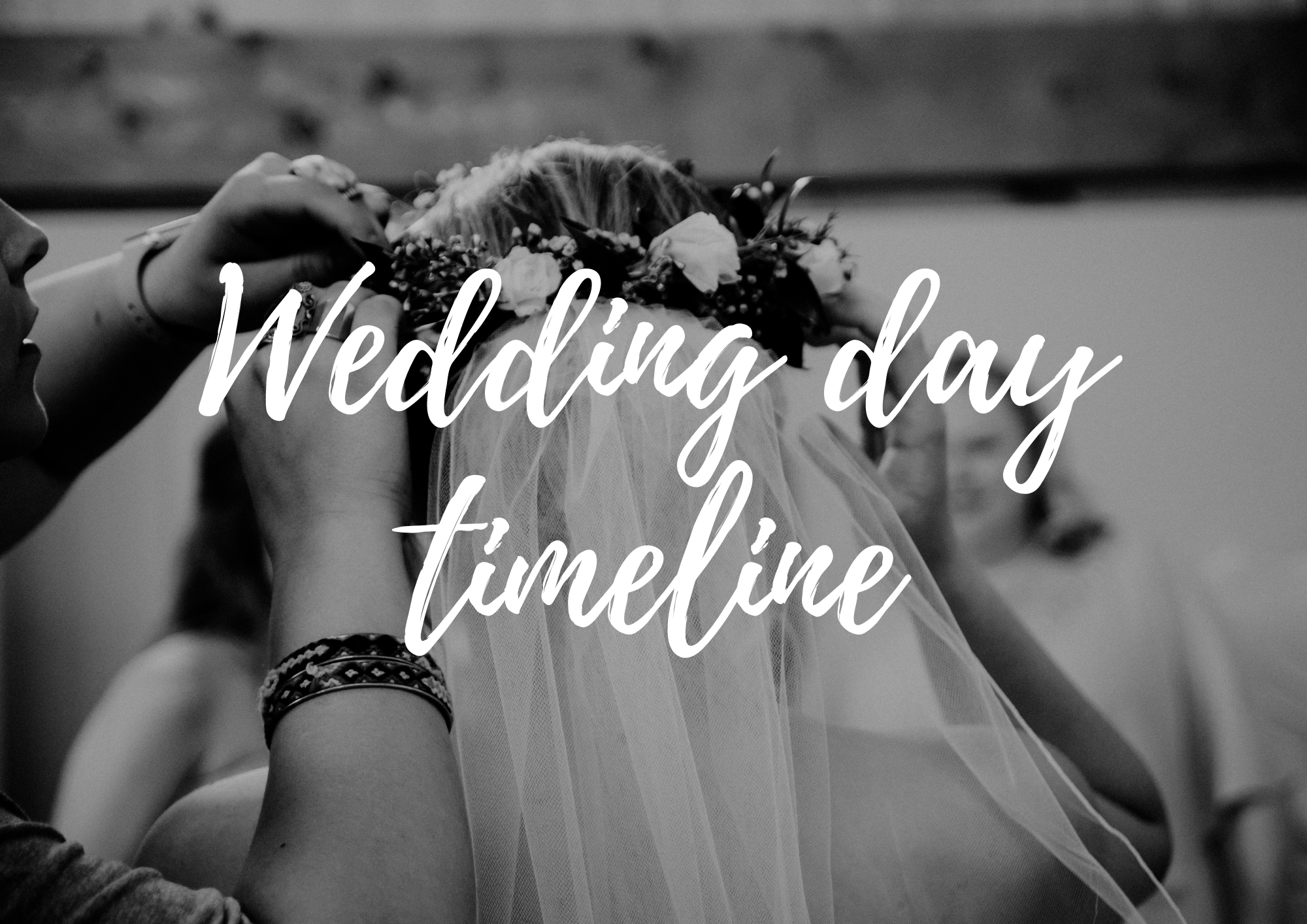 Introduction
Planning a wedding can be a real stress-fest, but with the right wedding day timeline, you can ensure that everything flows seamlessly and you have enough time for all the shenanigans you want. In this article, we'll give you an example of a wedding day timeline for a 4pm ceremony with first look. Plus, we'll give you tips and recommendations for a mistake-free wedding day.
Please note that this post contains affiliate links, when you click on any of the links on our site and make a purchase we may earn a small commission. As an amazon associate, I earn from qualifying purchases. This is at no additional cost to you. Thank you 🙂
Tip #1: First Look vs No First Look
One of the first decisions you'll have to make when planning your wedding day timeline is whether or not to have a first look. A first look is when the happy couple sees each other before the ceremony.
This decision impacts when pictures are taken, so choose wisely. I'm personally a fan of the first look, but if you don't do one, make sure you have a 2-hour gap for pictures and be prepared to feed your guests during that time. Providing food and drinks during that time can raise the cost of catering for your wedding.
Tip #2: Ceremony Time
Another important factor in your wedding day timeline is choosing the right ceremony time. If you have a specific time you must adhere to, it may limit your options. But if you have flexibility, I recommend a 4pm ceremony. It gives you enough time to get ready and take pictures, and you'll finish before your guests fall asleep from exhaustion.
With all the things happening in one day and on such a tight schedule you may need some help with keeping track of everything. While a wedding planner and organizer book will come in handy and I definitely recommend you get one, there are better tools for planning that you can use alongside it!
The best tools for planning are a calendar, such as Google Calendar, and project management software like Wrike or Asana. You can use these tools to plan all the different parts of the wedding and ensure that you keep all your appointments. You can also assign tasks to all those involved and track their progress.
Tip #3: Getting Ready
When planning your wedding day timeline, it's important to consider how long it will take for you to get ready. Determine how long it'll take based on your hair and makeup trial, but 2-3 hours is a good estimate. And don't forget to pack a wedding day emergency kit the night before!
Tip #4: The Reception
The reception is the fun part of the wedding, but it's also important to keep in mind that guests can get tired. So, when planning your wedding reception itinerary, include what you want, but also keep in mind the importance of keeping guests engaged.
Dancing and wedding games are key for me, so I would make sure to have lots of time for those. Follow the outline provided below for a proper reception program, or adjust as you see fit.
The bride and groom make their Entrance
Prayers, blessings, toasts and invitation for dinner to start
If you're doing a buffet: dismiss by tables
Give speeches during dinner
Cut the cake
First dance
Take some more pictures (during golden hour) and/or of the bouquet toss and so on
Dancing and games
Tip #5: Timeline Example
To help you plan your perfect wedding day, we've provided an example of a wedding day timeline for a 4pm ceremony with first look. This example will give you a good idea of how to plan your wedding day timeline and how to make sure that everything flows seamlessly.
Wedding day timeline 4pm Ceremony With First look
10am – 1:30pm: Time to Get Ready
10am. The bridesmaids and the bride arrive to get ready.
12pm. Groomsmen and groom arrive to get ready.
12:30pm. The photographer arrives to take photos.
12:30-1:15pm. Pictures of the bride, groom, and their bridesmaids and groomsmen getting ready.
1:15pm. Drive to the ceremony if you aren't getting ready at the venue.
1:30 – 3:30pm: Pictures
1:30-2:15pm. First look for the bride and groom.
2:15-2:45pm. Bridal party pictures.
2:45-3:30pm. Family pictures.
3:30 – 4pm: The Guests Arrive
The bride, groom and their party should stay out of sight until the guests are all seated
4 – 5pm: Ceremony
One hour should be enough time for the ceremony.
5 – 5:45pm: Bride & Groom Pictures
This is the best time to take photos, especially if the sun sets during that time. Try to align the shoot with the hour or so before sunset for the best lighting.
6pm+: Reception
6pm. Bride and groom enter at the reception. Anouncements are made
6:30pm. Speeches can be made during dinner.
7:15pm. Cut the cake and serve it after dinner
7:30pm. It's time to Dance and for all the other traditional wedding games and activities.
Conclusion
With the right wedding day timeline, you can ensure that your big day is mistake-free and runs smoothly. Read this article by Weddingwire on some wedding day timeline rules to follow. We've provided an example of wedding day timeline for a 4pm ceremony with first look, as well as tips and recommendations for a mistake-free wedding day.
And, don't forget to check out our other articles, firstly I recommend our article on how to save money on catering for your wedding.
Another way to ensure your big day runs smoothly and you stick to your budget is to ask yourself the question, "How many people should I invite to my wedding?".