AffiliateUnknown
Start Redecorating
What is a Minimalist Decorating Style?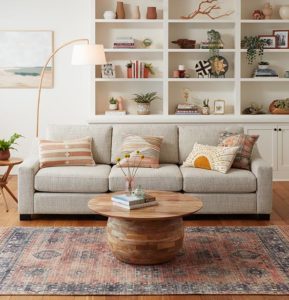 The minimalist decorating style is essentially a style taken from the minimalist life. Living a minimalist life means living with the bare minimum, often without spending extravagantly on things you don't need. It defines a person's personality and lifestyle. This extends the idea that everything in the house should have a purpose and nothing stays there to fill the space. 
Simple decorations follow the same theme. Instead of a cluttered home, the minimalist interior style focuses on the essentials, such as tables and chairs and sofas.
A simple approach to minimalist design and decor is to think curated, not cluttered. You might think it's easy to implement a minimalist design because it has few elements. It's not. You can't create a minimalist space by simply not placing anything in it, that doesn't make for an attractive design. There are many things to consider when creating an aesthetically livable space while maintaining a minimalist design. So here are some decorating ideas listed by room:
Minimalist Living Room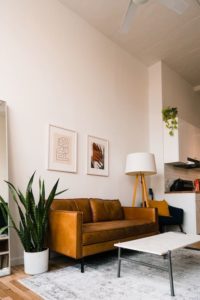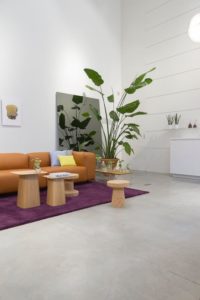 Minimalist sofas are often in neutral colors, with clean lines and simple (or hidden) legs. Modular sofas are perfect for any interior style due to their versatility. You can move and configure sections to allow guests to be entertained, socialize, and get the sections back in time for family movie night. A few neutrally textured pillows and a cozy throw are all you need to complete the look.

Choose Smooth Lines
With soft, sleek lines in furniture these days, this look works well with minimalist styles. A cream-upholstered swivel chair is the warm focal point of the room, creating a warm space where an eye-catching lamp, a neutral rug, and a cozy pillow or throw are all you need.
Minimalist Living Room Wall Decor
When decorating the walls of your living room, it's important to focus on a few great pieces of art rather than a few small pieces.This helps you maintain a minimalist style and add character to your living space.
Paintings with color and texture are ideal. Texture adds character to the room, and red and brown paintings add warmth to the space. Minimalist decor can create a cold and sterile environment that guests may find uncomfortable. Paintings are a great way to avoid this effect.
A simple wall decor idea is more than just hanging a few pictures. To add texture, use a beautiful Persian rug as a wall hanging. Choose artwork in different shapes to create a modern look. Timeless paintings in classic colors create a monochromatic look that most minimalists will love! Hang plants, children's photos, or classic family photos to create a cozy atmosphere in your living room.
Minimalist Kitchen Ideas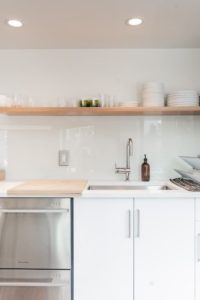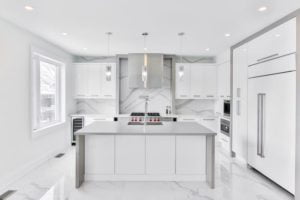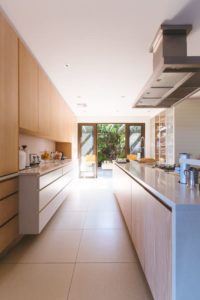 Having a minimalist kitchen can appear to be a challenge. The kitchen has a lot of what you think you need. However, this is not always the case. By organizing and applying these great tips, you can decorate your kitchen in a minimalist style.
Minimalist Kitchen Decor
Kitchen utensils should focus on quality, not quantity. Do not place collectibles and various small items in the kitchen or kitchen cabinets. Instead, remember that less is more.
Some modern art pieces go well with simple yet modern kitchen furniture. Use multi-purpose decorations like glass or ceramic canisters for sugar or flour on your counter. For kitchens with lots of natural light, opt for a more natural theme with a neutral color palette and greens.
Consider lighting upgrades when designing your kitchen. Wall lights go well with industrial minimalism, and pendant lights go well with modern minimalism.
Minimalist Kitchen Essentials
One of the first things homeowners need to do is keep their kitchen organized and stocked with essentials. Most homeowners tend to accumulate things over time. We all have some small gadgets that we haven't used in months. Here are the minimalist kitchen essentials every home needs.
Two baking sheets
One to two spatulas and a serving spoon
Two pots:
Set of knives
Knife sharpener
Tableware for two servings
Vegetable peeler
Can opener
Set of measuring spoons
Measuring cup set
Four mixing bowls (these can also be used as serving plates)
Up to two cups per person
One reusable water bottle per person
These are the basics every minimalist kitchen needs, but every homeowner should adjust this list to fit their budget and the number of people in the home. There is no point in throwing away all your small appliances if you actually use them. Start with this list and add to it as needed to have an organized space as you prepare your meals.
How to Decorate a Minimalist Bedroom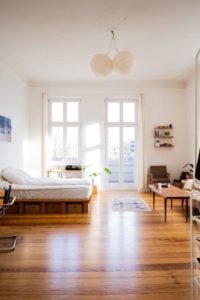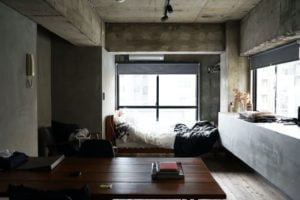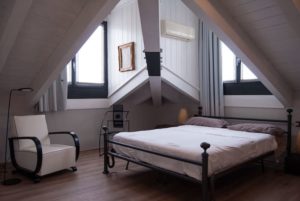 Minimalist bedrooms are often portrayed as bare and cold, but you don't have to sleep in such a setting to appreciate a minimalist home. In a minimalist home, you can use beautiful color neutral tones like royal purples and bright blues to add energy to your space. Choose chic design elements to transform an empty space into your personal paradise.
Cheap Minimalist Decor
Magazine minimalist decor often consists of large statues and abstract artworks costing thousands of dollars…but there are plenty of ways to add a pop of color without breaking the bank.
Throw pillows are the easiest way to add personality to a minimal space. Grab some pillows and place them on your bed or chair. A small but cute rug is cheap, comfortable, and makes for great decor. Other decorations, like beautiful vases for your dressing table, can be found at reasonable prices at a local shop or department store. Remember, cheap doesn't have to mean ugly.
DIY Minimalist Room Decor
If you love minimalist DIY bedroom ideas, you know that with a little time and some art supplies, you can make a room look amazing in no time. Break out the canvas and paints and create your own painting in your own room. Turn a mini trash can over and paint it to make a DIY bedside table. 
Minimalist Storage
Remember, less is more when it comes to creating a clean space. Instead of a large, bulky dresser, consider a minimal closet with plenty of room for your clothes. A portable clothes rack is a great idea. We recommend using baskets and other storage items you already have to store your socks and underwear. Vertical storage, such as a shelf for hanging jewelry is a great idea. These are enough to increase the decor of the room and provide a more organized space.
Minimalist Bathroom Decor Ideas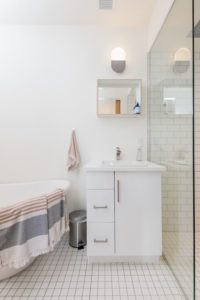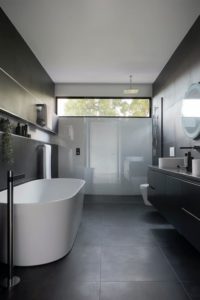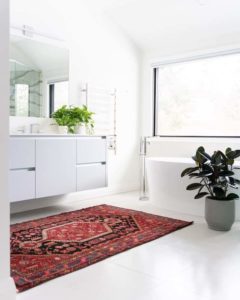 Minimalist bathroom decorating ideas are always a challenge. You want to decorate your bathroom, but too many decorations risks making your bathroom too cluttered, which goes against the minimalist idea.To avoid this common minimalist decorating mistake, small items are necessary in the empty spaces of your bathroom. 
Minimalist bathroom vanity
When choosing a vanity for your bathroom, choose a smaller vanity that has enough space for your essentials. A wire or metal dressing table with small stools is a great idea. You can even create your very own dressing table by installing floating glass shelves.
Minimalist bathroom configuration
Consider industrial minimalism in the bathroom. This means using mostly metal furniture for storage. These fit well into minimalist decorating schemes, but the shelves have plenty of room to store your essentials. Next, use simple square baskets for your essentials. Keep your bathroom clutter-free by storing items you don't use often in the closet.
If your bathroom is small, choose shelving to take advantage of vertical space. A shelf designed to cover the toilet is a good option.
Minimalist bathroom essentials
Part of designing a minimalist home is removing clutter. It is necessary to remove unnecessary things from the bathroom. Here's what you need in your bathroom:
Shampoo
Shower gel
Two towels per family member
One hand towel per family member
Toilet Paper
Soap
Towel
Skincare essentials
Bath mat
Discreet toilet paper holder
Towel rack
Toothbrush and toothpaste holder
Toothbrush
Tooth paste
Bathroom organizer
In Conclusion
When decorating with minimalist decorating schemes, it's important to remember that less is always more.You want simplicity, not luxury. Use solid color schemes for large pieces of furniture and accent pieces to add color to the room.
How to create a minimalist bohemian living room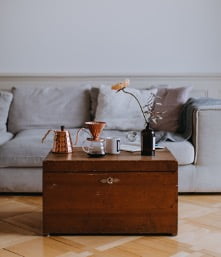 Have you ever looked at your living room, or any room in your house for that matter, and just thought to yourself, "I wish it didn't look so drab", "This is so depressing", "I hate this" or just, "I wish it looked like one of those interior decorator magazines".
Why don't you change it?
Your mind will quickly come up with excuses, telling you that it's too expensive, you need good taste, some skill or whatever… that's all nonsense.
All you need is a guide… Here is that guide: 7 steps to a minimalist bohemian living room.
Key takeaways
What is Minimalist and Bohemian interior design?

Why combining them makes sense

1. Look around for inspiration

2. Budget and plan

3. Clear out, clean up and reduce. Keep what you value or use most

4. Look at what you want and need

5. Get the things you want and need

6. Start redecorating

7. Enjoy your new living room
What is Minimalist interior design?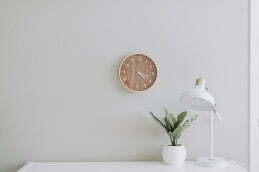 Minimalist interior design is known for its simplistic use of only what is necessary to form a clean space that is uncluttered and open.
Minimalism only uses color to accent the mostly monochromatic design.
The design utilizes effective lighting, clean lines and functional furniture in an open floor plan. Color and texture play a big role in the few elements that are in the space.
What is Bohemian (Boho) interior design?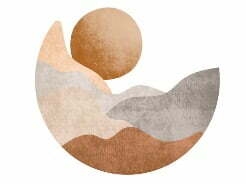 Bohemian interior design is personal and a little carefree. It has no rules, it's relaxed and is styled for you (and your partner) and you alone. It's characterized by layered patterns and artistic flare. It utilizes neutral colors like tan and white for the undertone, with jewel tones and metallic finishes that stand out. No two boho designs are the same, if they were, it wouldn't be boho. This is a very unique and individualistic design that was influenced by the nomadic artists of 19th century Paris.
Why combining them makes sense.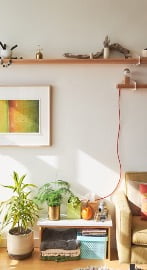 Minimalism can feel cold, sterile and impersonal very quickly, but it is simplistic, looks professional and is really easy to keep organized and clean.
Boho on the other hand can become messy, cluttered and disorganized very quickly, but it is warm, cosy and personal.
Taking the best of both worlds seems like a good idea, don't you think? So let's go ahead and see how you can go about redoing your living room in a minimalist bohemian style.
1. Look around for inspiration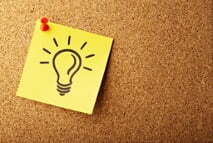 Before you start throwing away everything you own, buying new things you can't afford and that probably won't even fit in… go and have a look around for some inspiration.
There are many places to find inspiration, some online and others in the real world. These are your best bets:
Interior design websites, social media pages, YouTube etc

Here are two great videos from Youtube:

In this video, the presenter goes into great detail about Boho interior design. Definitely worth the watch.
In this video, the presenter tells you how you can make a minimalist interior design cosy. You don't want a cold dead, minimalist home, do you? No, so have a look!

 Magazines
From friends and family, especially those with homes that look like they paid an interior designer.
2. Budget and plan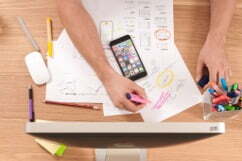 Once you've narrowed it down to a few things you like, it's time to start planning and budgeting your time, money and effort.
You only have limited resources, so make sure to have a look at the time and money you have available to undertake this project.
Remember to be frugal, but realistic… allocate more time and money than you thought it would take, especially if this is your first time undertaking such a project. Try to reduce it as much as you can as you go along, rather than upfront.
You also need to check in with yourself and ask, "How much effort am I willing to put into this?", because stopping halfway through might just leave your house in a worse state than when you started.
Layout, style and design are really important things to keep in mind when redecorating. Make sure that everything will not only fit your decor, but also the physical space you have available.
Look at the tools, help and consumables you'll need to pull this off. What will you need to buy or rent and who might you need to hire if you can't do all of it yourself?
Remember to come back to this step all the time, it's best to revise and update the budget and plan. Rather rinse and repeat this step, than sit with something you don't want and that costs way more than you set aside.
Always measure twice, and again if necessary.
3. Clear out, clean up and reduce. Keep what you value or use most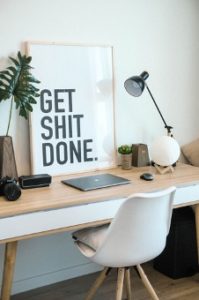 Now that you have a plan and budget in place, it's time to start getting your place ready for the redo. Set aside all the things in your living room that you never use, things you don't like or want.
While you are going through the things you want to get rid of, make sure you keep the things that you value and use the most.
Things that really work well for this style are pieces or odds and ends you've collected when traveling, or that you received from friends and family… Just things that are part of who you are, or that tell an interesting story.
Start sorting through everything, and adding it to different piles. Throw away the trash and anything that can't be sold, donated or reused. Sell what you can, since this can help cover the cost of redoing your place.
Go on online marketplaces, to second-hand stores, and have a look at charities, removal companies and storage.
Donate or give things to charities, friends and family who might want or need it. This might even make the burden of removal less on you while you are doing something good, since they might even come pick it up.
Do this a few times to make sure you only keep the things that you love and that are necessary. Also keep things that can be reused if you decide to DIY a few of the pieces of decoration or furniture.
4. Look at what you want and need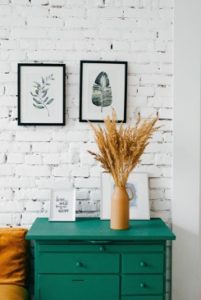 Now that your place has been prepared it's time to start looking on Facebook marketplace, eCommerce sites, local shops and wherever else you like to shop.
Size, color, shape, form, texture and light are the most important things to keep in mind. Remember that you are trying to create a cohesive look, not a collection of loose pieces to fill a space.
Furniture: For this style, you can go for a wide variety of furniture. Leather, exposed wood and metal is characteristic of boho design. The most important thing to keep in mind is that the pieces should not overfill the space.
Vintage pieces of furniture work great for the boho style, so if you have some old leather couches, wooden coffee tables or bookshelves they'll fit in really well. You can also DIY some benches and shelves with nice exposed wood.
On the furniture: Throw blankets and pillows can add much-needed texture and warmth. If you have a quilt or knitted blanket from your grandmother or that you made yourself, feel free to add that.
On the walls: If you want to paint or put up wallpaper, stick to muted soft colors. Paintings and botanical prints, geometric box shelves, floating shelves and other Wicker and rattan pieces bring in a lot of character.
Light is a very important aspect of the design. Side lighting gives a more relaxed and less harsh atmosphere. Use windows and lamps for light. Vintage lamps or exposed metal and wooden lamps with Edison bulbs fit the aesthetic and are warm and inviting.
Plants liven up any space so remember to bring some life into your living room.
5. Get the things you want and need
Now that you know what you want, it's time to get, buy or make the things for your minimalist boho living room. Remember the tools, consumables, protective gear and covers for your furniture if you are painting.
Stick to your budget, style and layout. Measure at least twice and think about how each piece will contribute to the overall look and layout.
6. Start redecorating
So you have everything you need, now it's time to start painting, hanging paintings, putting up shelves and moving the furniture around.
Don't go over the top, keep the space clean and uncluttered.
7. Enjoy your new living room!
The mainstay of a minimalist kitchen design is flat-fronted and simple cabinetry – it's a sleek look and one that ages incredibly well. Many designs that we think of as modern date back to the 1930s, even the handleless and sleek cabinets that are typical of modern kitchen design right now, have been there since the 1960s.
The handiest design trend for kitchens is Minimalism, where cleanliness, functionality, and organization are the primary goals. With this style, you get clear, systematic, and clutter-free kitchen surfaces with stylish and sleek materials – what more could you ask for? And minimalism definitely doesn't need to look boring and unfinished. With the proper approach, minimalist kitchens are full of style and personality.
WHAT TO KNOW ABOUT MINIMALISTIC KITCHEN
No matter how minimalistic a kitchen would be, it shouldn't compromise on the style. With a minimalist kitchen décor scheme, anyone can easily cook in a hassle-free manner. It means that the kitchen is designed to be clean and simple to maintain, the kitchen can fade quietly into the background when it is not used due to a minimalist color palette, hidden storage, pared-down layout, or streamlined design focusing on elements of decoration.
MINIMALISTIC STYLES FOR KITCHEN
You can check these minimalist kitchens in various layouts, aesthetics, and sizes that make use of minimalist principles, which all advocate for doing more with less. You get all this and more without sacrificing style and functionality.
A DIVERSE SCANDINAVIAN KITCHEN DESIGN PORTFOLIO
The best thing about Scandinavian design is its distinctiveness for many reasons: black, uncluttered and minimal spaces – and the combination of function and form make for aesthetically pleasing and practical kitchens.
You must use Scandinavian designing ethics for making minimalist kitchens that are focused – and these only feature meaningful and few cherished display items. You will rarely notice any clutter abundance in the Scandinavian scheme. Rather, you should notice clean lines, contemporary color schemes and also focus to bring outdoors through using natural materials.
The goal of having a Scandinavian kitchen design is improving your daily life. Thus, the key aspect here is to look for these unique kitchen design ideas, and such selected shape should not only be aimed at accommodating your lifestyle, but also significantly improving it.
USE EACH BIT OF SPACE
With kitchens coming under more pressure to do various duties, good kitchen layouts with ample storage are important aspects – especially in minimalist spaces. Well-organized kitchen design ideas must be important when you've planned a minimal kitchen – after all, no homeowner wants to have a hectic looking space.
For breaking a huge kitchen cupboard wall or kitchen island space, it would be a good thing to get a mixture of open and closed solutions: items like appreciated ceramics or less commonly used vases are kept on open shelves to enjoy when they're not being used, while it's best to use the delicate glassware inside cabinets.
HANDLELESS KITCHEN CABINETS INVESTMENT
The key thing to get a minimalist looking kitchen is using sleek cabinetry without handles with authentic and rich material combinations and textures for an elegant and interesting scheme. Hidden storage ensures that the kitchen remains free of any clutter, but it also includes many open spaces to show special items.
Using roll back door mechanisms and sliding these into cabinetry opens a new design world. Firstly, it was breakfast cupboards, now entire kitchen sections, including the area for cooking, also disappear behind the full-height smart cupboard doors while they're not being used, leaving a streamlined and neat living space.
MAKE SURE TO USE MODERN LOOKING COLOR SCHEMES FOR DECORATION
One of the most modern yet simplistic tools in a minimalistic kitchen design is its color – it not only changes the kitchen's ambiance but how less or more you add also affects the room parts to which you're drawn.
The rule of thumb in a minimalist kitchen would be to make use of colors clearly and sparingly in defined areas. Colors should also serve a purpose, instead of just being random. Choose basic colors and also use another one for accenting important areas. Other than that you can go for corresponding pairs like shades of blue and green, or also tweak natural tones with vibrant colors. For example, you can have a sideboard, a shelf, or an extra bench all in different colour palettes.
The selective shades are vital as to how you'll use these. While you would be tempted to use the favorites, it would be advisable to limit strong color schemes to elements worth easily updating, like the backsplash, going for the ones with more longevity in large spaces.
A popular trend is warm grey shades. Unlike sharper color options, the grey design ideas work with both gloss and matt finishes and these are highly versatile.
THE DESIGN SHOULD BE SUSTAINABLE
The use of reclaimed materials offer permanence to the minimalist kitchen spaces. Also, as they are repurposed, they become more eco-friendly options. Using salvaged timber, antique mirrors or reclaimed tiles are simple ways of adding originality and character to a modern looking kitchen scheme or improving the overall conventional home heritage.
Timber to Create a Luxurious and Minimalist Impression
As timber never goes out of style, it's a great option. The latest incarnations of timber focuses to bring real depth and warmth to a minimalist kitchen: the use of timber in its natural state, teaming with architectural details, will keep it on the right contemporary side.
AVOID HAVING ANY EXTRAS
Leave all the additional things aside, as your kitchen loses its aesthetic appeal with things lying around. Make sure to have the important stuff in within view. For instance, like most homeowners, you might have many knives on the countertops and drawers. While you've got many options to pick up, you mostly use only some. Thus, there is no need for too many knives when only some essential utensils are needed.
You must invest in a high-quality chef's knife, a bread knife, and a pairing kitchen knife as these are the only ones to prepare food. Then, it's better to ditch others that you don't use and get rid of the chunky knife set on the counter.
SUMMARY
To make your kitchen space look minimalistic yet upscale, you need to make conscious design decisions about things that you don't need in your view. The basic elements of the simplistic kitchen aesthetic cover functional elements like the ovens and large kitchen appliances as it softens the space impact. For the minimalists who don't want to miss out on the latest vogue, painting the cabinetry inside with bright hues can be the thing you're probably searching for.
Whether you're living in a studio apartment, a townhouse or in a large suburban house, a minimalist kitchen design approach also helps in turning the hub of your home into an organized, beautiful, and optimized space.
Finding the right rewards credit card can be difficult. There is a lot of competition, and it is hard to decide which is best. In many cases, little or no reward on everyday expenses might not make sense for you or your family. In addition, getting the most value from your card may require technical finesse, like paying off your balance in full each month. In this article, we will discuss the best rewards credit cards reviewed for saving money
1. Chase Freedom Unlimited
Chase Freedom Unlimited is one of the best rewards credit cards reviewed for saving money. You earn a cash back bonus after you make certain purchases, such as groceries or gas.
Chase Freedom Unlimited earns at least 1% cash back on every purchase, and you can earn 5% cash back when you buy select categories of products each quarter from companies like Amazon and Starbucks. Cashback is paid in your choice of statement credits, bank account deposits, or PayPal cash. The Chase Freedom Unlimited® card also has no annual fee for the first year and no foreign transaction fees.
This card offers flexible ways to redeem your rewards — including a rotating quarterly calendar that lets you choose when to redeem them — so it's easy to get the most out of this card over time.
2. Chase Sapphire Reserve
The Chase Sapphire Reserve is a card that can help your credit score. The Chase Sapphire Reserve offers a $300 annual travel credit, which can be used for flights, hotels, and car rentals up to $100 per day. You also get access to Priority Pass Select airport lounges, which offer access to over 150 lounges worldwide in over 100 airports.
If you're not using all this lounge access, there's also a Global Entry fee credit that can be used toward the cost of Global Entry or TSA PreCheck.
Chase offers other benefits like a $300 credit against Uber rides and cell phone protection worth up to $600 per claim. And you'll get an additional 10% off hotel stays through Chase's portal called "Extended Stay America," which gives you access to more than 3 million hotels across the country.
3. Citi Double Cash Card
The Citi Double Cash Card is one of the best rewards cards around, and it's perfect for those who travel frequently. The card earns 2% cash back on purchases at supermarkets and gas stations and 1% cash back everywhere else. The double cash feature allows you to get twice that amount when you pay with your card at an office supply store or a drugstore. That makes it especially good for any business traveler who spends a lot of money in those stores.
The card also provides an annual bonus of $200 if you make at least $1,500 in purchases during a calendar year and another $200 every year after that. You'll earn even more when you redeem points for gift cards or merchandise through Citi's loyalty program. That means you can earn rewards by paying your bills with this card.
4. Wells Fargo Propel American Express Card
One of the best rewards credit cards for saving money is the Wells Fargo Propel American Express Card. This card offers 5% cash back on gas and grocery store purchases, 2% on all other investments, and 1% at office supply stores. You also get a $100 annual fee waived if you make at least $15,000 a year in combined purchases with your Wells Fargo checking account and an eligible investment account.
The Propel American Express card has an introductory APR rate of 9.99%, which is lower than most other rewards cards. The balance transfer fee is 3%, which is also lower than most other cards. The total annual fees for this card are $25 for the primary cardholder and $0 for additional users on the account.
This card's rewards program is one of its greatest strengths, as it lets you earn points that can be redeemed at many different retailers across the country. The points earned by using this card can also be used to make purchases on other websites or apps, such as Amazon or Uber. If you're looking for a way to save money while earning some extra rewards, this may be one of your best options because it allows you to earn cash back without paying an annual fee or any setup fee.
5. Bank of America Travel Rewards Credit Card
The Bank of America Travel Rewards Credit Card is one of the best rewards credit cards for travel. It offers 2 points per $1 spent on every purchase made with your card, with no annual fee. The points can be redeemed for travel rewards, including cash back, gift cards, and statement credits. The card comes with a $0 intro APR for purchases and balance transfers.
One drawback to this card is that it only gives you two points per dollar spent on purchases, so if you're looking for more value out of your rewards, you may want to consider another card like American Express Blue Cash Everyday Card or Chase's Sapphire Preferred Card. In addition, while the sign-up bonus is generous at 50,000 points, they aren't worth much since they can only be used towards travel expenses and not everyday expenses like groceries or gas.
6. Capital One Spark Miles for Business
Capital One offers a unique rewards program that allows you to apply your miles toward travel-related expenses, including airfare, hotel stays, and rental cars. The card also comes with a host of other perks, such as employee discounts and access to airport lounges.
The Capital One Spark Miles Card has an annual fee of $0 and earns 1.5x miles on all purchases, which can be redeemed for various rewards, including gift cards, statement credits, or cash back. You must have at least $5,000 in net assets each quarter to qualify for the 5% cash back bonus after meeting the minimum spending requirement during each billing period.
7. Discover it Miles
This is a great credit card for earning cash back rewards, especially if you already have a Discover card. You get 1% cash back on all purchases, plus 5% back when you pay at checkout with your Discover card. The annual fee is $0 for the first year and then $50-$85 afterward. It's available to everyone with a Discover card and can be used at any retailer that accepts Discover cards as payment.
8. American Express Gold Card
The American Express Gold Card is our top pick for the best rewards credit card because it offers the most value for your money. It gives you 2 points for every dollar you spend on travel and dining and 1 point for every dollar you spend everywhere else. The sign-up bonus is 50,000 bonus points if you spend $5,000 within the first 3 months of opening an account, which is a great bonus to get if you're looking to start building up a travel rewards balance.
9. Chase Freedom Unlimited
The Chase Freedom Unlimited gives you 1 point per dollar spent on all purchases, including gas and at grocery stores. The card also comes with a high 50,000 Ultimate Rewards points sign-up bonus when you spend $1,000 in the first 3 months after opening your account. This means that if you're looking to use this card as your primary way of earning points rather than just getting it for its cash-back rewards, this might be the one for you.
Wrapping Up
It seems that the rewards credit cards with the biggest sign-up bonuses are the most expensive, but there is still some good value in this list. Furthermore, if you're going to pay an annual fee and receive valuable benefits, it might as well be on a card you know you can use for free or discounted travel. Again, remember to factor in what you'll need in terms of meeting your spending requirements. The last thing anyone wants is to spend money on a credit card, only to end up with no rewards or a less desirable rewards system.
The majority of people and couples throughout the world are in debt to pay for their weddings. Do you aspire to be one of them?
Marriage is the combination of two brains, not two dollars, so give it some thought. The more money you save, the happier you will be after your wedding. Your enjoyment may be ruined if you incur more debt as a result of wedding expenses.
Do you have a lot of money set aside for your wedding? If not, it makes no difference. With your current budget, you will have a lot more fun and lasting memories.
Let us delve deep into the details of 35 cheap wedding ideas.
1. An affordable wedding, irrespective of location.
Depending on the location of our wedding, the cost may vary. For example, in the United States, the wedding cost in Idaho varies significantly from that in Manhattan. As a result, you might consider a place where you can spend less money on your wedding.
2. Determine your priorities.
It is usually preferable to prioritize saving funds for future commitments. A low-cost wedding may save you a few hundred dollars. Prioritize chores that must be completed using the money saved.
3. Budget planning
Determine your priorities.
It is usually preferable to prioritize saving funds for future commitments. A low-cost wedding may save you a few hundred dollars. Prioritize chores that must be completed using the money saved.
4. Guest list requires your attention.
Are you planning on inviting extra guests to your wedding? Is it required? If this is the case, your budget may grow, causing your fingers to hurt. So, prioritize and evaluate your guest list by inviting only vital and close family members to save money.
5. Select a low-cost shop.
To save money, you might buy your dress or suit at a thrift store or a secondhand store. Yes, you do not need to spend a lot of money on a one-day event.
6. Close to a home wedding venue
You can select a wedding venue close to your home so you can avoid the unnecessary expense of traveling and other allied costs.
7. Free venues
You may save a lot of money on numerous items if you choose a backyard site for your wedding.
8. Town hall wedding
You can also plan for a town hall wedding since it involves low cost.
9. Within your budget venue
Locate a wedding venue, irrespective of the type, that is within your budget.
10. VACATION RENTAL TO YOUR BUDGET
You may save money by having your wedding at a vacation property.
11. Wedding time for your Marriage
Choose a site for your wedding outside of the holiday season. This will save you a lot of money.
12. Skip your Saturday
You may have your wedding on either a Sunday or a Friday. Saturday seems to be the most expensive day because the majority of activities take place on that day.
13. Mid-week WEDDING
A midweek wedding may be less expensive than a weekend wedding. Choose weekday midday for a low-cost wedding celebration.
14. Ceremony and reception at the same location.
This is usually less expensive since attendees may go to the reception place while the bridal party takes photographs somewhere. It also makes the day's logistics easier.
15. Opt out of the evening reception trend
No need for a reception dinner instead plans for an exclusive breakfast reception.
16. A family-owned restaurant
You can look for less expensive catering vendors. You can go for vendors outside of the wedding industry.
17. A food truck
You can go for a food truck to save your money. Also, paper plates are fine.
18. Contact individuals to help you save money.
Instead of spending money on expensive cakes, ask close friends or family who are skilled at constructing beautiful cakes to make them for the occasion.
19. Say "no" to hard liquor.
Instead of hard liquor, go for beer and wine to save your money.
20. Dessert affordable options
Choose affordable desserts.
21. A brief reception
A brief reception rather than a longer one saves money.
22. A buffet service is conceivable.
To save money, buffet-style eating is preferable to sit-down meals.
23. Vegetable portions are ideal.
To save money, serve vegetables instead of meat.
24. Purchasing used wedding decorations from newlyweds.
Purchase old wedding decorations from couples that sell on the internet.
25. Visit the Dollar Store
At the dollar store, you may find a variety of inexpensive decorations for both receptions and wedding ceremonies.
26. Bulk purchase of decorative items
You can purchase decorative items in bulk quantities by joining hands with your known sources that have a wedding event soon.
27. Choose discount shops for all purchases.
You can choose discount shops for all your purchases to save money.
28. Reasonably available products to decorate
Save money by going for things that are available in season.
29. Lace chair décor or ribbons
Beautiful aisle chairs with ribbons may be arranged for a low-cost ceremony.
30. Photo display
Arrange a photo display with simple techniques instead of a grand one.
31. Paper lanterns
Paper lanterns are a fine choice to decorate your wedding event and are affordable too.
32. Homemade cookies
Arrange homemade cookies for your ceremony; that enhances the taste and saves money too,
33. Customized candy bars
You can go for personalized candy bars to help with cost-saving.
34. Soy candles and homemade Jam
These are the best options to your budget-friendly wedding event.
35. Delegate event work to a known source.
Never go for any costly managers to conduct the event. Instead, hand over the event to your known sources that are best in all aspects to save money. They can handle things better to your satisfaction and quality.
Final words
The above wedding event cost affordable tips are best and make you feel comfortable and happy forever. You can go through these techniques carefully so that a large sum of money is saved in your pocket. Have a nice wedding and a cheerful event without spending a hefty amount.
Minimalism is making a comeback. In the last few years, we've seen minimalism play a vital role in interior design and fashion. It's a lifestyle that focuses on simplicity and eliminating unnecessary maintenance.
Minimalism is not only about living a simple life but also about creating an aesthetically pleasing home. If you are looking to simplify your life and enjoy the beauty of minimalism, here are 17 minimalist apartment ideas that will help you achieve your goals.
1. Bright White
White is a blank canvas. It allows you to create any look, from minimalistic and modern to rustic and cozy. Paint your walls white for an instant minimalist look that will make any furniture pop out.
2. Nashville Neutral
Neutral colors are a great way to start with minimalism because they're easy to work with and pair well with almost anything. Try painting your walls in a neutral color like cream or khaki, or opt for white if you want something bolder.
3. Vintage Neutrals
If you want to take your small space up a notch, try painting your walls with a vintage-style color like amber or mustard. These colors will instantly give your room an old-world feel that's perfect for an industrial loft space or modern farmhouse.
4. Shades of Blue
Blue is a color that has been popular for decades, and it's easy to see why. It's calm and soothing, so it can help you relax at the end of the day. If you want to give your space an extra dose of calmness, try painting one or two walls in a shade of blues like periwinkle or powder blue.
5. Just the Personalized Basics
When decorating a small space, it's important to remember that less is more. You don't want to overwhelm your room with too many accessories or decorations, so try sticking with just a few key pieces and adding some personal touches for an extra dose of style. For example, you could hang up a few framed photos on the wall or add some decorative pillows to your sofa.
6. Rustic Meets Minimalism
If you're looking for a way to bring the outdoors inside, try mixing rustic décor with minimalist décor. For example, you could hang some antler lights above your dining table or add a few simple wooden shelves to your walls. This will create an intimate space that's cozy and inviting without being too overwhelming.
7. An Accent Color
Accent colors are a great way to add some pizzazz to your space, and white is the perfect base for adding an accent color. For example, you could paint the walls white and then add a bright blue couch or red curtains. This will help bring your room together without making it look too busy or overwhelming!
8. Tiny and Simple
If you want your space to feel cozy and inviting, then it's essential to keep it small and straightforward. You can do this by keeping the furniture in your living room minimal and focusing on creating a few focal points with larger pieces. For example, add a stylish coffee table or an oversized comfy armchair to the center of your room.
9. Artsy and Quiet
If you want your living room to feel artsy and quiet, it's essential to keep the space clean and comfortable. You can do this by adding large pieces of art that are simple and uncluttered; they will help draw attention away from messes and other distractions.
10. Light-Soaked Minimalist Living Room
If you want your living room to feel light-soaked and minimalist, then the space needs to be airy and bright. You can do this by painting the walls white or another light color, adding large windows, and removing any clutter.
11. Utilizing Deep Colors
If you want your living room to feel warm and cozy, the space needs to be filled with deep colors. You can do this by adding rugs in earthy hues, painting walls or furniture with rich tones, and using accent pieces with a similar color palette.
12. Ultra Tidy Minimalist Living Room
If you want your living room to feel clean and organized, then the space needs to be tidy. You can do this by removing any clutter from tables and bookshelves, keeping rugs flat against the floor, and adding furniture that has a streamlined design.
13. Playing With Proportions
When designing a living room, one of the most important things you can do is play with proportions. This means making sure that all of your furniture pieces are the same height and width so they look balanced together when placed in a room. It also means making sure that each piece has its own unique style, so they don't clash when placed next to each other.
14. Texture-Heavy Minimalist Living Room
Adding texture to a room is one of the best ways to make it feel cozier and inviting. You can do this by adding things like rugs, throw pillows, and soft furniture pieces that are made from natural materials. This will help make your living room feel warm, comfortable, and welcoming.
15. Regal Minimalism
With a regal style, you want to create an air of luxury and sophistication in your living room. This means using high-quality materials like marble, leather, and stainless steel and pairing them with straightforward designs.
16. Cali-Cool Minimalist Living Room
Cali-cool is a style that combines the laid-back California vibe with some minimalist influences. It's all about using very neutral colors like white, black, and gray and pairing them with pops of bright color. You can also add some natural elements like plants or furniture made from wood to add some warmth to your space.
17. Minimalism With Patterns
Minimalism with patterns is a style that has become very popular lately. It's all about using simple shapes and lines to create an interesting visual effect while adding some patterns to break up all of the white space. You can use different sizes or colors of geometric shapes, stripes, or polka dots to stand out from other minimalist living rooms.
Thank you for subscribing… in just a few minutes you will get an email from me with your free [GIVEAWAY].
The email will be from [Your Email] – that's me 🙂
You can even whitelist this email to be sure you get all my messages with cool tips, videos, and downloads so that you can [INSERT BENEFIT HERE]. I look forward to providing killer info for you over the next few weeks. (learn how to whitelist an email here)
While You Are Waiting… Check Out These Killer [Insert Benefit Here] Resources…
Insert Either List Of Offers, Links, Or Button Voodoo Here.
Click Here For Resource One
Describe Resource Here

Click Here For Resource Two
Describe Resource Here
Click Here For Resource Three
Describe Resource Here
Thank You And I Hope You Enjoy [Insert Free Giveaway Here]
Your Name
INSERT AFFILIATE BANNER/S HERE
Welcome to WordPress. This is your first post. Edit or delete it, then start writing!