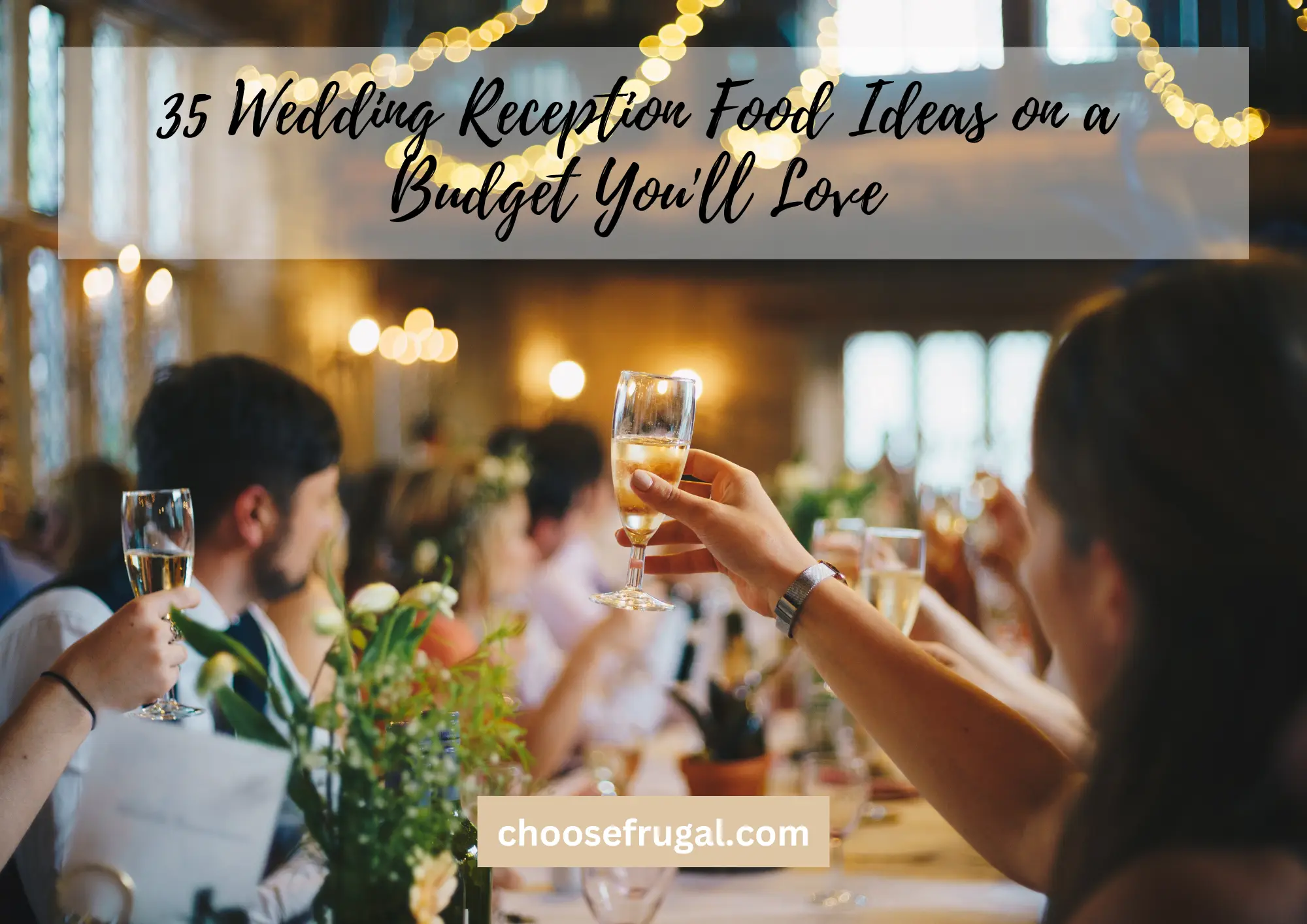 What you will discover in this article
hide
Introduction
A wedding reception is much more than just a party. It's a momentous occasion that celebrates the joining of two lives, and food plays a critical role in this celebration. The act of sharing a meal deepens the sense of community and fellowship, enhancing the joy and warmth of the occasion. However, balancing quality and budget is a challenge faced by many couples.
After all, who doesn't dream of a lavish spread of appetizers that delights the palate while also fearing the potential dent in their wallets? This article aims to help you navigate this tricky terrain, offering practical guidance on how to plan a delectable wedding reception menu that aligns with your budget. So keep reading for wedding reception food ideas on a budget.
Understanding Your Budget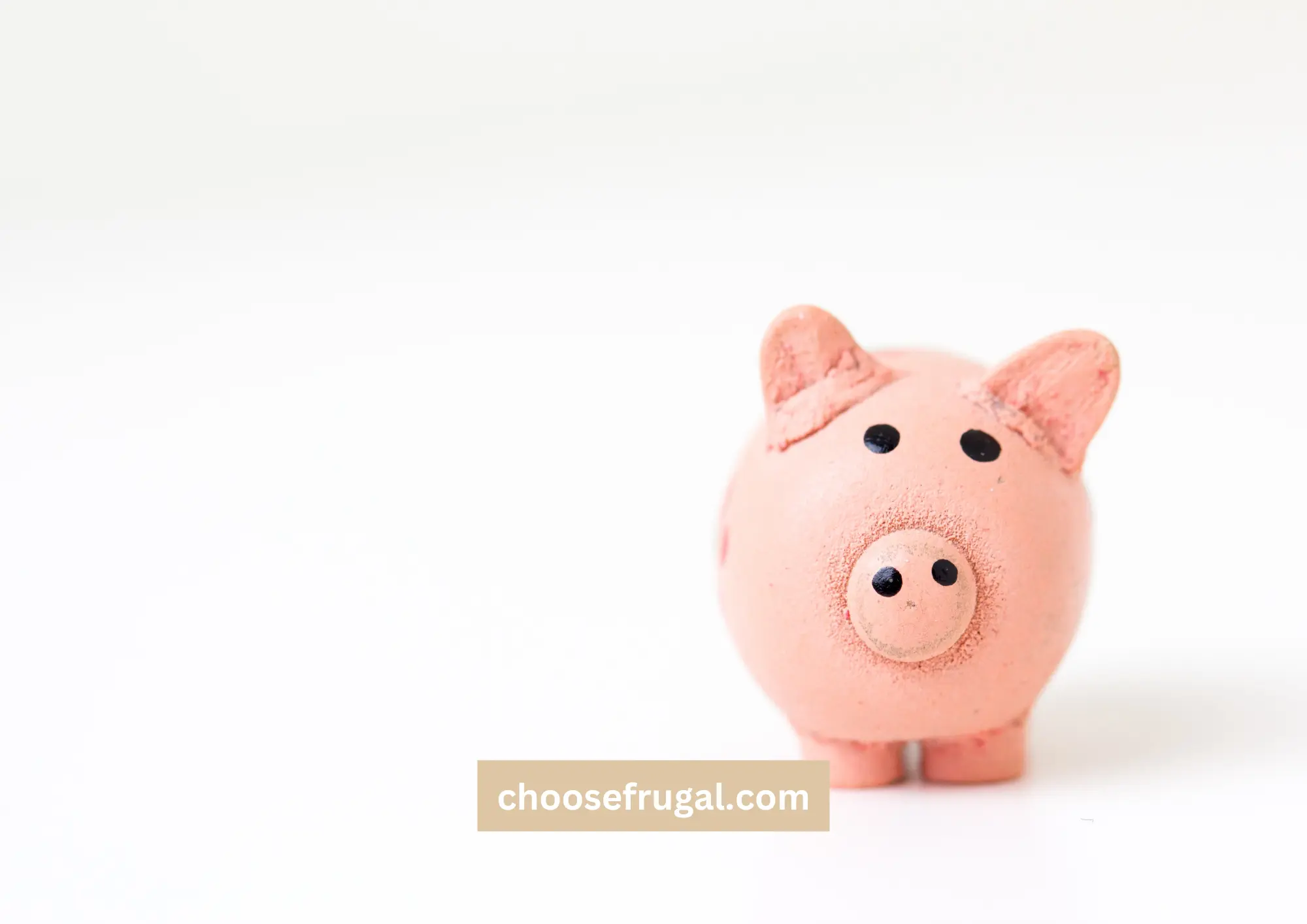 The starting point for any wedding planning is setting a clear budget. When it comes to the wedding reception food menu, a well-defined budget helps outline what's feasible and where compromises might need to be made. Not having a clear budget may lead to overspending in some areas, leaving other aspects lacking.
Several factors play into setting your food budget. First, consider the guest count. The number of guests significantly influences the amount of food needed and thus the overall cost. It's important to have a clear idea of your guest list before you start menu planning.
Next, take into account your venue. Some venues provide all meals with in-house catering services included in their package, while others allow you to bring in your caterer.
Venues with mandatory in-house catering might save you the hassle of finding a caterer, but they might also limit your flexibility to control costs. If you're bringing in an external caterer, consider the facilities available at your venue, as this might affect the type of food you can serve.
Also, consider the overall wedding budget. Remember, the cost of food and drink often accounts for a significant portion of the wedding budget, so it's crucial to balance your desire for a sumptuous feast with the realities of wedding food and your financial constraints.
Deciding on the Type of Reception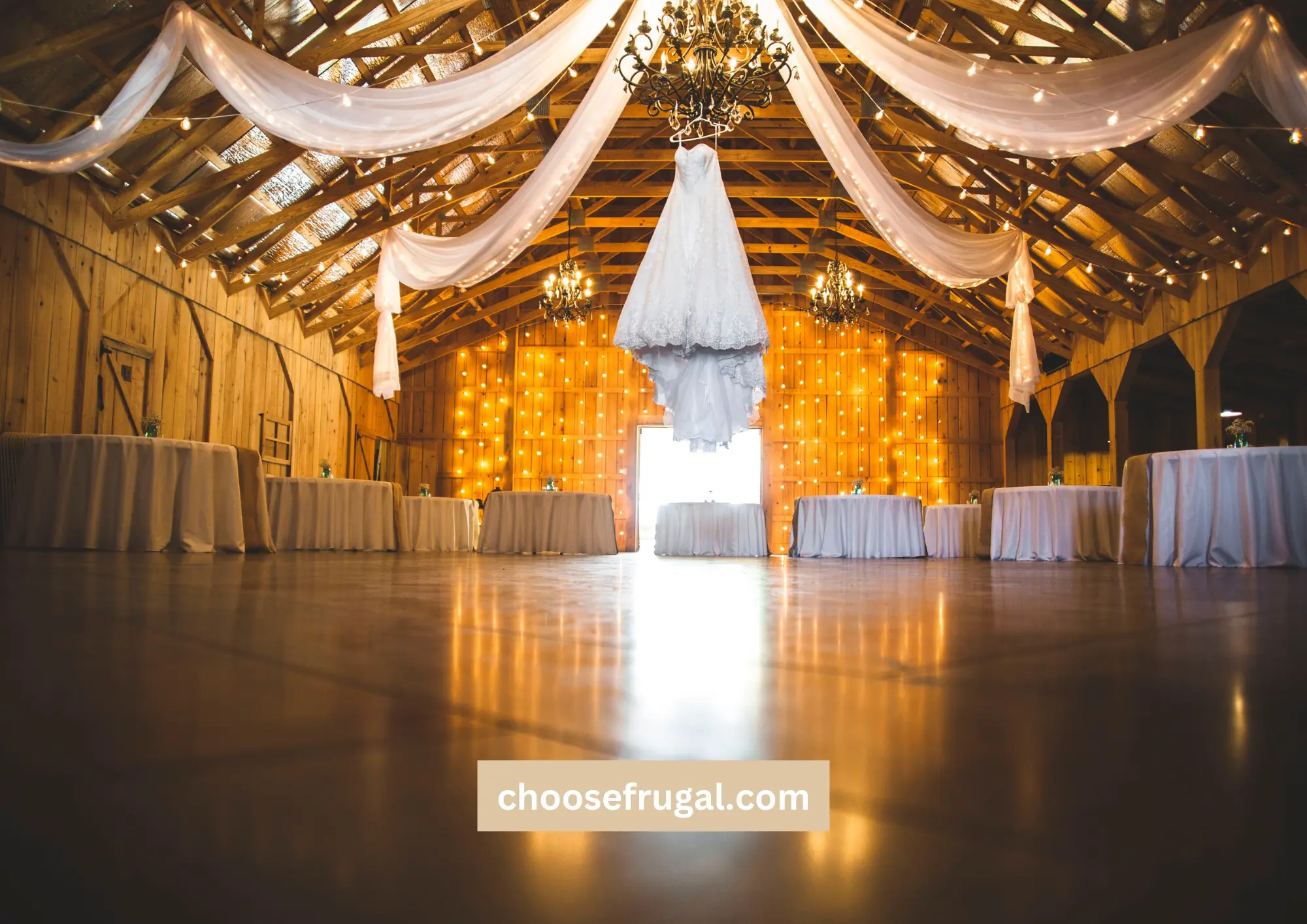 Once you have a handle on reception food ideas and your budget, it's time to decide on the type of reception, which significantly impacts your food costs. Traditionally, couples have opted for a formal seated dinner, but this is often the most expensive option due to higher food preparation costs and the need for more service staff.
Three popular types of wedding receptions are seated dinners, buffets, and cocktail receptions. Each comes with distinct advantages and cost implications.
Seated Dinners: This traditional option is often the most formal and structured. While it may feel elegant and sophisticated, it tends to be the most expensive option due to higher food preparation costs and the need for more service staff. You also need to manage seating arrangements and possibly accommodate special dietary requests from guests.
Buffets: Buffet-style receptions offer a more casual feel and can be a more budget-friendly alternative. Guests serve themselves from a variety of dishes, which reduces staffing costs and allows guests to choose what they prefer. However, some couples worry that buffets can feel less personal or that food might run out.
Cocktail Receptions: This style is typically the most economical and can create a relaxed and sociable atmosphere. Instead of a full meal, guests are served canapés and finger foods, which are generally less expensive to prepare. However, it's essential to make clear to guests that a full meal won't be served, so they know what to expect.
How to Choose the Best Option for Your Budget
When choosing the best option for affordable wedding within your budget, consider not just the costs but also the kind of experience you want to create. Seated dinners can feel more traditional and formal, buffets offer variety of food stations and a casual atmosphere, and cocktail receptions may promote more mingling. Look at your overall wedding style, the expectations of your guests, and how you envision your wedding reception.
Choosing the Right Caterer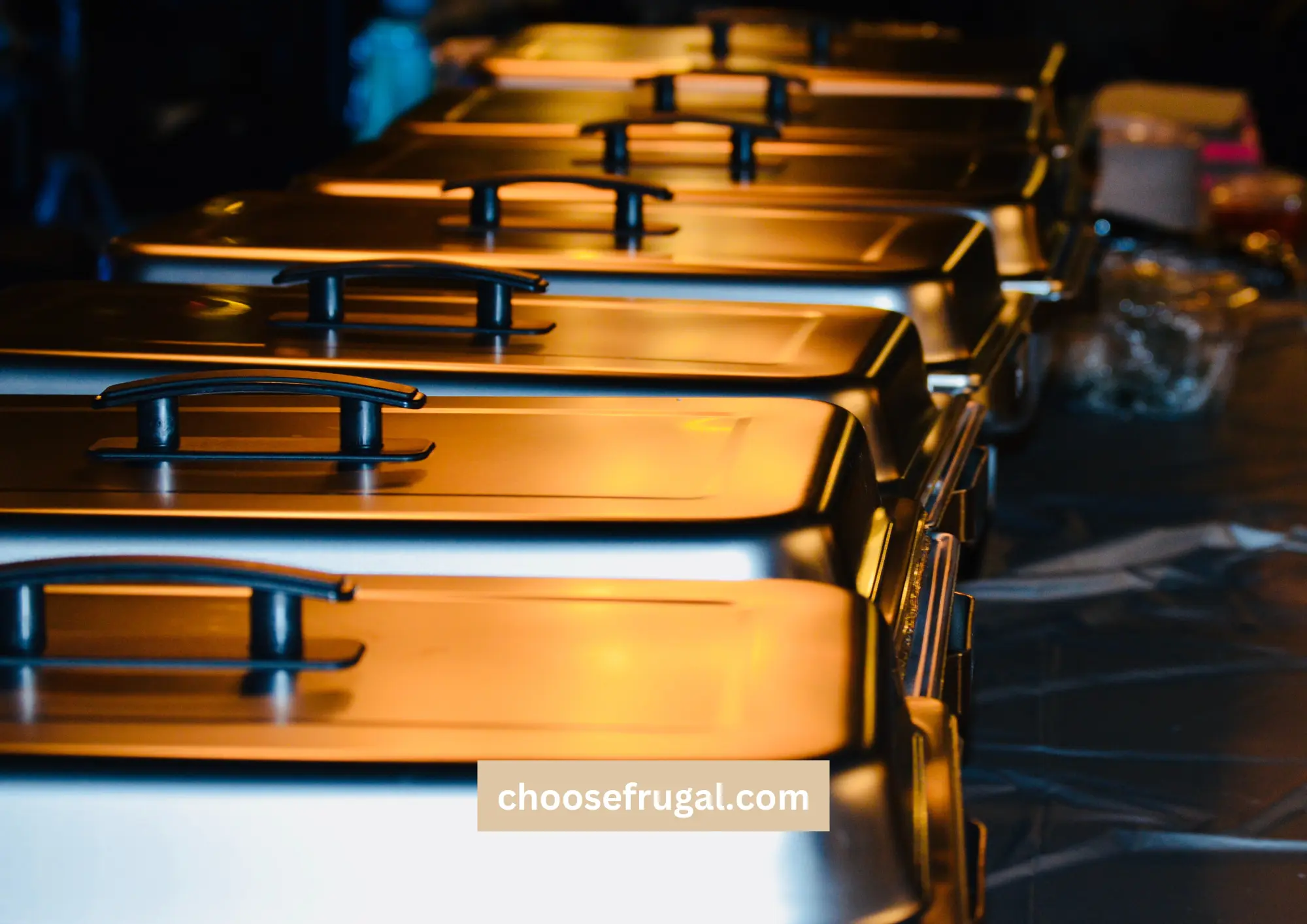 Importance of Selecting a Budget-Friendly Caterer
Selecting a caterer that aligns your food ideas with your budget and understands your vision is vital. The right caterer can work within your budget constraints to create a menu that impresses your guests. A good caterer will provide advice on what's possible with your budget and how to maximize your dollars.
Tips for Finding and Negotiating with Potential Caterers
Start by getting referrals from friends, family, or your wedding venue. Then, do some online research to read reviews and look at sample menus.
Arrange meetings with potential caterers to discuss your budget, needs, and expectations. Don't hesitate to negotiate; ask about different packages and what they can offer within your price range. Remember to taste their offerings before making a final decision.
Exploring DIY Options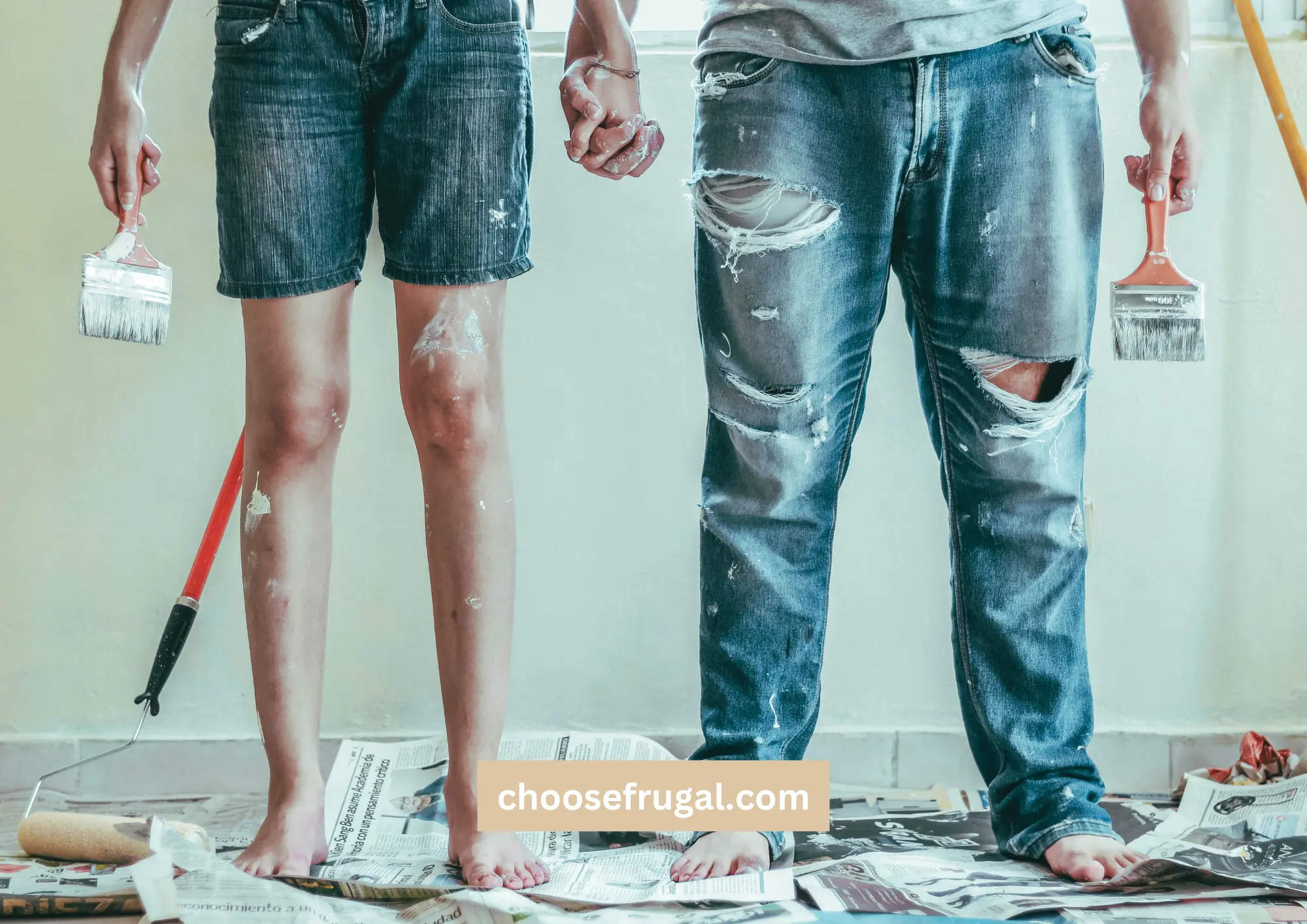 Self-Catering or Having a Potluck-Style Reception as a Budget-Friendly Option
One budget-friendly option is self-catering your reception food or having a potluck-style reception. This approach works best for smaller, more informal weddings where you or your own family members and friends enjoy cooking. A potluck-style reception, where each guest or family brings a dish, can add a personal and communal touch to your celebration.
Considerations and Challenges for DIY Food Preparations
While DIY wedding catering can save money, it's important to consider the potential challenges. First, preparing food for a large number of people can be time-consuming and stressful. Also, you'll need to ensure you have the necessary facilities to store and serve the food safely.
Food safety should be a top priority, so it might be worth hiring a professional to manage this aspect. You'll also need to consider who will handle the cleanup. Despite the challenges, with careful planning and organization, DIY catering can be a rewarding way to add a personal touch to your wedding reception food ideas.
Suggestions for Easy-to-Make and Popular Wedding Reception Dishes
If you're considering self-catering, here are a few popular cheap and easy-to-make dishes that are ideal for wedding receptions:
Pasta Salads: These can be made in bulk, are easy to serve, and can be customized with various ingredients.
BBQ Skewers: These are perfect for outdoor receptions. You can offer a variety of options like chicken, beef, shrimp, or vegetable skewers.
Finger Sandwiches: These are easy to make and can be prepared with a variety of fillings to cater to different tastes.
Leveraging Seasonal and Local Food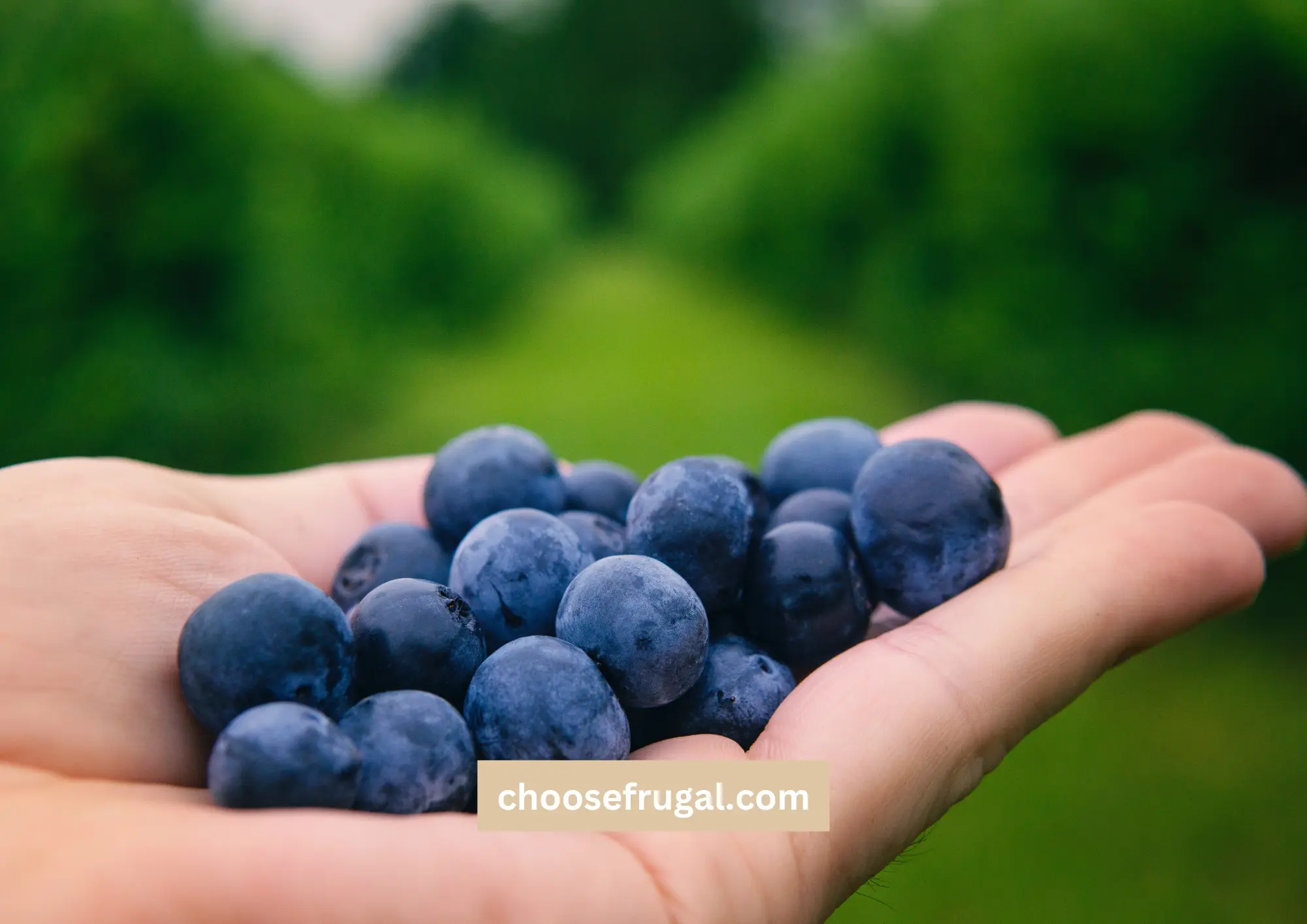 Benefits of Choosing Seasonal and Local Food
Seasonal and local foods offer multiple benefits. For starters, they're often more affordable since transportation costs are lower, and the supply of cheap food is higher when produce is in season. They're also fresher and tend to taste better, as they haven't spent long periods in transit or storage.
How to Incorporate Seasonal and Local Ingredients into Your Wedding Menu
Talk to your caterer or, if you're going the DIY route, visit your local farmer's market to understand what produce is in season around your wedding date. Then, try to build your wedding menu ideas around these ingredients. For instance, a summer wedding might feature fresh berries in salads or desserts, while a fall wedding might include dishes with root vegetables and apples.
25 Wedding Reception Food Ideas on a Budget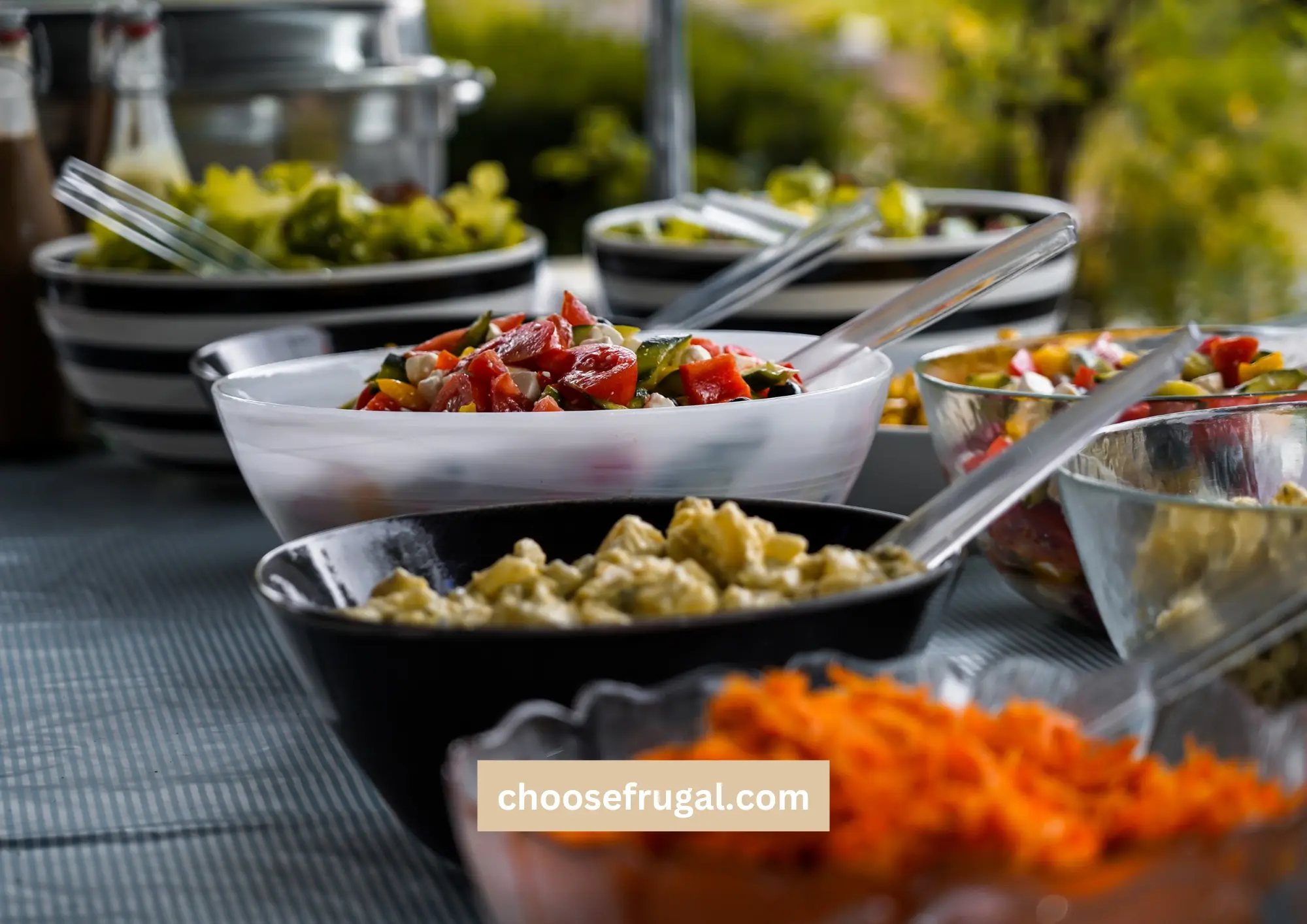 Menu Options That are Budget-Friendly
Here are 25 budget-friendly menu ideas:
Pasta Bar: Pasta is an economical and filling option for a wedding reception. You could offer a few types of pasta, along with a variety of sauces and toppings like meatballs, grilled vegetables, and a selection of cheeses. This allows guests to customize their dish to their liking.
Taco Station: Much like a pasta bar, a taco station offers plenty of versatility. Provide a few different proteins such as chicken, beef, and a vegetarian option like beans, alongside a variety of salsas, guacamole, cheese, and lettuce for guests to assemble their own tacos.
Barbecue Skewers: Offering BBQ skewers can be a cost-effective and versatile option. You can use inexpensive cuts of meat, and bulk out the skewers with vegetables. Consider making a few different types, such as chicken, beef, and vegetable-only skewers to cater to different dietary preferences.
Sliders and Fries: Miniature versions of burgers served with a side of fries can make for an enjoyable and affordable reception meal. You could offer a few different slider options such as beef, chicken, and a vegetarian option like a black bean patty.
Soup and Salad Bar: This can be an inexpensive and satisfying option, especially for a fall or winter wedding. A variety of soups and a salad bar with numerous toppings allows guests to make a meal to their preference.
Brunch Foods: If you're having a morning or early afternoon wedding, consider a brunch menu. Items like scrambled eggs, bacon, pastries, and a make-your-own-waffle station can be cost-effective and crowd-pleasing.
Pizza Buffet: Who doesn't love pizza? This can be an especially hit if there are many children at your wedding. Offer a variety of toppings to cater to different tastes.
Finger Sandwiches: These are easy to make in large quantities and can be made with a variety of fillings to cater to different tastes. Options like egg salad, tuna, and cucumber-cream cheese sandwiches can be satisfying and budget-friendly.
Baked Potato Bar: A baked potato bar can be a cost-effective and satisfying option. Provide a variety of toppings like shredded cheese, bacon bits, sour cream, and chives for guests to customize their potatoes.
Roast Chicken: Roast chicken is a classic, affordable dish that can be served with a variety of sides. You can keep it simple with herbs and spices or opt for a marinated version for a more flavorful option.
Macaroni and Cheese: This childhood favorite can be dressed up with a variety of add-ins like bacon, tomatoes, or even lobster for a bit of luxury.
Paella: This Spanish dish can be an economical way to feed a crowd. With a mix of inexpensive proteins like chicken and sausage and cheaper seafood like mussels, you can create a flavorful and filling dish.
Chili: Chili is a warm, comforting, and affordable dish. You can offer a few different types, like beef chili, chicken chili, and a vegetarian option.
Stir-fry Station: Offering a variety of vegetables, proteins, and sauces can allow guests to customize their stir-fry to their liking.
Pulled Pork: Pulled pork can be an affordable option, especially if you buy a less expensive cut of meat like pork shoulder. It can be served on buns for a sandwich option or with sides like coleslaw and beans.
Sausage and Peppers: This classic dish can be served on its own or in a roll for a sandwich option. Using a mix of bell peppers can add color and flavor to this budget-friendly dish.
Lasagna: A few large pans of lasagna can go a long way in feeding a crowd. Offering a few different types, like meat lasagna, vegetable lasagna, and a gluten-free option can cater to different dietary needs.
Vegetable Curry: A large pot of curry can be an economical and tasty option. Serve with rice and naan for a filling meal.
Meat and Cheese Platters: These can be a great starter or a lighter main meal. Select a variety of cheeses and a few different types of meat for a crowd-pleasing spread.
Shrimp Boil: A shrimp boil with corn, potatoes, and sausage can be a cost-effective and fun option for a summer wedding.
Chicken Alfredo: A creamy, comforting dish like chicken Alfredo can be a hit at a wedding reception. Serve with a side of garlic bread for a complete meal.
Vegetable Stir-Fry: For a healthier, budget-friendly option, consider a vegetable stir-fry. A variety of colorful vegetables served over rice can be a visually appealing and tasty dish.
Potluck-Style Meal: If you have a small, close-knit group of guests, consider asking each guest or family to bring a dish to share. This can drastically cut down on costs and allow guests to share a bit of their own culinary skill.
Cheese and Tomato Pasta Bake: This is a simple, budget-friendly dish that can be easily made in bulk. It's also a vegetarian-friendly option that can be enjoyed by many.
Buffalo Chicken Wings: These can be a great appetizer or main dish, especially for a casual, laid-back wedding. They're relatively cheap to make in bulk and are sure to be a crowd-pleaser.
10 Dessert Ideas on a Budget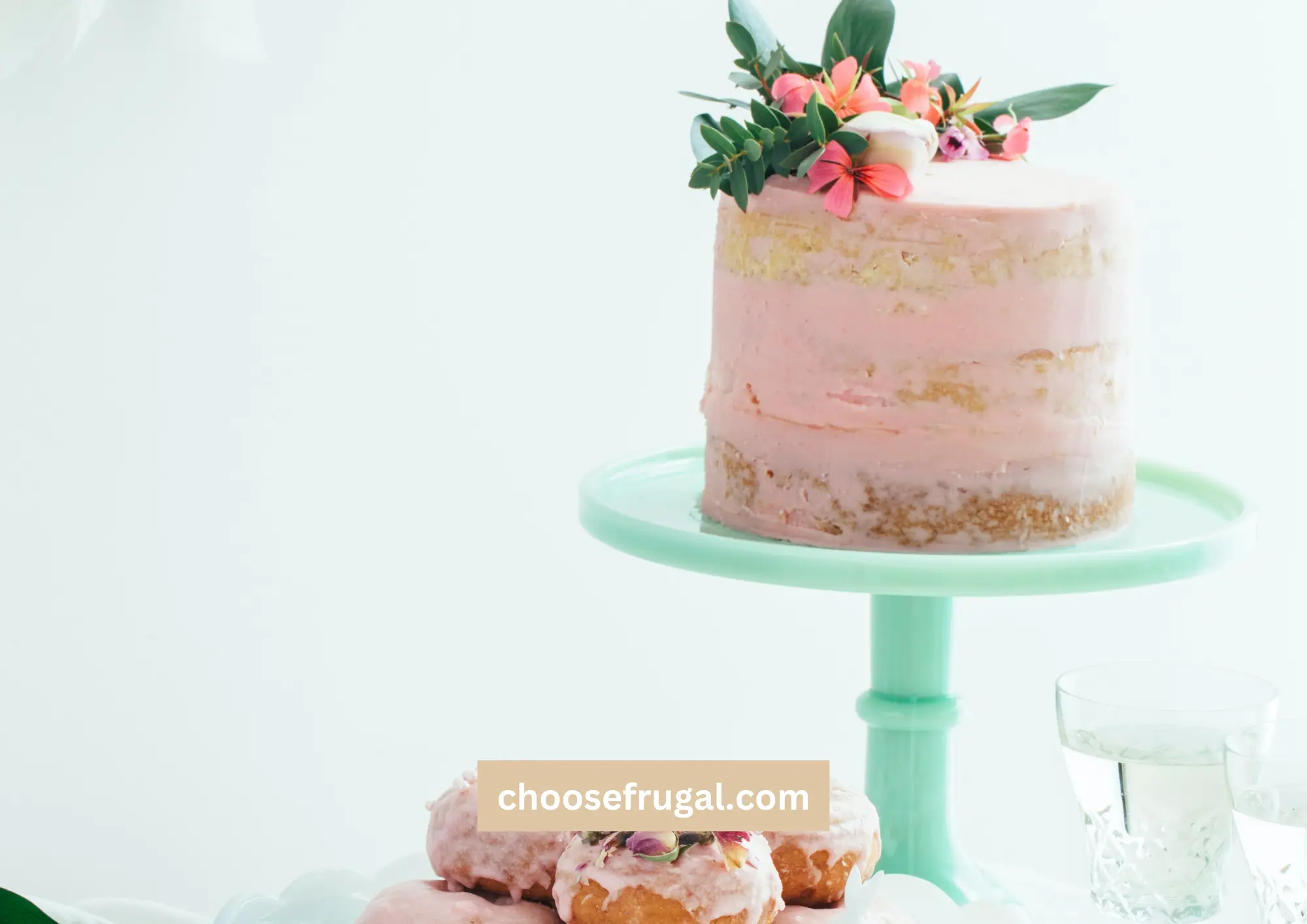 Sheet Cakes: Traditional tiered wedding cakes can be expensive. Opting for a sheet cake (or multiple sheet cakes) instead can save money while still offering a delicious dessert. You can have a small tiered cake for the cutting ceremony and serve guests from the sheet cakes.
Cupcakes: Cupcakes are another cost-effective alternative to traditional wedding cakes. They can be made in a variety of flavors to cater to different tastes, and they're easy to serve, reducing the need for additional staff to cut and serve the cake.
Doughnut Wall: Doughnuts can be a fun and economical dessert option. Whether from a local bakery or a chain store, doughnuts typically cost less than traditional wedding desserts. Plus, a doughnut wall can make a great visual impact.
Homemade Cookies: If you or a loved one enjoys baking, homemade cookies can be a personal and budget-friendly dessert. Consider making a few different types, like chocolate chip, oatmeal raisin, or sugar cookies.
Pie Buffet: A pie buffet can offer variety and charm, especially for rustic or country-themed weddings. Pies can often be less expensive than cakes, especially if you choose seasonal fruits.
Brownies: Brownies are a universally loved dessert and can be made in large batches fairly inexpensively. You can also offer different varieties, like fudge brownies, walnut brownies, or cream cheese swirl brownies.
Ice Cream Bar: An ice cream bar can be a hit, especially for a summer wedding. Bulk ice cream tends to be affordable, and guests will love customizing their sundaes with a variety of toppings.
Candy Buffet: Offering a candy buffet can be a relatively inexpensive and fun dessert option. Buy candy in bulk and provide small bags or boxes for guests to create their own take-home treats.
Fruit Salad or Fruit Skewers: For a healthier dessert option, consider a vibrant fruit salad or fruit skewers. Choose in-season fruits to keep costs down and ensure freshness and flavor.
Rice Krispie Treats: These are a nostalgic and budget-friendly dessert. They can be made in large quantities inexpensively, and you can dress them up with a drizzle of chocolate or a sprinkle of gourmet sea salt.
Tips on Presentation and Food Arrangement to Make Inexpensive Dishes Appear More Lavish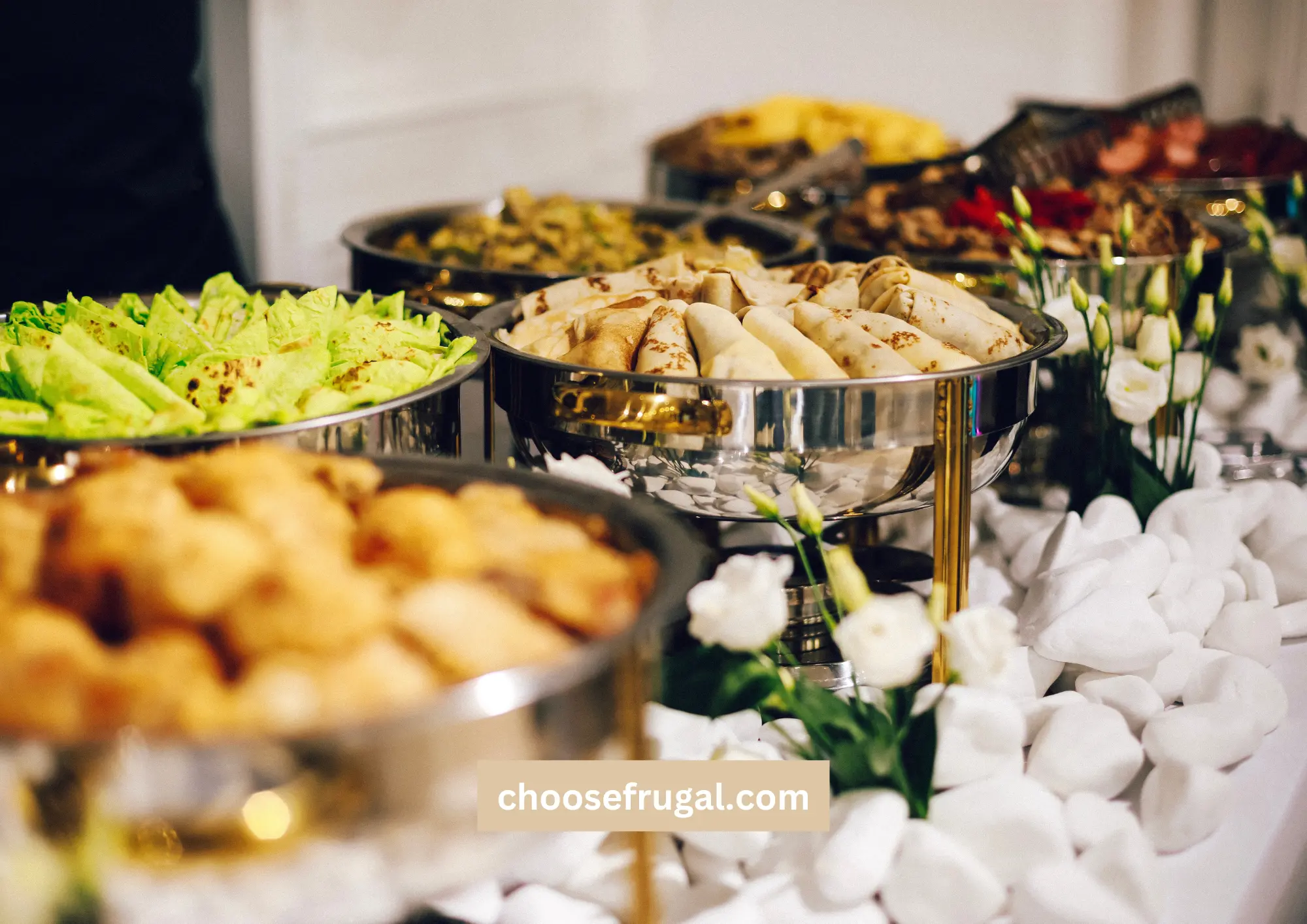 Remember that presentation is key. Even simple dishes can look luxurious with a bit of extra attention to presentation. Use garnishes, creative dishware, and consider the arrangement of food on the buffet table or plate.
Considerations for Drinks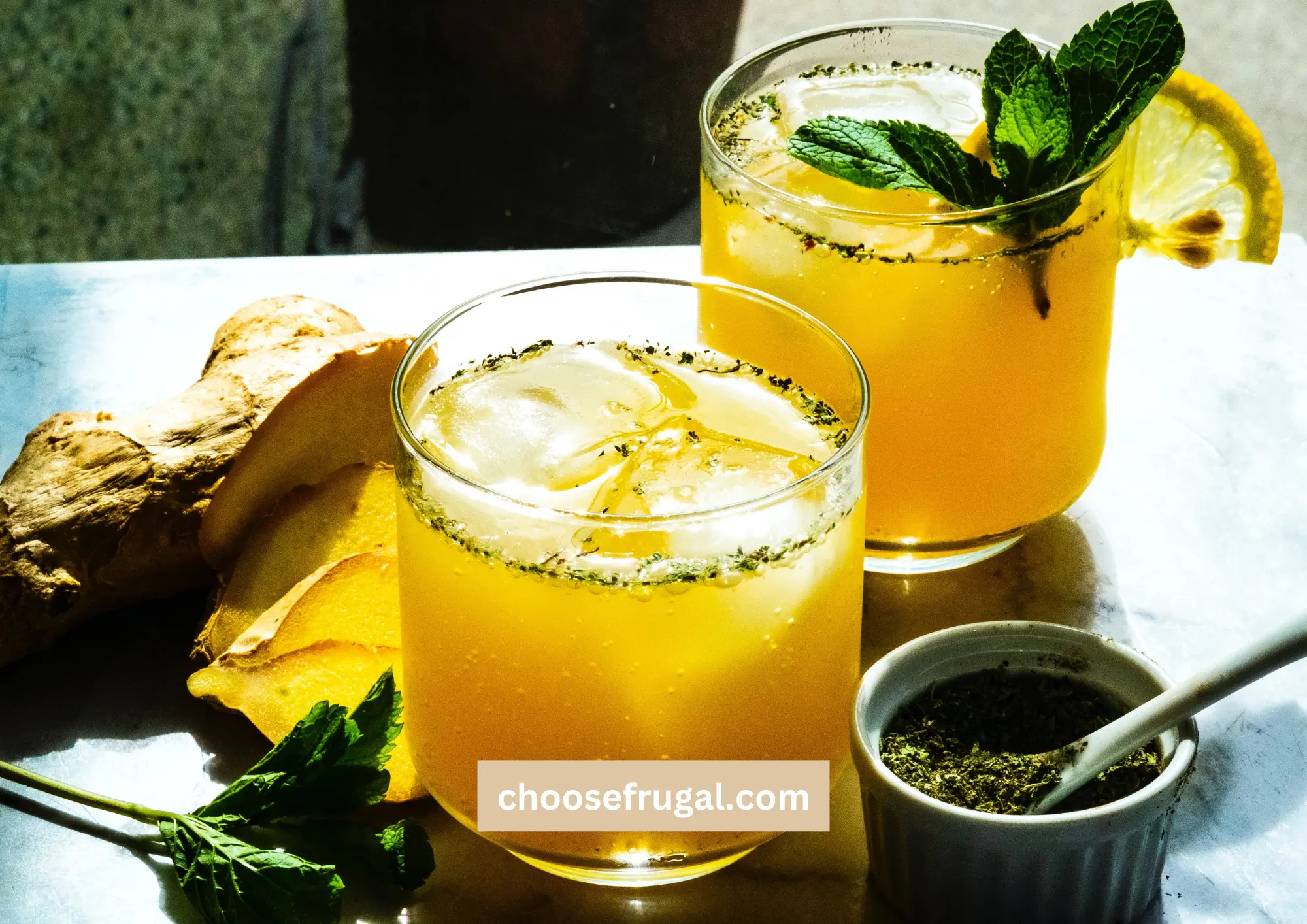 Discussion of Alcohol and Non-Alcohol Options
While many people enjoy having alcohol at a wedding, it can significantly inflate your budget. Consider offering wedding guests a range of non-alcoholic options like infused water, specialty sodas, or a coffee bar.
Money-Saving Tips Like Limited Bar or Signature Cocktails
One way to manage alcohol costs is to offer a limited bar, perhaps just wine and beer. Alternatively, offering a signature cocktail can add a personal touch while keeping costs down.
10 Cheap Wedding Reception Alcoholic Drink Ideas On A Budget
Signature Cocktails: One way to cut costs while still offering a unique experience is to serve one or two signature cocktails that reflect the tastes of the bride and groom. This allows you to limit the types of alcohol you need to purchase.
Limited Bar: Instead of a full bar, consider a limited bar offering a selection of beers and wines. You can often find quality options at reasonable prices, and these tend to cater to a wide range of tastes.
BYOB: If your venue allows it, you might consider a Bring Your Own Beverage (BYOB) option. This way, your guests can bring their preferred drinks, and it can significantly reduce your costs.
Bulk Alcohol Purchases: Some liquor stores offer discounts for bulk purchases. Buying larger quantities of a few selected drinks can be more economical than buying a wider variety at smaller volumes.
Homemade Sangria or Punch: These can be made in large batches using inexpensive wine or spirits mixed with fruit juices and soda. They're also easy to serve in large punch bowls, reducing the need for bar staff.
Local Craft Beers: Supporting local breweries can be a great way to offer unique beer options without breaking the bank. Often, local breweries have competitive pricing, especially for larger orders.
Seasonal Drinks: Seasonal drinks can add a festive touch to your wedding reception. Whether it's mulled wine in the winter or a refreshing spritzer in the summer, these can often be made in bulk on a budget.
Boxed Wine: While it might not have the best reputation, there are many quality boxed wines available these days. They're often more affordable than bottled wine and are more eco-friendly.
Mocktails: Offering a variety of fancy non-alcoholic drinks can be a budget-friendly way to cater to non-drinkers and those who want to pace their alcohol consumption. They can be made in large batches and often require less expensive ingredients.
Homebrew or Homemade Wine: If you or a friend has a talent for brewing beer or making wine, this could be a unique and personal touch to your wedding reception. Just make sure to check with your venue and local laws to ensure it's allowed.
10 Cheap Wedding Reception Non-Alcoholic Drink Ideas On A Budget
Iced Tea Bar: An iced tea bar can be a refreshing and budget-friendly option for a summer wedding. You can offer a few varieties like sweet tea, unsweetened tea, and a fruity herbal tea, along with garnishes such as lemon slices and mint leaves.
Coffee and Hot Chocolate Station: This can be a comforting addition, especially for a fall or winter wedding. Bulk coffee and hot chocolate mixes are affordable, and you can provide extras like whipped cream, marshmallows, and flavored syrups.
Homemade Lemonade: This is a classic non-alcoholic drink that's both affordable and crowd-pleasing. You can also offer variations like strawberry lemonade or lavender lemonade.
Infused Water: Providing pitchers of water infused with fruits, cucumbers, or herbs is a refreshing and economical option. It's also simple to prepare and can be made in large batches.
Fruit Punch: A large batch of fruit punch can be a cost-effective way to provide a sweet, refreshing drink. Use a mix of fruit juices, soda, and fresh fruit for a tasty non-alcoholic option.
Mocktails: There are many delicious non-alcoholic cocktail options, such as virgin mojitos, pina coladas, or Shirley Temples. These can provide a festive and sophisticated option for those who prefer not to drink alcohol.
Sparkling Cider: Sparkling cider can be a festive, non-alcoholic option for toasting. It's also often less expensive than champagne.
DIY Soda Bar: A DIY soda bar with a variety of syrups and a seltzer maker can be a fun and interactive addition to your reception. This can be especially popular with younger guests.
Smoothie or Juice Bar: Offering a range of freshly made smoothies or juices can be a refreshing and health-conscious addition to your reception. Opt for seasonal fruits to keep costs down.
Hot Apple Cider: For a fall or winter wedding, hot apple cider can be a comforting and fragrant choice. It can be made in large batches relatively cheaply, and can be served with cinnamon sticks for an extra festive touch.
Conclusion
Planning a wedding reception menu on a budget involves understanding your budget, choosing the right type of reception and caterer, considering DIY options, leveraging seasonal and local food, and carefully planning your drink options.
Remember, budget constraints don't mean you can't have a memorable and enjoyable wedding reception. With creativity, careful planning, and a focus on quality rather than extravagance, you can create a wedding reception menu that delights your guests and celebrates your special day in a style that's true to you. We hope you enjoyed these wedding reception food ideas on a budget.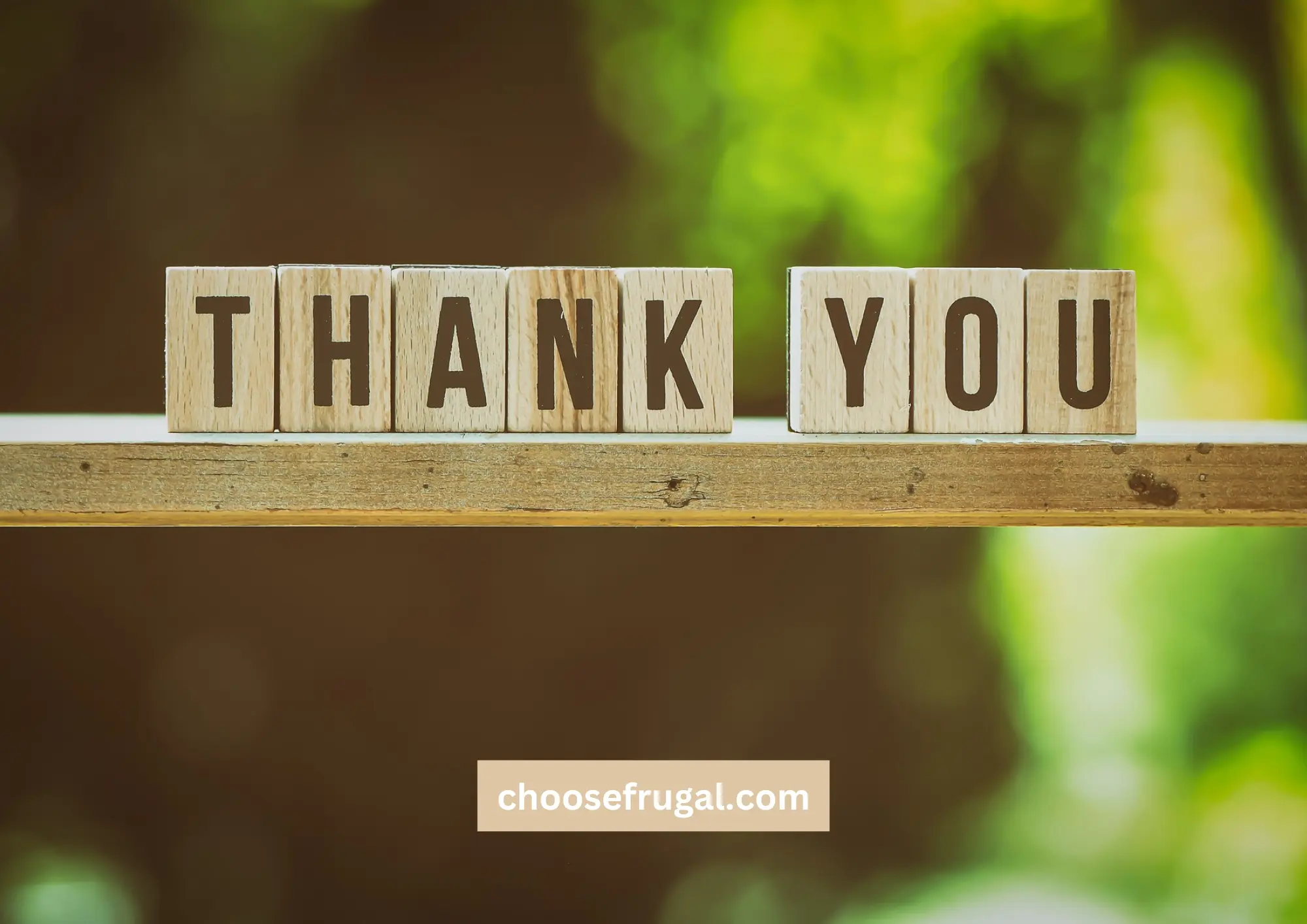 Thank you so much for reading this article! If you are planning your dream wedding, be sure to read our other wedding-related content. Happy planning!
Beautiful Wedding Nails: Enhance Your Bridal Look with Style and Elegance (and 9 Considerations)
Unique and Unconventional: Exploring the World of Non-Traditional Wedding Dresses (and 7 Considerations)
Embracing Uniqueness: Exploring Non-Traditional Engagement Rings
12 Best Wedding Dress Shops Online
10 Top Tips for Planning a Wedding on a Budget You'll Love
P.S. Want to know when our next post lands and get our free ebook on how to live frugally? Then click the link below.
Sign up here to claim your free ebook!
Best Wedding Reception Order of Events for Your Big Day (4 Steps to Planning)