The majority of couples throughout the world go into debt to pay for their weddings. Do you aspire to be one of them?
Marriage is the combination of two brains, getting into debt isn't such a great idea, so give it some thought. The more money you save, the happier you will be after your wedding. Your enjoyment may be ruined if you incur more debt as a result of unnecessary wedding expenses.
Do you have a lot of money set aside for your wedding? If not, don't worry, you can still have a beautiful wedding day. With these cheap wedding ideas, a good budget, and some frugality you will have a lot more fun and lasting memories without breaking the bank.
P.S. Want to know when our next post lands and get our free ebook on how to live frugally? Then click the link below.
Sign up here to claim your free ebook!
It doesn't need to be: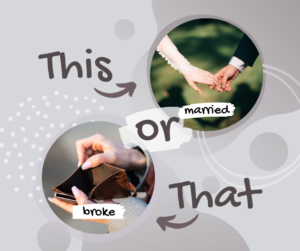 Let us delve deep into the details of 35 cheap wedding ideas.
1. An affordable wedding, location, location, location.
Depending on the location of our wedding, the cost may vary. For example, in the United States, the wedding cost in Idaho varies significantly from that in Manhattan. As a result, you might consider a place where you can spend less money on your wedding.
2. Determine your priorities.
It is usually preferable to prioritize saving funds for future commitments. A low-cost wedding may save you hundreds or even thousands of dollars. Prioritize the things that are most important to you and your partner. If that is traveling or starting a family, both of which can be quite expensive, rather have a small intimate wedding and put away some money for the things that really matter to you.
Having a frugal wedding on a budget can really help get you and your partner started on the right path to living a frugal life.
3. Budget planning
In order to save money you first need to find out what you are spending it on and how much you are spending on it. To do this you need to plan and budget. The budget will determine what kind of wedding you can have. It will also help you to see where you are overspending so that you can make some cuts.
There are many apps that can help you budget, or you could just use an old-fashioned Google sheet or Excel spreadsheet. Also, have a look at some videos on YouTube about how to budget for a wedding, there is a lot of useful content.
Creating a budget is the first of many steps in planning a cheap wedding.
4. The Guestlist requires your attention.
Ah, the age-old question of wedding planning: How many people should I invite to my wedding? Are you planning on inviting extra guests to your wedding? Is it required? If this is the case, your budget will grow. So, prioritize and evaluate your guest list by inviting only vital and close family members and friends to save money.
5. Select a low-cost shop.
To save money, you might buy your dress or suit at a thrift store or a secondhand store. Yes, you do not need to spend a lot of money on a one-day event. Renting some clothes can also save you some money. Another option is second-hand dresses and suits. It's probably only been worn once.
6. Close to home wedding venue
You can select a wedding venue close to your home so you can avoid the unnecessary expense of traveling and other allied costs.
7. Free venues
You may save a lot of money on numerous items if you choose a backyard site for your wedding so that you can have an intimate small gathering to tie the knot. There are many other options to consider that may be low-cost or even free.
8. Town hall wedding
You can also plan for a town hall wedding since it involves low cost.
9. Within your budget venue
Locate a wedding venue, irrespective of the type, that is within your budget. Below is a great video about cheap and inexpensive venue ideas. Some examples to look at are state parks, a botanical garden, a courthouse or even a library.
10. Vacation Rental To Your Budget
You may save money by having your wedding at a vacation property.
11. Wedding time for your Marriage
Choose a time for your wedding outside of the holiday season. This will save you a lot of money.
12. Skip Saturday
You may have your wedding on either a Sunday or a Friday. Saturday seems to be the most expensive day because the majority of activities take place on that day.
13. Mid-week WEDDING
A midweek wedding may be less expensive than a weekend wedding. Choose a weekday midday for a low-cost wedding celebration.
14. Ceremony and reception at the same location.
This is usually less expensive since attendees may go to the reception place while the bridal party takes photographs somewhere. It also makes the day's logistics easier. Many venues will also give you a discount if you have both the ceremony and the reception there.
15. Opt out of the evening reception trend
No need for a reception dinner instead plans for an exclusive breakfast reception.
16. A family-owned restaurant
You can look for less expensive catering vendors. You can go for vendors outside of the wedding industry.
17. A food truck
You can go for a food truck to save your money. Also, paper plates are fine.
18. Contact individuals to help you save money.
Instead of spending money on expensive cakes, ask close friends or family who are skilled at constructing beautiful cakes to make them for the occasion.
19. Say "no" to hard liquor.
Instead of hard liquor, go for beer and wine to save your money.
20. Affordable Dessert options
Choose affordable desserts. Have a look at some of these cheap deserts for large groups on Pinterest. Deserts can be quite expensive especially if they are individually handmade and plated. Rather go for a buffet-style desert.
21. A brief reception
A brief reception rather than a longer one saves money.
22. A buffet service is a more affordable option.
To save money, buffet-style eating is preferable to plated and served meals.
23. Vegetable portions are ideal.
To save money, serve vegetables instead of meat.
24. Purchasing used wedding decorations from newlyweds.
Purchase old wedding decorations from couples that sell theirs on the internet.
25. Visit the Dollar Store
At the dollar store, you may find a variety of inexpensive decorations for both receptions and wedding ceremonies.
26. Bulk purchase of decorative items
You can purchase decorative items in bulk quantities by joining hands with your known sources that have a wedding event soon.
27. Choose discount shops for all purchases.
You can choose discount shops for all your purchases to save money.
28. Reasonably available products to decorate
Save money by going for things that are available in season.
29. Lace chair décor or ribbons
Beautiful aisle chairs with ribbons may be arranged for a low-cost ceremony.
30. Photo display
Arrange a photo display with simple techniques instead of a grand one.
31. Paper lanterns
Paper lanterns are a fine choice to decorate your wedding event and are affordable too.
Arrange homemade cookies for your ceremony; it's a more intimate and personal touch and saves money too.
33. Customized candy bars
You can go for personalized candy bars to help with cost-saving.
34. Soy candles, homemade Jam, and a bread table
Using soy candles to decorate your wedding can create a romantic atmosphere and save you some money on decorations. Either make some homemade jam or ask family members who enjoy doing such things. Add the jams to a bread table with some delicious homemade, or fresh bakery bread.
35. Delegate event work to a known source.
Never go for a costly manager or planner to conduct the event. Instead, hand over the responsibility to your wedding party, a close friend or family member who is capable of managing such an event. This can help you save money. They can handle things just as well as a wedding planner and it's much easier for you to communicate with them.
Final words
The above wedding tips are the best start to help you afford your wedding and the key to living frugally ever after. You can go through these tips and techniques carefully a few times so that you can save a lot of money on your wedding day. Have a nice wedding and a cheerful event without spending more than you can afford!
Now, a wedding is one of the most important days of your life, but it is only one day, here are some frugal living tips for day-to-day living.
Also read:
How to Determine Your Wedding Guest List Size on a Budget
15 Cheap Wedding Ideas to save thousands
Best Wedding Reception Order of Events for Your Big Day (4 steps to planning)
How Many People Should I Invite to My Wedding on a Budget?
Ideas for an Intimate Backyard Wedding (On a Budget)
How to Determine Your Wedding Guest List Size on a Budget
15 Affordable Wedding Ceremony Ideas You'll Love
P.S. Want to know when our next post lands and get our free ebook on how to live frugally? Then click the link below.