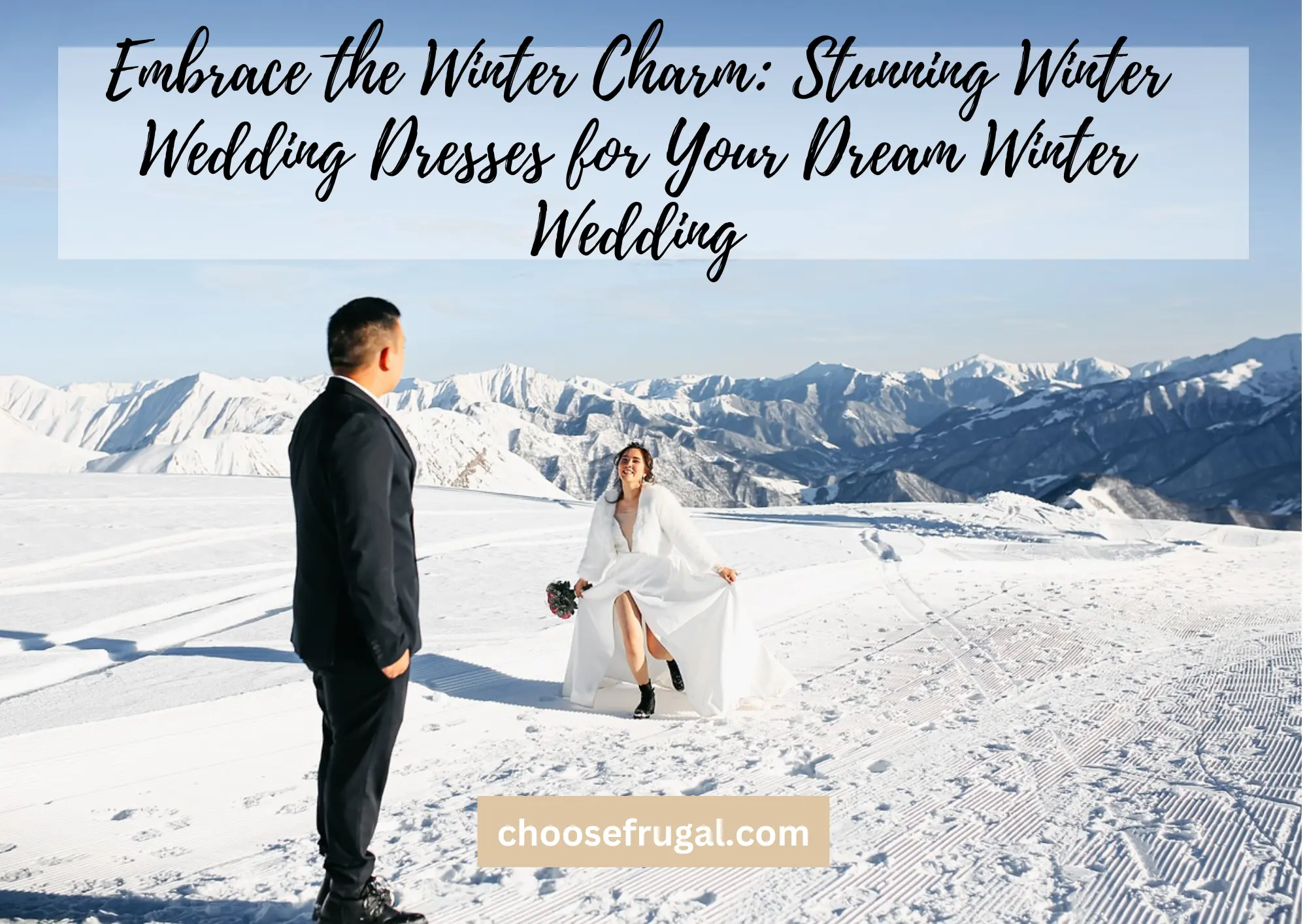 As the snowflakes gently fall and the air turns crisp, there's something undeniably magical about winter weddings. The season offers a unique opportunity to showcase elegance, warmth, and enchantment through your wedding dress.
If you're planning a winter wonderland celebration, let's explore some stunning options for winter wedding dresses that will make you look breathtakingly beautiful while keeping you cozy on your special day.
Luxurious Velvet Winter Wedding Dresses:
Winter weddings are synonymous with opulence, and what better fabric to embrace this richness than velvet? A velvet wedding gown exudes sophistication and adds a touch of regality to your ensemble. Opt for a form-fitting silhouette that flatters your figure, or choose an A-line gown with delicate lace accents to create an ethereal winter princess look.
Captivating Long Sleeves Winter Wedding Dresses:
When the temperatures drop, long sleeves come to the rescue, providing both style and warmth. Embellished with intricate beadwork or delicate lace appliqués, long-sleeved wedding dresses are not only on-trend but also perfect for winter nuptials. They lend an air of elegance while keeping you comfortable throughout the day.
Dazzling Sparkles on Winter Wedding Dresses:
Winter weddings are a wonderful opportunity to sparkle and shine. Incorporate twinkling details into your dress design, such as subtle sequin embellishments or beaded accents, to capture the magical essence of the season. A shimmering bodice or a cascading layer of sequins on the skirt will reflect the wintry light and make you the star of the day.
Faux Fur and Feathery Delights on Winter Wedding Dresses:
Indulge in luxurious textures by adding faux fur or feathery details to your wedding dress. These cozy elements provide warmth and lend a glamorous touch to your attire. Consider a fur stole or capelet to drape over your shoulders, or embrace feathered accents along the hemline for a whimsical, fairy tale-like feeling.
Enchanting Winter Accessories for Winter Wedding Dresses
Complement your winter wedding dress with accessories that embrace the season's charm. Adorn your hair with a crystal-encrusted hairpiece or don a delicate fur-trimmed veil. Swap traditional heels for stylish winter boots or opt for lace-up boots embellished with pearls or crystals. These thoughtful details will complete your winter bridal look and make you feel like a true snow queen.
Considerations When Shopping for Winter Wedding Dresses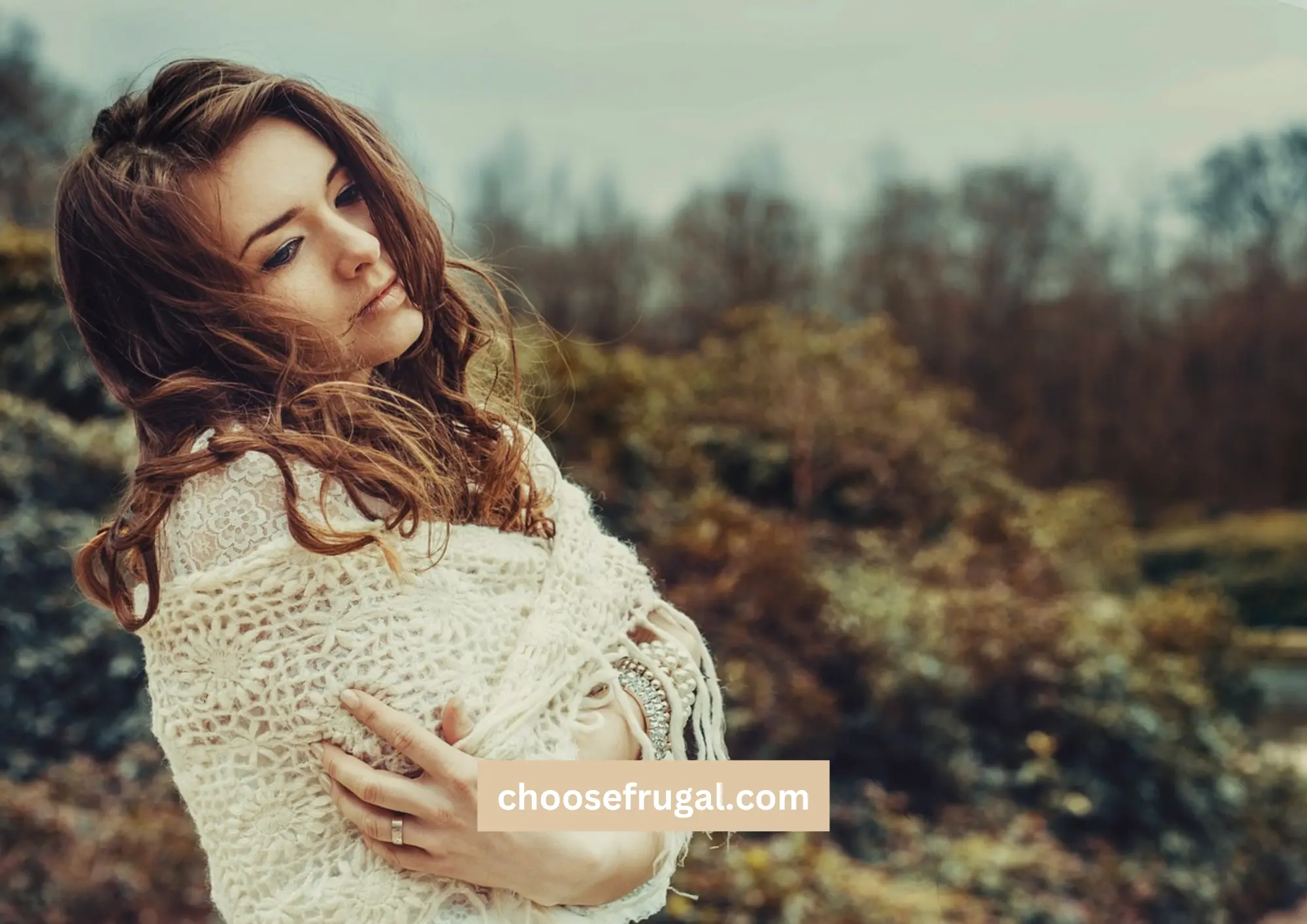 Planning a winter wedding brings its own set of unique considerations when it comes to selecting the perfect dress. To ensure you find a gown that not only suits your style but also keeps you comfortable in the cooler temperatures, here are some essential factors to keep in mind while shopping for winter wedding dresses shopping for a winter wedding:
Fabric Choice:
Opt for heavier and warmer fabrics that will help you stay cozy throughout the day. Luxurious materials like velvet, satin, or brocade not only add elegance but also provide insulation against the chill. These fabrics have a natural weight and drape beautifully, making them ideal for winter wedding dresses.
Sleeve Length and Style:
Long sleeves are a popular choice for winter wedding dresses, as they offer both style and warmth. However, you can also explore options like three-quarter sleeves or illusion sleeves with delicate lacework. If you prefer a sleeveless dress, consider pairing it with a stylish bolero jacket or a fur stole for added coverage during outdoor photoshoots.
Layering Opportunities:
Winter weddings provide the perfect opportunity for layering, allowing you to add dimension and warmth to your bridal ensemble. Look for dresses with removable overlays or detachable skirts, so you can have a fuller look during the ceremony and remove layers for comfort during the reception. This versatility ensures you can adapt to changing temperatures and still enjoy every moment.
Length and Silhouette:
Consider the length of your dress in relation to the weather conditions. A floor-length gown or a dramatic train can help keep your legs warm while creating a stunning bridal silhouette. If you're having an outdoor ceremony, you might also want to consider a dress with a slightly raised hemline to avoid dragging in the snow or wet ground.
Accessories for Warmth:
Explore accessories that provide both style and additional warmth. Faux fur wraps, capes, or boleros not only elevate your look but also provide insulation against the cold. Pair them with gloves, hand warmers, or even thermal tights for extra comfort. Remember to choose accessories that complement your dress and overall aesthetic.
Practical Footwear:
Winter weddings often mean navigating potentially slippery or snowy surfaces. While you want to feel like a princess on your special day, prioritize practicality when it comes to footwear. Opt for elegant closed-toe shoes or boots with a low heel or block heel, ensuring stability and warmth. Consider shoes made from satin or lace to match your winter wedding dress, and don't forget to have a backup pair for outdoor photoshoots.
Alterations and Fittings:
Keep in mind that alterations may be necessary, especially if you're layering or adding removable sleeves. Allow sufficient time for fittings and alterations, as winter weddings tend to be popular, and seamstresses' schedules may fill up quickly. Start shopping and scheduling fittings well in advance to avoid any last-minute stress.
By considering these key factors while shopping for your winter wedding dress, you can find a gown that not only showcases your style and personality but also ensures your comfort throughout the day. Embrace the magic of winter and let your dress be a reflection of your love story, surrounded by the beauty and warmth of the season.
Why You Should Get Married in Winter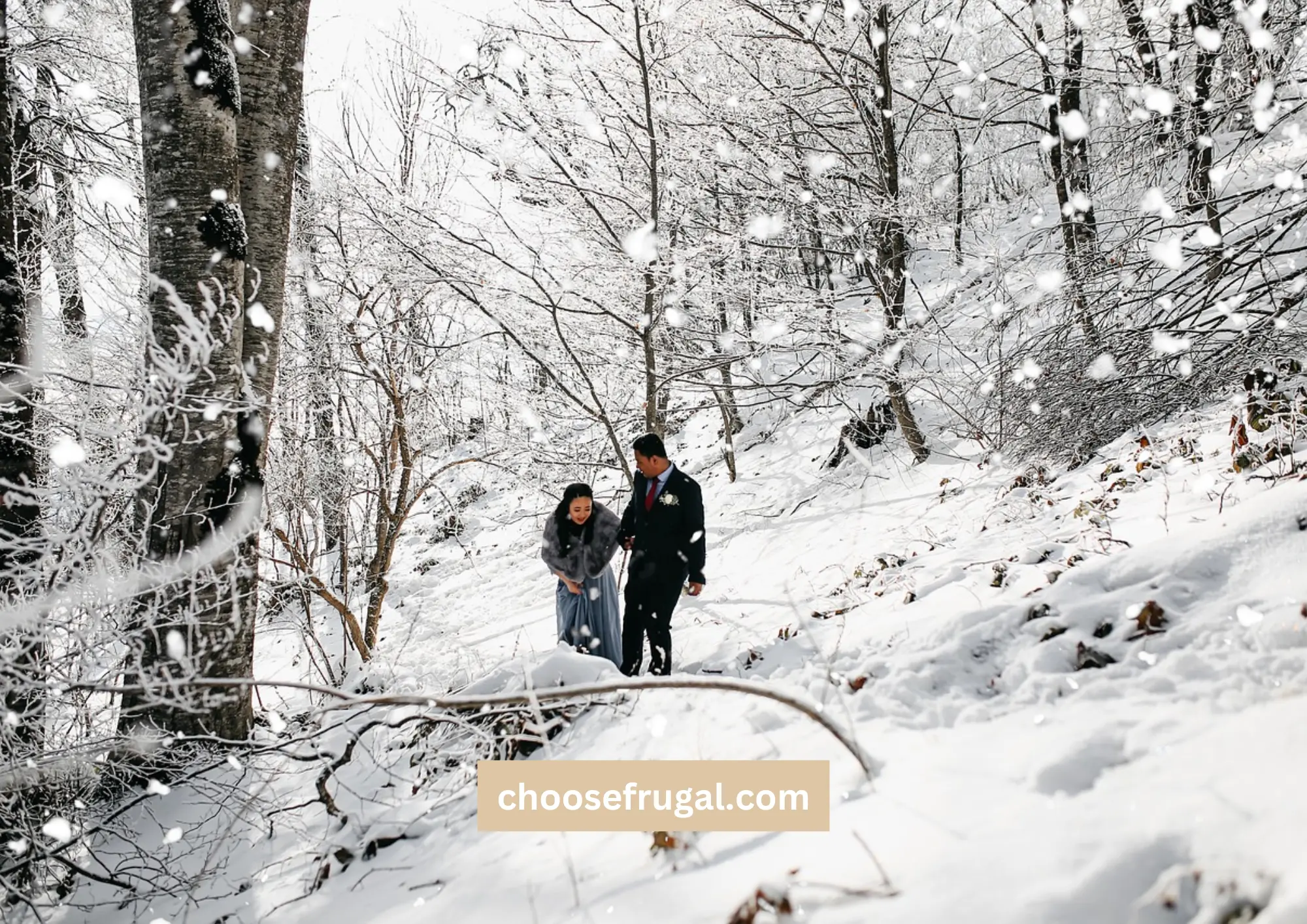 While summer weddings may be popular, don't overlook the allure and charm of a winter wedding. The winter season offers its own unique benefits and can create a truly magical and memorable experience for you and your loved ones. Here are some compelling reasons why you should consider tying the knot during the winter months.
PS. If you want more information on planning a winter wedding, watch this video by Jamie Wolfer: How to Plan a WINTER Wedding

Enchanting Atmosphere:
Winter weddings have a captivating ambiance that is hard to replicate during any other season. Picture a snowy landscape, twinkling lights, and the warm glow of candles creating a cozy and intimate atmosphere. The magical backdrop of winter sets the stage for a truly romantic celebration that will leave you and your guests spellbound.
Availability and Affordability:
Winter is considered the off-peak wedding season, which means you have a higher chance of securing your dream venue and preferred vendors. Many venues offer discounted rates during this time, making it a cost-effective option for couples looking to save money without compromising on their wedding vision. You can allocate your budget towards other aspects, such as a stunning dress or memorable honeymoon.
Unique Décor Opportunities:
Winter weddings provide endless possibilities for breathtaking décor. From rich and luxurious color schemes to seasonal elements like pinecones, evergreens, and cranberries, you can create a visually stunning setting that reflects the beauty of the season. Incorporate elements like candlelight, fairy lights, and sparkling accents to add a touch of magic to your décor.
Cozy and Intimate Celebrations:
Winter weddings often evoke a sense of warmth and togetherness. With the colder weather outside, indoor venues provide a cozy and intimate setting for your celebration. You can create a sense of closeness among your guests, fostering a more intimate and connected atmosphere. Winter weddings are perfect for smaller gatherings and can allow for meaningful interactions with your loved ones.
Unique Menu Options:
Winter weddings present an opportunity to serve hearty and comforting dishes that are sure to delight your guests. Think of warm soups, rich roasts, and decadent desserts that will keep everyone satisfied and content. Seasonal favorites like mulled wine, hot cocoa bars, or even a s'mores station can add a touch of indulgence to your wedding menu.
Memorable Photography:
Winter landscapes offer a stunning backdrop for your wedding photos. The glistening snow, bare trees, and soft winter light create a picturesque setting that will result in breathtaking images. You can capture romantic moments against the winter scenery, and even if it's not snowing, the cool and crisp air adds a unique touch to your photographs.
Honeymoon Opportunities:
Planning a winter wedding opens up a world of possibilities for your honeymoon. Take advantage of the colder months by opting for a cozy cabin retreat in the mountains, a romantic European city getaway, or even a tropical escape to a warm destination. The contrast between the winter wedding and the honeymoon destination can create a memorable and exciting experience for you as newlyweds.
By choosing to get married in winter, you can create a wedding day that is truly one-of-a-kind. Embrace the seasonal charm, enjoy the cost savings, and create a warm and intimate celebration that will be cherished by you and your guests for years to come.
Best Places to Buy Winter Wedding Dresses
When it comes to finding the perfect winter wedding dress, there are various options available both online and offline. While the specific recommendations from the article you mentioned might be valuable, I can offer you some general insights into the best places to purchase your winter wedding dress:
Bridal Boutiques:
Visiting local bridal boutiques allows you to have a personalized and intimate shopping experience. These boutiques typically carry a curated selection of wedding dresses, including winter-appropriate styles. You can receive expert advice from bridal consultants and have the opportunity to try on different designs to find the perfect gown.
Online Retailers:
Online shopping provides convenience and access to a wide range of wedding dress options. Several reputable online retailers specialize in bridalwear and offer a diverse collection of winter wedding dresses. Ensure to choose well-known and trusted websites that have positive customer reviews and a good return policy. Remember to carefully review sizing charts and product descriptions before making a purchase. Read this article on The 12 Best Wedding Dress Shops Online.
Designer Websites:
If you have a specific designer in mind, visiting their official website can be a great way to explore their latest winter wedding dress collections. Designer websites often provide detailed information about each gown, including fabric choices, silhouette options, and customization possibilities. Keep in mind that designer dresses may come with a higher price tag, but they often offer exceptional quality and craftsmanship.
Sample Sales and Trunk Shows:
Attending bridal sample sales or trunk shows can be a fantastic way to find a winter wedding dress at a discounted price. Sample sales offer bridal gowns at reduced prices, typically due to being discontinued or previously used as display samples. Trunk shows, on the other hand, showcase a designer's collection at a specific store for a limited time, often offering special pricing or exclusive designs.
Consignment Shops:
Consignment shops specializing in bridalwear can be treasure troves for finding gently used or pre-owned wedding dresses. These shops may carry a variety of styles, including winter wedding dresses, at significantly lower prices than purchasing new. Keep an open mind and be prepared to explore different options, as consignment inventory can vary.
Remember to prioritize factors such as quality, fit, and your personal style preferences when choosing where to buy your winter wedding dress. Take your time, do thorough research, and consider trying on dresses in person whenever possible to ensure the perfect fit for your special day.
Conclusion
In conclusion, a winter wedding offers a truly enchanting and memorable experience, and finding the perfect winter wedding dress is key to creating your dream day. Whether you choose luxurious velvet, captivating long sleeves, dazzling sparkles, or incorporate faux fur and feathery details, there are endless stylish options to make your winter wedding dress shine.
Considerations like fabric choice, sleeve length, layering opportunities, and practical accessories ensure your comfort in cooler temperatures.
Embrace the magic of a winter wedding, take advantage of unique décor opportunities, and enjoy the cozy and intimate celebrations that the season brings. With a carefully chosen winter wedding dress, you'll create unforgettable memories against a backdrop of snowflakes and love. Let the beauty and warmth of winter be the perfect companion as you embark on your journey together.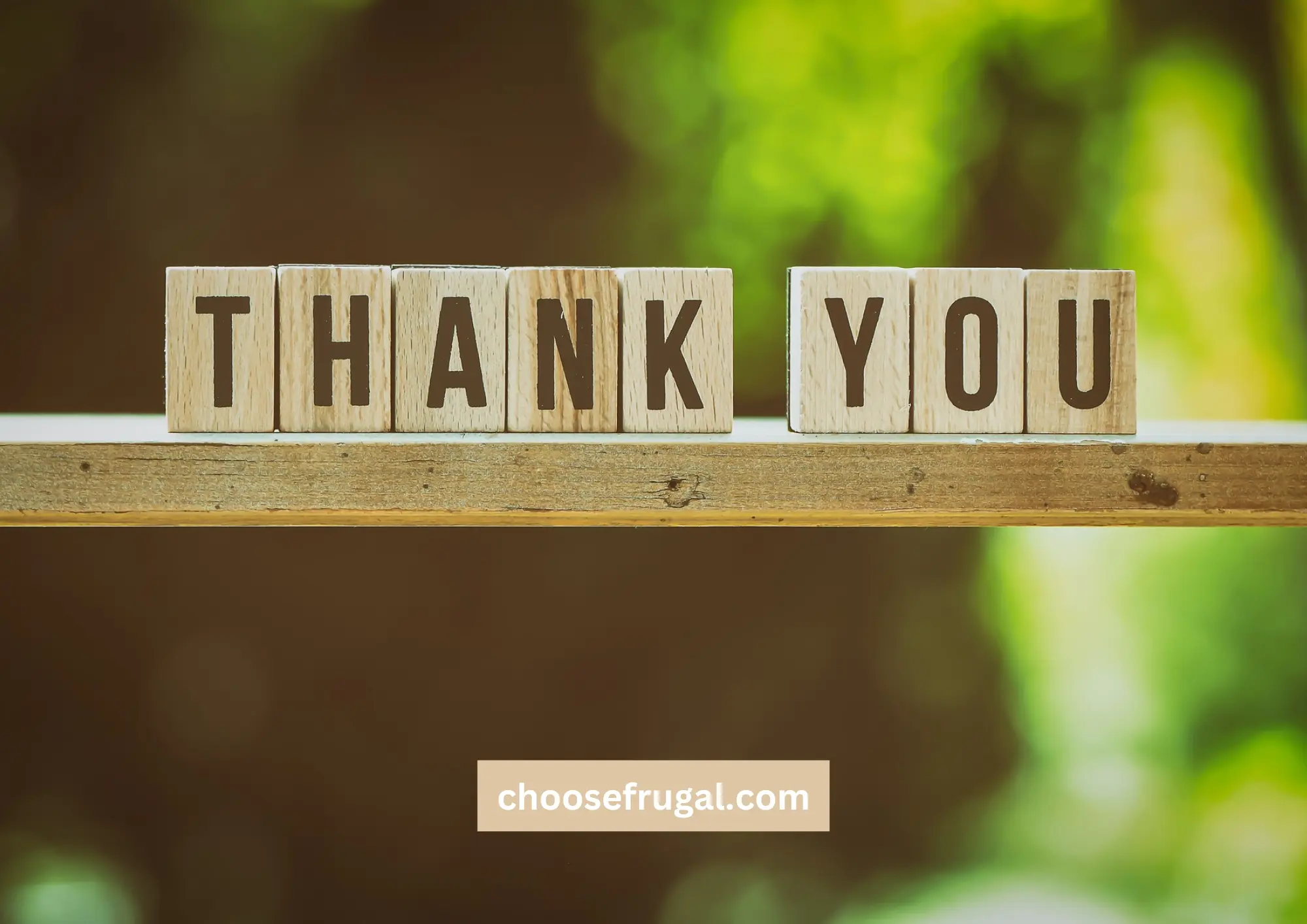 Thank you so much for reading this article! If you are planning your dream wedding, be sure to read our other wedding-related content. Happy planning!
Beautiful Wedding Nails: Enhance Your Bridal Look with Style and Elegance (and 9 Considerations)
Unique and Unconventional: Exploring the World of Non-Traditional Wedding Dresses (and 7 Considerations)
Embracing Uniqueness: Exploring Non-Traditional Engagement Rings
12 Best Wedding Dress Shops Online
10 Top Tips for Planning a Wedding on a Budget You'll Love
P.S. Want to know when our next post lands and get our free ebook on how to live frugally? Then click the link below.
Sign up here to claim your free ebook!