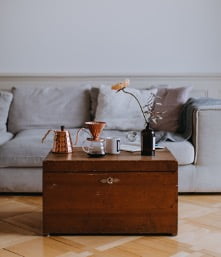 Have you ever looked at your living room, or any room in your house for that matter, and just thought to yourself, "I wish it didn't look so drab", "This is so depressing", "I hate this", "I wish it looked like one of those interior decorator magazines" or "I really like the minimalist bohemian living room style".
Why don't you change it?
Your mind will quickly come up with excuses, telling you that it's too expensive, you need good taste, some skill or whatever… that's all nonsense.
All you need is a guide… Here is that guide:
Your 7-step guide to a minimalist bohemian living room
What you will discover in this article
hide
What is Minimalist interior design?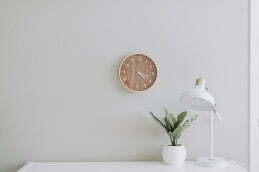 Minimalist interior design is known for its simplistic use of only what is necessary to form a clean space that is uncluttered and open.
Minimalism only uses color to accent the mostly monochromatic design.
The design utilizes effective lighting, clean lines and functional furniture in an open floor plan. Color and texture play a big role in the few elements that are in the space.
What is Bohemian (Boho) interior design?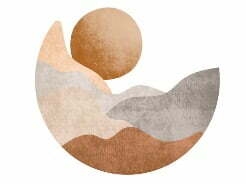 Bohemian interior design is personal and a little carefree.
It has no rules, it's relaxed and is styled for you (and your partner) and you alone.
It's characterized by layered patterns and artistic flare. It utilizes neutral colors like tan and white for the undertone, with jewel tones and metallic finishes that stand out.
No two boho designs are the same, if they were, it wouldn't be boho. This is a very unique and individualistic design that was influenced by the nomadic artists of 19th century Paris.
Why combining them makes sense.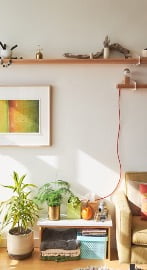 Minimalism can feel cold, sterile and impersonal very quickly, but it is simplistic, looks professional and is really easy to keep organized and clean.
Boho on the other hand can become messy, cluttered and disorganized very quickly, but it is warm, cosy and personal.
Taking the best of both worlds seems like a good idea, don't you think? So let's go ahead and see how you can go about redoing your living room in a minimalist bohemian style.
1. Look around for inspiration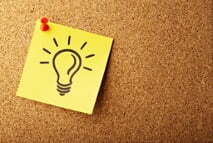 Before you start throwing away everything you own, buying new things you can't afford and that probably won't even fit in… go and have a look around for some inspiration.
There are many places to find inspiration, some online and others in the real world. These are your best bets:
Interior design websites, social media pages, YouTube etc

Here are two great videos from YouTube:
In this video, the presenter goes into great detail about Boho interior design. Definitely worth the watch.
In this video, the presenter tells you how you can make a minimalist interior design cosy. You don't want a cold dead, minimalist home, do you? No, so have a look!
 Magazines
From friends and family, especially those with homes that look like they paid an interior designer.
2. Budget and plan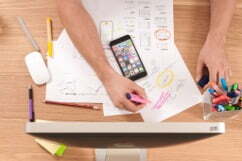 Once you've narrowed it down to a few things you like, it's time to start planning and budgeting your time, money and effort.
You only have limited resources, so make sure to have a look at the time and money you have available to undertake this project.
Remember to be frugal, but realistic… allocate more time and money than you thought it would take, especially if this is your first time undertaking such a project. Try to reduce it as much as you can as you go along, rather than upfront.
You also need to check in with yourself and ask, "How much effort am I willing to put into this?", because stopping halfway through might just leave your house in a worse state than when you started.
Layout, style and design are really important things to keep in mind when redecorating. Make sure that everything will not only fit your decor, but also the physical space you have available.
Look at the tools, help and consumables you'll need to pull this off. What will you need to buy or rent and who might you need to hire if you can't do all of it yourself?
Remember to come back to this step all the time, it's best to revise and update the budget and plan. Rather rinse and repeat this step, than sit with something you don't want and that costs way more than you set aside.
Always measure twice, and again if necessary.
3. Clear out, clean up and reduce. Keep what you value or use most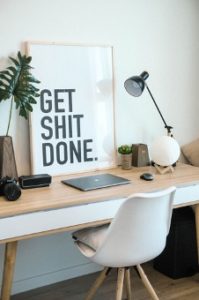 Now that you have a plan and budget in place, it's time to start getting your place ready for the redo. Set aside all the things in your living room that you never use, things you don't like or want.
While you are going through the things you want to get rid of, make sure you keep the things that you value and use the most.
Things that really work well for this style are pieces or odds and ends you've collected when traveling, or that you received from friends and family… Just things that are part of who you are, or that tell an interesting story.
Start sorting through everything, and adding it to different piles. Throw away the trash and anything that can't be sold, donated or reused. Sell what you can, since this can help cover the cost of redoing your place.
Go on online marketplaces, to second-hand stores, and have a look at charities, removal companies and storage.
Donate or give things to charities, friends and family who might want or need it. This might even make the burden of removal less on you while you are doing something good, since they might even come pick it up.
Do this a few times to make sure you only keep the things that you love and that are necessary. Also keep things that can be reused if you decide to DIY a few of the pieces of decoration or furniture.
4. Look at what you want and need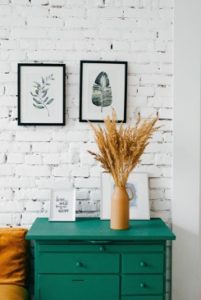 Now that your place has been prepared it's time to start looking on Facebook marketplace, eCommerce sites, local shops and wherever else you like to shop.
Size, color, shape, form, texture and light are the most important things to keep in mind. Remember that you are trying to create a cohesive look, not a collection of loose pieces to fill a space.
Furniture: For this style, you can go for a wide variety of furniture. Leather, exposed wood and metal is characteristic of boho design. The most important thing to keep in mind is that the pieces should not overfill the space.
Vintage pieces of furniture work great for the boho style, so if you have some old leather couches, wooden coffee tables or bookshelves they'll fit in really well. You can also DIY some benches and shelves with nice exposed wood.
On the furniture: Throw blankets and pillows can add much-needed texture and warmth. If you have a quilt or knitted blanket from your grandmother or that you made yourself, feel free to add that.
On the walls: If you want to paint or put up wallpaper, stick to muted soft colors. Paintings and botanical prints, geometric box shelves, floating shelves and other Wicker and rattan pieces bring in a lot of character.
Light is a very important aspect of the design. Side lighting gives a more relaxed and less harsh atmosphere. Use windows and lamps for light. Vintage lamps or exposed metal and wooden lamps with Edison bulbs fit the aesthetic and are warm and inviting.
Plants liven up any space so remember to bring some life into your living room.
5. Get the things you want and need
Now that you know what you want, it's time to get, buy or make the things for your minimalist boho living room. Remember the tools, consumables, protective gear and covers for your furniture if you are painting.
Stick to your budget, style and layout. Measure at least twice and think about how each piece will contribute to the overall look and layout.
6. Start redecorating
So you have everything you need, now it's time to start painting, hanging paintings, putting up shelves and moving the furniture around.
Don't go over the top, keep the space clean and uncluttered.
7. Enjoy your new living room!
As much as designing a boho living room is fun, the most important thing is living in it and enjoying it with your friends and family.
And maybe one of your friends will ask you to help them design their own!
You might also like our article on 17 Minimalist Apartment Ideas